Jewish World Review Oct. 28, 2003 / 2 Mar-Cheshvan, 5764

Roger Simon
Turkeys in the straw


http://www.NewsAndOpinion.com | Few have taken a look at this year's Democratic presidential candidates and decided they suffer from an excess of fun.
Yet stomping out fun is what the nine Democratic contenders, aided and abetted by the Democratic National Committee, have decided to do in pledging not to participate in a straw poll in Florida.
Straw polls, in which people cast meaningless votes for president just for the heck of it, have been banned by the party as "potentially divisive." No wonder Democratic stalwart Andrew Cuomo says in his new book that Democratic candidates have become "bloodless, soulless and clueless."
Straw polls are almost always bloody, raucous, goofy and clued-in to what people might actually want in a president. Which is reason enough for some candidates to fear them.
The term "straw poll" comes from John Seldon (1584-1654), who wrote, "Take a straw and throw it up into the Air — you may see by that which way the Wind is."
In refusing to participate in anything as vulgar as a straw poll, the Democrats seem to be saying, "We can be just as dull as Republicans if you give us half a chance." But here they have miscalculated.
Republicans love straw polls. The Grand Old Party works very hard to make them a cross between the Roman senate and a Roman circus. Straw polls almost always make news. The media spend weeks telling everyone how meaningless straw polls are — and then show up in droves to report on them.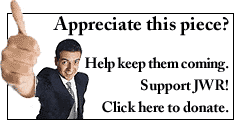 In 1987, the Iowa straw poll — dubbed the "Presidential Cavalcade of Stars" — was held in a huge basketball arena in Ames. Jack Kemp tossed little rubber footballs to the crowd. Pat Robertson supporters, wearing revolving lights on their heads, sailed hundreds of Styrofoam airplanes through the air. As airhorns blasted continuously, each candidate was given 15 minutes to speak. ("Did you say 15 minutes?" Kemp wailed before his speech. "It takes me an hour and a half to watch '60 Minutes'!")
As part of the 1996 campaign, Florida Republicans hosted a straw poll in Orlando that Bob Dole decided he would win the old-fashioned way: by buying people stuff. Delegates to the convention got free Godiva chocolates, bath oils, fruit baskets, hotel rooms, booze, food and dance lessons, all courtesy of the Dole campaign. Dole spent an incredible $2 million campaigning for an event that would elect not a single delegate to the Republican National Convention.
He spent $20,000 to rent a parking lot that he called "Camp Bob," where there were live bands, games for the kids, free food and a man on stilts juggling Indian clubs. Dole got 33 percent of the vote, and Phil Gramm got 26 percent — and it was looked upon as a victory for Gramm.
Which is why some hate straw polls. Candidates spend all this dough, and the media get to interpret the winner, anyway.
"Straw polls buy into a focus on a horse-race culture and detract from a debate on real issues," says Josh Wachs, chief operating officer of the DNC. "Straw polls are artificial, expensive and unnecessary."
Sure, straw poll fans say, but that could describe a lot of things in presidential campaigning, including most of the candidates. Besides, straw polls are exciting! Where else do you see people with lights on their heads these days? Or jugglers on stilts? And let's not forget the free Godiva chocolates.
"The state of Florida is the pivotal state in the general election, and we want our folks activated and energized now!" says Florida Democratic Chairman Scott Maddox, who is pushing hard for a straw poll at the state convention on Dec. 5-7.
He says that while all nine candidates have signed a no-straw-poll pledge, they will show up and participate anyway. "They ignore Florida at their peril," he says. "The people at this convention are going to be the boots on the ground in 2004 — the boots that get out votes."
As the battle rages, the DNC says labor unions and influential Florida politicians will soon come out against a straw poll. The DNC will also offer a compromise: All nine candidates will go down to the Florida convention to speak — just as long as there is no straw poll.
Maddox says the state central committee will meet on Nov. 16 to vote on whether to hold a straw poll or not.
The betting is that candidates like Wesley Clark, who pulled out of Iowa recently, might want a public test of his popularity in Florida and Howard Dean, who has raised enough money to buy Godiva chocolates for everyone in the continental United States, wouldn't mind "wasting" a few dollars there.
"Do you think the candidates will all skip a straw poll?" Maddox asked incredulously. "Every dollar or minute of time spent in Florida will pay back dividends in the general election."
So would a Florida straw poll be a terrible waste of resources or money well spent? Former Tennessee Gov. Lamar Alexander, who ran for president in 2000, but dropped out after a poor showing in the Iowa straw poll, had these words of wisdom when he withdrew: "It's always said that half the money in any campaign is wasted. You just don't know which half until it's over."
Every weekday JewishWorldReview.com publishes what many in Washington and in the media consider "must reading." Sign up for the daily JWR update. It's free. Just click here.
Comment on JWR contributor Roger Simon's column by clicking here.

© 2002, Creators Syndicate