Jewish World Review Jan. 7, 2000/ 28 Teves, 5760

MUGGER

An Easy Life in Beantown




http://www.jewishworldreview.com -- MAINSTREAM newspapers and magazines are notorious for their abysmal media critics; The Boston Globe's Mark Jurkowitz is probably at the bottom of the barrel. He might be the laziest journalist in the country, filing one or two stories a week, no doubt at full-time pay. You can quibble with The Washington Post's Howard Kurtz—he's without humor, behind the curve on media trends and no friend to attribution of original sources—but HE does possess an extraordinary work ethic.

Jurkowitz was at his worst in a Dec. 30 column called "1999: Buzz, busts, and some bests." He picks up on the in-front-of-your-nose fact that Talk is about to sink and adds that "[Tina] Brown's reputation as the Queen Midas of magazines looks to be in serious jeopardy." Bravo, Mark, here's another tip: the Red Sox probably won't win the World Series next year, either.

This one's a dilly: "Further marking the Internet's ascent, veteran journalists Sam Donaldson, Peter Arnett, Lou Dobbs, and Sydney Schanberg migrated to the realm of 'dot.com.' Actually, that may be a sign that 'old news' is wresting control of the cyberspace frontier from the Matt Drudges of the world."

How many Big Macs did you eat before writing this drivel, Mark? Did you ever consider that old dolts like Arnett and Schanberg are moving to the Internet because no else wants them? That they'll have as much success on the Web as Abe Rosenthal had with his Times column last year? And another shot at Drudge? This is just garbage and doesn't belong even in the Globe, the daily that keeps Thomas Oliphant and David Nyhan off the welfare rolls. "Old news" is "old news" for a reason: to think that these characters can just jump in and say, "This is Peter Arnett, reporting from somewhere in Cyberspace," is both naive and insulting to the true innovators.

Jurkowitz has some very strange praise for a television colleague. He writes: "To some, Andy Hiller's surprise world affairs quiz for George W. Bush might have seemed like hackneyed 'gotcha journalism.' But almost two months later—with Bush's gravitas and intellect still the major campaign issue—the WHDH-TV reporter looks like a genius."

See my point? Andy Hiller's a genius? Then why's he working for a television station in Boston? Besides, the major campaign issue isn't Bush's intellect, but why the mainstream media is running John McCain's race. Not hard to figure out: if his First Amendment-violating campaign finance reform ever became law, the media and labor unions would increase their power in electing candidates. But Jurkowitz is content to consume another dozen donuts, read Newsweek's Jonathan Alter for left-wing pointers and just marvel at the verbal gymnastics of a fellow hack like Michael Kramer.

The Daily News pundit, last Sunday, opened his column with a quilt of cliches that must've been printed 100 times in the past month. He's just the last to get at it. Kramer writes: "It only seems early. In fact, it's late. The presidential primary season starts in just three weeks. And because both parties have contrived to 'frontload' the most important contests, the nominees will likely be known by the middle of March, when more than two-thirds of the delegates will have been selected. So if you haven't paid attention yet—and the polls say most of us haven't—it's time to wake up."

I'm ahead of you, Mike. How do I know? Why Howard Fineman, Dana Milbank and Richard Berke told me so!

Remnick's Coasting

I'VE NEVER PAID much attention to the scant food writing in The New Yorker, so when I read two recent "Tables For Two" columns in the listings section I was quite shocked at how miserable they were. For example, in the Jan. 10 issue, the anonymous critic says, in recommending The Red Cat: "Other than a gallery opening, a performance at the Kitchen, or a transit strike, there aren't a lot of reasons that you'd end up on this lonely stretch at night." Oh really. I doubt the real estate brokers stuffing their pockets would agree with that assessment, since West Chelsea has only been the trendiest area in town for at least 18 months.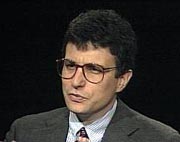 Remnick
But it gets better: "Order one of the house cocktails (don't ask what a cricket ball or red cat is, just have one) before sampling chef Jimmy Bradley's fresh bistro fare, then do so recklessly..." Uh, no, if I'm going to have a silly drink, I'd like to know the ingredients and not trust a New Yorker moron who'd be more at home writing reviews-for-ads copy at the Resident newspapers. In another "Tables for Two" these cliches made me wince: "comfort food" and steaks "for which a veritable hunting knife is supplied." This is worse than Gael Greene-awful, more amateurish than Time Out food capsules. It's just horrible prose.
I am not optimistic about David Remnick's New Yorker. Yes, the illustrations up front are splendid, as are occasional "Talk of the Town" pieces. But Jane Mayer's I-Am-Sidney-Blumenthal's-Soulmate political propaganda is embarrassing; the virulent anti-Giuliani theme, from Art Spiegelman covers to articles inside, is predictable overkill; and Joe Klein, another national political correspondent, hasn't had an original insight since he came out as the author of Primary Colors. Why Remnick wasted part of his budget on Pete Hamill is mystifying and cartoonist Roz Chast is a mortifying 70s throwback.
Remnick's had enough time to recreate the magazine in his own image. I'd advise a head-to-toe makeover, including ditching stupid department headlines like "Our Far-Flung Correspondents" and "Shouts & Murmurs" and change the blood of the entire publication, a la Keith Richards. It's that desperate a situation.
He's Got the Whole Wide World in His Hands
I'M SHORT on space this week, but let's take a go at pop music. No doubt you're sick of lists, so I'll keep it short: my Top 65 pop songs from the last half-century.
In no particular order: "Sad-Eyed Lady of the Lowlands" (Bob Dylan); "My Favorite Things" (John Coltrane); "The Look of Love" (ABC); "Brilliant Disguise" (Bruce Springsteen); "Ain't That Peculiar" (Marvin Gaye); "Today" (Smashing Pumpkins); "The Man Who Shot Liberty Valance" (Gene Pitney); "Levi Stubbs' Tears" (Billy Bragg); "Lipstick Vogue" (Elvis Costello); "Discovering Japan" (Graham Parker); "Visions of Johanna" (Dylan); "It Takes a Lot to Laugh, It Takes a Train to Cry" (Dylan); "Come Go with Me" (The Del-Vikings); "Back on the Chain Gang" (The Pretenders); "His Latest Flame" (Elvis Presley); "I'd Rather Go Blind" (Etta James); "Something About England" (The Clash); "Maps and Legends" (REM); "New Year's Day" (U2); "Runaway" (Del Shannon); "El Paso" (Marty Robbins); "Let's Stay Together" (Al Green); "Don't Bother Me" (The Beatles); "Dolphin's Smile" (Byrds); "All Along the Watchtower" (Dylan); "Grace" (Jeff Buckley); "Monkey Man" (Rolling Stones); "What She Said" (Smiths); "Station to Station" (David Bowie); "Dumb" (Nirvana); "Mr. Tambourine Man" (Dylan); "God Only Knows" (The Beach Boys); "You Set the Scene" (Love); "Take a Message to Mary" (Everly Brothers); "The Main Thing" (Roxy Music); "Salt of the Earth" (Stones); "Contract on Love" (Stevie Wonder); "Four Days Gone" (Buffalo Springfield); "I'll Try Something New" (The Miracles); "Kid Charlemagne" (Steely Dan); "She's Your Lover Now" (Dylan); "Space Oddity" (Bowie); "When I Come Around" (Green Day); "He's a Rebel" (Crystals); "The End" (The Doors); "Tell Me Momma" (Dylan); "Fairytale of New York" (The Pogues); "Odessa" (Bee Gees); "Meat Is Murder" (Smiths); "Peaches En Regalia" (Frank Zappa); "Why Do Fools Fall in Love" (Frankie Lymon); "Under Pressure" (Bowie & Queen); "She's Not There" (Zombies); "Green Onions" (Booker T. and the M.G.'s); "This Wheel's on Fire" (Dylan); "Shout" (Tears for Fears); "Whipping Post" (Allman Brothers); "The Boy with the Thorn in His Side" (Smiths); "Try a Little Tenderness" (Otis Redding); "Connection" (Stones); "Uptown" (Crystals); "While My Guitar Gently Weeps" (The Beatles); "Kathy's Song" (Simon and Garfunkel); "Surf's Up" (Beach Boys); and "Dear Landlord" (Dylan).

JWR contributor "Mugger" -- aka Russ Smith -- is the editor-in-chief and CEO of New York Press (www.nypress.com). Send your comments to him by clicking here.

©1999, Russ Smith