Jewish World Review

New law would allow Schwarzenegger to stand in for groom in Iraq

http://www.jewishworldreview.com | (KRT) Oh, the things we do for love.

When U.S. Marine Second Lt. Tommy Cogan, a 23-year-old nice guy from Philadelphia now serving in Iraq, and Theresa Elizabeth Arnold fell in love last year, no one imagined it would take an act of the California Legislature for them to marry.

But it will.

Before the legislative session adjourns on Friday, both the state Senate and Assembly are expected to overwhelmingly pass a bill that would let military men and women serving overseas in combat marry their stateside sweethearts by proxy.

No wedding date has been set, but all concerned are hoping the ceremony can happen before the bride gives birth.

She's due at the end of September - and it's a girl.

Hence the urgency. Cogan can't just leave his duty in Iraq. And until now, California law has demanded that the groom be present.

So Gov. Arnold Schwarzenegger is expected to sign the bill, and there is speculation the governor may even stand in for the groom at the wedding.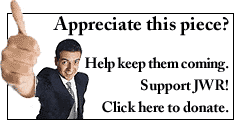 "I don't know if Theresa sees the enormity of what she's done," said Cogan's mother, Roberta. "But I am so grateful. The law is going to make a huge difference."
___
Tommy Cogan is a platoon leader in Echo Company, Second Battalion, Fourth Marine Regiment, which since March has been in Ramadi, on the main road between Baghdad and Jordan. A Sunni stronghold, it is among the most dangerous places in Iraq, and this Marine battalion has suffered the most casualties in the war.
"Tommy knew in high school he wanted to join the service," his father said. "He never seemed to shake far from this dream."
Tom Cogan III and his wife, a Philadelphia teacher and a retail manager, live in Lawncrest, Pa. Anxiety is apparent in their voices all the time now. Tom Cogan says they can't help "listening for the doorbell at odd hours."
Tommy, their only son, graduated from Central High and went to Niagara University, in New York, where he played hockey and majored in political science.
After graduation, Tommy Cogan joined the Marines. He was in Quantico, Va., for training when he met Theresa.
"They were in a bar," his father began. He likes to tell this story because it shows Theresa's strength.
"Tommy comes in feeling good and he talks to Theresa and gets her phone number. Now he's thinking he's hot stuff, so he walks around to another part of the bar and starts talking to another girl.
"Well, Theresa saw that and she came over and said, `Lose my number, pal' - and walked out.
"Tommy was shocked. But that intrigued him. He gave up on the second girl and he and Theresa have been together ever since."
___
Theresa Arnold, 23, knows Army life. Born in Germany, where her father was stationed, she lived in Hawaii and Indiana before the family settled down in Fredericksburg, Va.
She was celebrating her 22nd birthday with a girlfriend the night she met Cogan and discovered their mutual interest in the military. She was majoring in administration of justice at George Mason University.
The two talked about marriage early on and he made sure his parents met her before he left in November 2003 for Camp Pendleton, Calif.
As soon as her semester ended, Theresa drove out to be with Cogan and he surprised her with an engagement ring.
"He proposed," she said, "the moment I got there."
In February, Cogan left for Iraq, and soon after, Theresa learned she was carrying his child. Although he is slated to return from Iraq late next month, Cogan knows he could be delayed, or worse.
"In his letters he said he was nervous about being a father," Theresa said. "And he told me to find a way for us to get married right away."
___
The essayist Diane Ackerman wrote that love is an "ancient delirium, a desire older than civilization ... a force so powerful it has altered the flow of history ... and made mincemeat of kings."
She would likely agree that getting Republican and Democratic legislators in California to even consider Senate Bill 7 so late in the session - when the state didn't even have a budget - was quite a coup.
As San Diego Superior Court Judge Jan Goldsmith, a former member of the state assembly, tells it, the would-be bride came into the courthouse in late June. She was looking for a judge to conduct her wedding ceremony and was told it could not happen without the groom.
When Goldsmith caught wind of the bride and groom's situation, he was appalled.
"I said, `Let's change the law - that's ridiculous!'" Goldsmith recalled.
It didn't seem right, he said, that the nation asking Cogan to risk his life should deny him the opportunity to marry in time to give his child the security of medical benefits.
No one seems to know why the question of proxy marriage for military men and women had not presented itself forcefully before. Only three states - Texas, Colorado and Montana - allow any form of proxy marriage.
The deadline for introducing bills was in February, but Goldsmith got the ranking Republican, Sen. James L. Brulte, and Senate President Pro Tem John Burton, a Democrat, to coauthor the legislation.
"It was a logistical nightmare," said Tom Sheehy, Brulte's legislative aide. "I told Brulte: `This can't happen.' He said: `Tom, get it done.'"
Officially, Schwarzenegger's office has no comment on whether he will sign the bill, let alone stand in for the groom. But Goldsmith trusts that the governor will sign it. Nearly everyone who hears about this volunteers to stand in for the groom.
"I can't believe the governor would turn down that photo opportunity," said Goldsmith, who is among the volunteers.
___
In May, just after his company experienced some of its heaviest losses in combat, Cogan got letters from fourth graders at Chester A. Arthur elementary school, where his father teaches kindergarten.
The students wanted to know if he was scared or hungry. What is it like to be in combat, they asked? As a leader, how do you feel when your men get killed?
"During the firefights I didn't have time to think about it," Cogan wrote back. "But when the dust settles it really hits home.
"I lost some great Marines and my best friend. ... It hurt pretty bad picking up their bodies and taking them to get sent home.
"The hardest part is writing to their families. I always wonder if they blame me for what has happened.
"My only regret," he wrote, "is not being there for my future child's birth."
And in her own letter to Brulte, Theresa put it this way: "We both want our child to be taken care of if anything were to happen to him. ... He is a good, honorable man and definitely deserves this."
Every weekday JewishWorldReview.com publishes what many in Washington and in the media consider "must reading." Sign up for the daily JWR update. It's free. Just click here.
Comment by clicking here.

© 2004, The Philadelphia Inquirer. Distributed by Knight Ridder/Tribune Information Services