Jewish World Review Dec. 16, 2003 / 21 Kislev, 5764

Stanley Crouch
Eye for an eye is inadequate for Saddam

http://www.NewsAndOpinion.com | When gangsters such as Saddam Hussein are captured, the question of justice is raised as high as it can ever be. I began thinking about this when Pol Pot was arrested in his homeland of Cambodia.


Looking at that little man, I began to wonder what should be done with someone who had ordered the murder of millions.


Faced with the immeasurable pain and grief such butchers bring into the world, the ancient rule of an eye for an eye seems inadequate. That concept of justice was developed in a time when the numbers of people that we, with our modern weapons of destruction, can slaughter was unimaginable. It also was believed back then that if death was not enough, the evil person would burn forever in hell and the victims' pain balanced out by eternal suffering.


Ours is a time in which, for all the religious talk by world leaders of one belief or another, there's a preference for justice in human terms. That's where Saddam puts us in a bind. Would execution be enough? Or torture? I think not. No civilized death by injection or the slow butchering of such a gangster would do the job. Too easy.


A humiliating sentence of life without power would be best. A small cell, solitary confinement. Oh, and the cell should contain a little window with a view of one of his former palaces.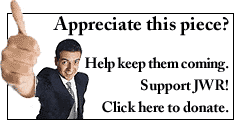 Like this writer's work? Why not sign-up for the daily JWR update. It's free. Just click here.
JWR contributor and cultural icon Stanley Crouch is a columnist for The New York Daily News. He is the author of, among others, The All-American Skin Game, Or, the Decoy of Race: The Long and the Short of It, 1990-1994,       Always in Pursuit: Fresh American Perspectives, and Don't the Moon Look Lonesome: A Novel in Blues and Swing. Send your comments by clicking here.

12/04/03: Pop culture's new low: Slut chic
11/25/03: Jacko's the sick king of industry that preys on kids
10/30/03: Forget Ghettopoly, black music's the insult
10/28/03: War shuts borders, and this is war
10/15/03: Whites saved the blues
09/19/03: Release of home-grown terrorist is an outrage!
08/16/03: Wising up about our enemies
09/11/03: Will we allow those who were burned alive, jumped from windows or crushed to death on Sept. 11, 2001, to have left this world in vain?
08/28/03: Refinement drowns out pop chaos
08/14/03: Hip hop's thugs hit new low
07/15/03: Target gangs — terrorists of the cities
07/08/03: Prez is making inroads with blacks
06/24/03: It's not profiling, it's good policing — and it works
04/22/03: America is just built to succeed
04/15/03: Being top dog requires bark, bite & brains
03/25/03: New Yorkers know why we are fighting this war --- sadly
11/26/02: Miss World riot: The new lynching
08/23/02: Little Leaguers, not thugs, are the mainstream
08/05/02: Bigger boom means, alas, a bigger bust
07/26/02: Sharpton just can't get off the high wire
07/08/02: U.S. is better than founders ever dreamed
07/01/02: Aid to Africa helps fight terrorism
06/26/02: Glimpses of threats fortify U.S.
06/14/02: U.S.'s Own Powder Keg --- Convicts & Converts
06/04/02: Only the evil escape lives of pain & sorrow
05/31/02: A Better FBI? I'll Believe It When I See It
05/24/02: This Is War, & Rudy's Still Giving Good Counsel
05/22/02: Our culture is becoming cartoonish
05/14/02: A chance to sew up new allies
04/30/02: Time to get serious on immigration
04/18/02: When it comes to race, we're all mixed
03/27/02: Civil rights groups are neglecting a profound crisis in their midst
03/12/02: Race-baiters can forget this Tex. case
02/26/02: The unmasking of a phony black hero
02/06/02: I will not call shots based on skin color
02/04/02: Saying No to Tyson: Integrity Beats Out Greed
01/28/02: If Mike Tyson's a monster, he had lots of help
01/18/02: The 'Roots' of huckster Haley's Great Fraud
01/09/02: U.S. can't let its guard down now
12/31/01: If the price is right --- just do it!
12/21/01: 'American Patriots': Book hat's a Gift for All Seasons
12/04/01: Tightening our immigration policies is cruel?
11/29/01: Modern-day abolitionists need help
11/27/01: bin Laden has exposed hard truths
11/20/01: Facing the hard truth about Africa & slavery
11/13/01: Let military run security for air travel
10/23/01: The media, where threats to flesh and blood have little meaning
10/17/01: Red, White Blue, black and white
10/11/01: We stand armed with compassion
10/05/01: Drawing the line on racial profiling
09/14/01: Let's rise above worst instincts
09/07/01: HBO's now big shaper of culture
08/21/01: Is Sharpton a changed man?
08/03/01: A writer misuses the great Louis Armstrong
07/20/01: When murder is justified
07/06/01: America's democracy has a music to it
06/29/01: The soul and pluck of women are to this nation's development
06/22/01: This history is music to my ears
06/08/01: A School Succeeds, A Union Fails
06/05/01: Sharpton's rise and fall
05/25/01: Third World Unity? Sorry, It's Just a Dream
04/13/01: Two murderers, two twisted fantasies
04/06/01: The problem with art is artists
03/16/01: Bush still has some pretty serious image problems he better address ASAP
03/09/01: Of gangsters, gangstas --- and spin
© 2003, NY Daily News