Jewish World Review May 6, 2004 / 15 Iyar, 5764

Stanley Crouch
In war we better not let any politically correct qualms about indulging in stereotypes get in our way

http://www.NewsAndOpinion.com | As the war heats up in Iraq, we find ourselves confronting a dilemma that always has to be faced during brutal conflicts but is especially complex when ethnicity and religion are involved: How are we to handle our natural tendency to indulge in stereotypes while maintaining our democratic vision of individuality being more important than category?

The problem is that we have been wrong about groups of people so often in the past that we find ourselves in sort of a quandary when faced with the responsibility of protecting our shores now.

We have problems assessing the nature of other societies or religious practices because the rule of thumb of the moment is one of relativity - aka political correctness. It is naive, but it may be better than the old feeling of superiority that shaped our view of the world.

The history of Western Europe and of America is full of the bodies of people who were taken down because they were seen as inferior in their beliefs - although in actual fact they were simply in the way of European nations acquiring raw materials or of the United States taking the land that would allow it to expand.

The upshot of these past sins is that we are surrounded by sanctimonious types who are obsessed with not having a repeat of those ruthless policies.

So now, when we find ourselves in a battle with the soldiers of jihad, we are told to pretend that they and what they believe are equal items on the smorgasbord of human belief and style. We have to be careful not to stereotype them as we have blacks, Indians, the Irish, Italians, Jews, Asians and whomever else we mistreated in the worst days of our past - or the least attractive moments of our present.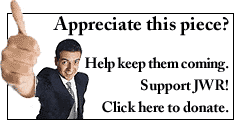 We still suffer from the human inclination to stereotype people, but we also are more willing to question such inclinations or to recognize that the shortcomings we observe in others are part of the makeup of the species rather than the defining qualities of a given group.

Nevertheless, when we get to the soldiers of jihad, we have to look at them quite differently from the way we look at other groups. Some things are simply too obvious to deny.

Actually, we don't have to stereotype these radical Islamists, because their own actions stereotype them far better than we ever could.

Let us remember that Osama Bin Laden and his crew were very comfortable under the rule of the Taliban in Afghanistan. It was their idea of a good, solid Islamic society - a place where women were beaten in the streets for violating the Muslim dress code, where there were public hangings and where the atmosphere of intimidation was the kind that goes with all totalitarian orders, whether secular or religious.

The Sunni Muslims in Fallujah doing battle with our Marines are not fighting for freedom. They want power over the Shiites. They want to get a taste of that old-time religion: domination or death.

We had better understand that and not let any politically correct qualms about indulging in stereotypes get in our way.
Like this writer's work? Why not sign-up for the daily JWR update. It's free. Just click here.
JWR contributor and cultural icon Stanley Crouch is a columnist for The New York Daily News. He is the author of, among others, The All-American Skin Game, Or, the Decoy of Race: The Long and the Short of It, 1990-1994,       Always in Pursuit: Fresh American Perspectives, and Don't the Moon Look Lonesome: A Novel in Blues and Swing. Send your comments by clicking here.

04/28/04: Hip-hop takes a hit: Black women are starting to fight rap's degrading images
04/22/04: Democracy's price — and blessing
04/20/04: Teach kids the world is theirs
03/23/04: Islamics are looking for victory, should we give it to them?
03/09/04: Tragic optimism
03/03/04: Great minds should tackle grim reality
02/24/04: Education's the answer to job losses
01/06/04: Rising sense of risk unites America with the world
12/23/03: GOPers are clueless in making the most of issues that will draw black voters
12/19/03: Rev. Al is going for a lot more than the glory
12/16/03: Eye for an eye is inadequate for Saddam
12/04/03: Pop culture's new low: Slut chic
11/25/03: Jacko's the sick king of industry that preys on kids
10/30/03: Forget Ghettopoly, black music's the insult
10/28/03: War shuts borders, and this is war
10/15/03: Whites saved the blues
09/19/03: Release of home-grown terrorist is an outrage!
08/16/03: Wising up about our enemies
09/11/03: Will we allow those who were burned alive, jumped from windows or crushed to death on Sept. 11, 2001, to have left this world in vain?
08/28/03: Refinement drowns out pop chaos
08/14/03: Hip hop's thugs hit new low
07/15/03: Target gangs — terrorists of the cities
07/08/03: Prez is making inroads with blacks
06/24/03: It's not profiling, it's good policing — and it works
04/22/03: America is just built to succeed
04/15/03: Being top dog requires bark, bite & brains
03/25/03: New Yorkers know why we are fighting this war --- sadly
11/26/02: Miss World riot: The new lynching
08/23/02: Little Leaguers, not thugs, are the mainstream
08/05/02: Bigger boom means, alas, a bigger bust
07/26/02: Sharpton just can't get off the high wire
07/08/02: U.S. is better than founders ever dreamed
07/01/02: Aid to Africa helps fight terrorism
06/26/02: Glimpses of threats fortify U.S.
06/14/02: U.S.'s Own Powder Keg --- Convicts & Converts
06/04/02: Only the evil escape lives of pain & sorrow
05/31/02: A Better FBI? I'll Believe It When I See It
05/24/02: This Is War, & Rudy's Still Giving Good Counsel
05/22/02: Our culture is becoming cartoonish
05/14/02: A chance to sew up new allies
04/30/02: Time to get serious on immigration
04/18/02: When it comes to race, we're all mixed
03/27/02: Civil rights groups are neglecting a profound crisis in their midst
03/12/02: Race-baiters can forget this Tex. case
02/26/02: The unmasking of a phony black hero
02/06/02: I will not call shots based on skin color
02/04/02: Saying No to Tyson: Integrity Beats Out Greed
01/28/02: If Mike Tyson's a monster, he had lots of help
01/18/02: The 'Roots' of huckster Haley's Great Fraud
01/09/02: U.S. can't let its guard down now
12/31/01: If the price is right --- just do it!
12/21/01: 'American Patriots': Book hat's a Gift for All Seasons
12/04/01: Tightening our immigration policies is cruel?
11/29/01: Modern-day abolitionists need help
11/27/01: bin Laden has exposed hard truths
11/20/01: Facing the hard truth about Africa & slavery
11/13/01: Let military run security for air travel
10/23/01: The media, where threats to flesh and blood have little meaning
10/17/01: Red, White Blue, black and white
10/11/01: We stand armed with compassion
10/05/01: Drawing the line on racial profiling
09/14/01: Let's rise above worst instincts
09/07/01: HBO's now big shaper of culture
08/21/01: Is Sharpton a changed man?
08/03/01: A writer misuses the great Louis Armstrong
07/20/01: When murder is justified
07/06/01: America's democracy has a music to it
06/29/01: The soul and pluck of women are to this nation's development
06/22/01: This history is music to my ears
06/08/01: A School Succeeds, A Union Fails
06/05/01: Sharpton's rise and fall
05/25/01: Third World Unity? Sorry, It's Just a Dream
04/13/01: Two murderers, two twisted fantasies
04/06/01: The problem with art is artists
03/16/01: Bush still has some pretty serious image problems he better address ASAP
03/09/01: Of gangsters, gangstas --- and spin
© 2003, NY Daily News