Jewish World Review July 8, 2003 / 8 Tamuz, 5763

Stanley Crouch
Prez is making inroads with blacks

http://www.NewsAndOpinion.com | At a White House event entitled Harlem's Song, President Bush declared June Black Music Month and gave a speech that was a further indication of what could amount to a grand strategy. I mean a strategy that could make Democrats a bit unsure about owning the black vote, especially during presidential elections.
I was there because I had been invited to make some remarks before the performers came on stage. The audience then heard the All-Stars of the National Jazz Museum in Harlem under the leadership of Loren Schoenberg, the executive director of the museum and a highly respected saxophonist and bandleader. It also heard three selections from George Wolfe's "Harlem Song," a show that ran for six months at the Apollo Theatre and drew such integrated audiences that you could say downtown and uptown become one town.
The performances on Tuesday were splendid and the audience, which included national security adviser Condoleezza Rice and Secretary of State Powell, truly seemed to enjoy itself.
At the conclusion of the program, the President gave his brief speech, which was very pointed in its acknowledgment not only of the importance of black Americans to our nation's music, but of the history those Americans have had to live in the worst times of our nation.
Bush surprised many when he said, "From the earliest generations of slaves came music of sorrow and patience, of truth and righteousness and of faith that shamed their oppressors and called upon the justice of Almighty G-d and praised His holy name."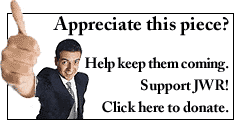 At one point, he said that when "Franklin Roosevelt wanted to show the king and queen of England the finest music in America, he brought them to this room to hear Marian Anderson sing 'Ave Maria.'"
If this event was indeed part of a grand strategy, Bush seems well on his way to redirecting the ethnic tone of the Republican Party in a way that may not automatically make black people feel friendly toward it but that could, over time, bring issues of importance to Afro-Americans to the front and put party affiliations in the back.
I thought about all of that walking around the White House as the rehearsals were going on. Integration was everywhere. It felt good to see the military personnel and all the guests representing the many faces of the nation just as much as they did under President Bill Clinton.
Further, with Bush's emphasis on educational policy, with his appointments of Rice and Powell, with his pledge to refurbish Frederick Douglass' home, with his $15 billion relief package for black Africa and with his recent admonishment that federal law enforcement agencies should not profile any ethnic community unless the issue of terrorism is at hand, this President is changing his party.
Were Bush to go further and make it clear that federal assistance will be made available to all communities bent upon removing the anarchic thugs who, to cite one example, have been responsible for the killing of 10,000 people in Los Angeles over the last 20 years, many would have to stand up.
That would be a policy coup that neither the civil rights establishment nor the Democrats - or black Americans - could easily dismiss.
Like this writer's work? Why not sign-up for the daily JWR update. It's free. Just click here.
JWR contributor and cultural icon Stanley Crouch is a columnist for The New York Daily News. He is the author of, among others, The All-American Skin Game, Or, the Decoy of Race: The Long and the Short of It, 1990-1994,       Always in Pursuit: Fresh American Perspectives, and Don't the Moon Look Lonesome: A Novel in Blues and Swing. Send your comments by clicking here.

06/24/03: It's not profiling, it's good policing — and it works
04/22/03: America is just built to succeed
04/15/03: Being top dog requires bark, bite & brains
03/25/03: New Yorkers know why we are fighting this war --- sadly
11/26/02: Miss World riot: The new lynching
08/23/02: Little Leaguers, not thugs, are the mainstream
08/05/02: Bigger boom means, alas, a bigger bust
07/26/02: Sharpton just can't get off the high wire
07/08/02: U.S. is better than founders ever dreamed
07/01/02: Aid to Africa helps fight terrorism
06/26/02: Glimpses of threats fortify U.S.
06/14/02: U.S.'s Own Powder Keg --- Convicts & Converts
06/04/02: Only the evil escape lives of pain & sorrow
05/31/02: A Better FBI? I'll Believe It When I See It
05/24/02: This Is War, & Rudy's Still Giving Good Counsel
05/22/02: Our culture is becoming cartoonish
05/14/02: A chance to sew up new allies
04/30/02: Time to get serious on immigration
04/18/02: When it comes to race, we're all mixed
03/27/02: Civil rights groups are neglecting a profound crisis in their midst
03/12/02: Race-baiters can forget this Tex. case
02/26/02: The unmasking of a phony black hero
02/06/02: I will not call shots based on skin color
02/04/02: Saying No to Tyson: Integrity Beats Out Greed
01/28/02: If Mike Tyson's a monster, he had lots of help
01/18/02: The 'Roots' of huckster Haley's Great Fraud
01/09/02: U.S. can't let its guard down now
12/31/01: If the price is right --- just do it!
12/21/01: 'American Patriots': Book hat's a Gift for All Seasons
12/04/01: Tightening our immigration policies is cruel?
11/29/01: Modern-day abolitionists need help
11/27/01: bin Laden has exposed hard truths
11/20/01: Facing the hard truth about Africa & slavery
11/13/01: Let military run security for air travel
10/23/01: The media, where threats to flesh and blood have little meaning
10/17/01: Red, White Blue, black and white
10/11/01: We stand armed with compassion
10/05/01: Drawing the line on racial profiling
09/14/01: Let's rise above worst instincts
09/07/01: HBO's now big shaper of culture
08/21/01: Is Sharpton a changed man?
08/03/01: A writer misuses the great Louis Armstrong
07/20/01: When murder is justified
07/06/01: America's democracy has a music to it
06/29/01: The soul and pluck of women are to this nation's development
06/22/01: This history is music to my ears
06/08/01: A School Succeeds, A Union Fails
06/05/01: Sharpton's rise and fall
05/25/01: Third World Unity? Sorry, It's Just a Dream
04/13/01: Two murderers, two twisted fantasies
04/06/01: The problem with art is artists
03/16/01: Bush still has some pretty serious image problems he better address ASAP
03/09/01: Of gangsters, gangstas --- and spin
© 2001, NY Daily News