Mandy Patinkin is all heart and soul in his portrayal of impatient cardiologist Jeffrey Geiger in Chicago Hope.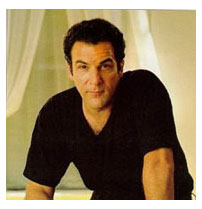 The sense of tension exuded by a doctor trapped by his own brilliance, struggling with his inner voice, adds a gracenote of drama to the hit TV series.
When it comes to lending his voice to projects, Patinkin is used to making dramatic differences.
Broadway has served as this TV surgeon's base of operation for years, earning Patinkin a Tony Award for his role as Che in "Evita" in 1980, and a nomination for his pointedly performed role as artist Georges Seurat in "Sunday in the Park With George."
Performing on stage, says Patinkin, is what really gets his heart pumping.
"I just love an audience," says the entertainer, whose other stage credits include "Falsettos."
"There is nothing like it," muses the 44-year-old music man. "When I'm on stage, the audience is half the show."
Part of Patinkin's appeal is the passion he feels for his work. Lyrics speak to him in a special way.
The performer has his own story to tell. Named after his grandfather, Menachem Mendel, Patinkin recalls his zayde as "the man we all idolized."
It was Menachem's tales of the Old World that left their imprint on the impressionable youngster.
"Something about those stories always moved me," says Patinkin.
The star of Broadway's "The Secret Garden" makes no secret of his love of family and friends, and the heimish side of life that home represents.
"I am very relieved to be home with family right now," says Patinkin. He shares a Manhattan address with his wife, Kathryn Grody, a prominent writer/actress; and kids Isaac, 13, and Gideon, 8.
But that's not for long. When "Chicago Hope" pages Patinkin, the actor, whose one-man show, "Dressed Casual," took Broadway by storm eight seasons ago, dons his white lab coat and heads back to Hollywood for more shooting of the CBS series set in a Chicago hospital.
It's not easy playing such an intense role; indeed Geiger runs counter to the apparently easygoing Patinkin's real persona.
Then again, maybe not.
"I tend to carry people around with me," says Patinkin of dealing internally with the troubled and, at times, heartless cardiologist he portrays.
What gives him a lift, says Patinkin, is the music of the night. "I need that transfusion," notes Patinkin of the panacea that the stage and the works of Rodgers and Hammerstein, Sondheim and Kander and Ebb, among others, represent.
Not that "Chicago Hope's" Geiger can't carry a note along with the world on his shoulders. Several scenes of the acclaimed medical drama have featured Patinkin singing while he works.
Readily acknowledging that the "main influence of my early life was the music of the synagogue," Patinkin is eager to combine both aspects of his life on TV.
"I wrote a letter to [series creator] David Kelley in the beginning, suggesting that it would be interesting for Geiger to meet and operate on a cantor, and this cantor would begin to teach Geiger the cantorial text."
"I want to do that on my own anyway," he says of learning the text.
"I figured I could kill two birds with one stone," and he laughs.
Patinkin pays much attention to a songwriter's words. "I'm there to deliver the words of these great writers," notes Patinkin of his role on stage.
"What really feels good is listening to the words. Most of the songs I sing are those I need to hear."
On stage, Patinkin is adept as a warrior of words. "I'm a fighter," says the singer. "I like to pick songs with an edge."
With his wide television appeal, this doctor is "in." But one thing Patinkin doesn't seem aware of is his new sex status as one of Hope's hunks.
"Yeh," he says, self-mockingly, "a hunk with side fat."
Talking about his sex appeal doesn't appeal to him all that much. "I just want my wife to like me," he says.
Part of his newfound status stems from his character's prickly persona. He's a physician who has trouble healing himself.
"He is incredibly brilliant, but crippled in his personal life," says Patinkin of his TV alter ego, who is always battling one staff member or another -- or himself.
"He's a man who fights on all levels, trying to fight through his inadequacy."
Chicago Hope has proven a godsend for those viewers who like high-quality TV. Quality is the key that Patinkin also looks for when he's acting in movies (The Princess Bride, Yentl) or selecting a song to perform.
Each song he chooses must sing out to him, says Patinkin. Helping him pick those songs is the sense of importance he feels each carries.
The music of the synagogue has helped him make those choices.
He is hearing those songs again as he helps his son Isaac prepare for his Bar Mitzvah later this year.
The music resonates and reverberates for the performer, who hears in it the echoes of history.
"I am working on an album of Yiddish music," notes Patinkin.
Unsurprisingly for a performer noted for his passion, Patinkin feels very strongly about this project.
"I'll get it done," he says. "After all, it is the music of my people."