Jewish World Review

Last of the Levi's plants to close next month

http://www.jewishworldreview.com | (KRT) On Jan. 8, the last of the Levi Strauss & Co. manufacturing plants in the United States will close, fading this American icon like a pair of its own 501s.

Earlier this year, the struggling denim company announced that the last two of its U.S. factories, located on the outskirts of downtown San Antonio, Texas, will shut their doors, leaving 800 employees out of work and ending an American tradition that began 150 years ago.

Although the company's headquarters in San Francisco will remain open, and contract work at some U.S. plants will continue, the bulk of the $4.2 billion company's jeans will be manufactured by suppliers in 50 foreign countries - including Asia and the Caribbean, where labor is considerably cheaper.

That Levi's - which were "born in the U.S.A." and are featured prominently on Bruce Springsteen's backside on the cover of his album of the same name - will now be manufactured overseas signals to some pop culture observers the death of an institution, one that has been stitched into American imagery like the little red tag on the jeans' back pocket.

"It's an end of an era," says Patricia Leavy, assistant professor of sociology at Stonehill College in Easton, Mass. "More than any other garment in pop culture, Levi's are symbolic of America. They've come to represent some of the ideals this country is based on. Equality. Anyone can afford to wear them, everyone does wear them - kids, adults, any age, any race.

"Taking this all-American thing, which is being produced by Americans and American laborers, out of the country, you change the meaning of it," says Leavy, who teaches a one-day class on the history of blue jeans. "Even if people still buy it, it's not the same thing."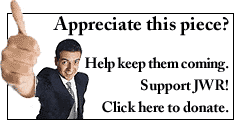 Katie Otto, a spokeswoman for Levi Strauss & Co., was quick to try to debunk that notion.
"These closures continue the company's fundamental shift away from being a manufacturer to being a marketing and product-driven company," she said. "The company was founded, and continues to be headquartered, in San Francisco. We have a strong presence in the U.S., as represented by our employees, our iconic brands and our extensive philanthropic work."
The media was not allowed on the premises recently at the San Antonio plants, but the few employees who did talk about the closings did so with a mix of anger and melancholia.
"Well, of course I'm sad. I spent more than half my life there," says Eddie Ollervidez, a 46-year-old mechanic who has worked at one of the South Texas plants for more than two decades. "I haven't filled out an application in 24 years. It's going to be difficult, but life goes on."
Another worker, 40-year-old Tonie Ann, said that while the company is helping employees prepare to find new jobs via training classes, and trying to make the closings as painless as possible, she's still upset that her job is being eliminated in the name of cheaper labor.
"I make $12 an hour," said Ann, who works in the refinishing plant. "The people who'll be doing the work, they get paid $12 a week. They'll be saving money but using out-of-the-country manufacturers, and I don't think the quality will be as good."
Kevin Ingle, a 30-year-old local artist for an advertising/promotion firm, compares Levi's moving its operations out of the country to his favorite sneakers, Converse, which are now produced overseas.
"The quality of those shoes, I hear, is not as good now," he said. "I don't buy them anymore. I think it'll drive up the price of vintage Levi's, because they are an American icon and there's always been such a massive market for anything American-made. I think more people will be wanting the vintage jeans, not the ones being produced overseas. I may keep buying them, if only because I'm not a big Gap fan."
Levi's has been struggling for some time now, its sales damaged by momentary fads and brutal competitors like Old Navy and the Gap, where jeans can often sell for as cheap as $15 (an average pair of 501s costs between $35 and $40, although Levi's has cheaper jeans as well). Levi's factories, including several in Texas, began closing in the `90s, when the company's revenues began dropping from a peak point of $7.1 billion, according to The New York Times.
"The problem in the denim market right now is there's a hot new brand every month or so," said Stan Williams, fashion director for Maxim, a men's fashion and lifestyle magazine. "They're so fast. They come out every second. That's what young kids want, the latest trend. Kids don't automatically think of Levi's anymore."
That wasn't always the case. Founded by Bavarian immigrant Levi Strauss, over the years the company, and its trend-setting products - from 501s to Dockers - became synonymous with American pop culture, the jeans in particular. More than 3.5 billion pairs of riveted, red-tag jeans have rolled out of U.S. factories; everyone in the United States, it seems, has pulled on a pair of Levi's at one point or another.
"This weekend, I was watching an episode of Leave it to Beaver," Williams said. "It was the episode where Wally and Beaver were trying to talk their friends into painting for them. And Beaver turned around, and he was wearing a pair of Levi's jeans, rolled up and pegged.
"They have been such an integral part of American culture," he said. "Bruce Springsteen, Madonna, James Dean - they all wore them and helped popularize them. People have written songs about them. They're all over MTV. Even Calvin Klein wore Levi's."
No jeans company, Williams says, will ever have the immediate recognition or make the pop-culture impact that Levi's has made, even though just in the last decade, 200 new jean brands have entered the market, according to The New York Times.
"I don't think, at this point, that anyone is going to be able to take over the brand recognition that Levi's has," he said. "I don't think there's a company that can even come close."
In some ways, Patricia Leavy says, Levi's are as significant as ever.
"In this economy, they are definitely iconic. Even though they're fashionable, they still represent the blue-collar, working-class, all-American," she said. "They will always be iconic and they will always represent America and play a part of our pop-culture history. In that way, we'll have them forever."
Every weekday JewishWorldReview.com publishes what many in Washington and in the media consider "must reading." Sign up for the daily JWR update. It's free. Just click here.
Comment by clicking here.

© 2003, Fort Worth Star-Telegram. Distributed by Knight Ridder/Tribune Information Services