Jewish World Review

Electronics prices getting lower at greater number of stores

http://www.jewishworldreview.com | (KRT) Consumer electronics sales leader Best Buy Co., which already has 600 stores nationwide, is opening 60 a year. Computer retailer CompUSA has broadened its offerings to include televisions and other home electronics.

Meanwhile, smaller chains such as Fry's Electronics and Conn's Inc. are continuing to expand.

Consumer electronics stores are proliferating even as sales are increasing only slightly and as competition from discount chains and others is growing, said Tom Edwards, senior industry analyst with The NPD Group.

"Are we over-stored?" he said. "Probably, I'd have to say."

From 1997 to 2002, mass merchants such as Wal-Mart Stores Inc. increased their share of all consumer electronics sales in the United States from 19.9 percent to 24.9 percent.

During that time, specialty electronics stores saw their share of the $110.6 billion consumer electronics industry fall from 8.8 percent to 8.6 percent. But during the same time, those stores grew from about 18,000 locations nationwide to 20,700, a 15 percent increase.

Consumers will have their choice of products and prices this holiday as the competition, evident in the barrage of retail advertising, heats up.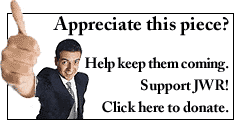 Whether they will buy is less certain. An NPD Group survey found that fewer people plan to give electronics as gifts this year than last, though the company says impulse purchases could pad the results.
Geoff Wissman, vice president at consulting and market research firm Retail Forward Inc., is slightly more optimistic.
"It's going to be better than last year, but it's not necessarily going to be a fantastic year," Wissman said. "We're predicting that for the fourth quarter, sales of consumer electronics will be up a little over 3 percent. That's nothing necessarily to write home about."
The competition, however, is sure to mean smaller profit margins for retailers, Wissman said. One example is DVD players.
The Consumer Electronics Association said in mid-November that, year to date, 15 million standalone DVD players had been sold, a 25 percent increase over 2002.
But the prices were so low that the DVD buzz didn't help retailers much, said Dave Workman, president of Denver-based Ultimate Electronics Inc. Retail Forward said in July that the price of the cheapest DVD players had fallen to $49 from $125 just two years ago.
"The problem we have in many categories in consumer electronics is that prices have come down so far that the unit growth cannot make up for the dollar decline," he said.
Many shoppers have taken bargain hunting to an art form, thanks to the Internet, experts say.
"We have found that nearly 50 percent of the people who walk into our store have already been to BestBuy.com doing research on the products they want to purchase," said Lisa Hawks, a spokeswoman for Minneapolis-based Best Buy.
Ultimate said that for the quarter ending Oct. 31, sales were down 10 percent from a year ago, due partly to fewer customers coming into the stores, as well as other issues, such as the company's new internal software system.
"We're a purveyor of mid- to high-end products," Workman said. "What the consumer has been doing is trading down. They're going out and buying `good enough' stuff."
"What will be interesting in this holiday period is if that pattern changes," he added. "And in my opinion, that will be one of the tests of whether this economic recovery is for real."
Ultimate, which has 65 stores nationwide, isn't the only electronics retailer struggling to deal with lethargic consumers and cutthroat pricing.
Circuit City Stores Inc. said in September that its profit margin in the second quarter fell to 22.6 percent from 23.7 percent a year ago, as the retailer had to match price cuts at other chains.
Wissman said that a weak holiday season for ailing Circuit City might force the chain to shrink or rethink its business model.
He added that the consumer preference for less expensive TVs and DVD players is one reason discount retail giant Wal-Mart rose from the seventh-largest retailer of consumer electronics in 1997 to the second largest in 2002.
But he said Wal-Mart doesn't threaten the territory staked out by pure consumer electronics retailers such as Best Buy and Circuit City, which sell more cutting-edge technology.
And there are hints that consumers are rediscovering a taste for more expensive electronics.
Anne-Marie Kline, director of brand communications for Massachusetts-based electronics chain Tweeter Home Entertainment Group, said the company is increasing its number of professional installers nationwide from 750 to 1,000 to accommodate customers who are opting for custom installations.
She said that the average purchase at a Tweeter store ranges from $5,000 to $40,000.
At the upper end of that range, shoppers are often buying an entire living room makeover and home network that lets users dim the lights, fire up the popcorn machine and start a DVD with a single tap on mega-remote control.
"We have been seeing more people lean toward a total solution, rather than just an a la carte solution," she said, noting that Tweeter has stocked enough inventory to equal a 4 percent to 5 percent increase in same-store sales during the Christmas season.
Workman, Ultimate Electronics' president, said his company won't keep up its rapid expansion pace, which included seven stores this year and 12 in 2002. But it will open a handful of stores.
Beaumont, Texas-based Conn's has 44 stores overall in the Southwest and is preparing for an initial public offering.
Even with a pickup in consumer electronics sales, though, some of the more exciting gadgets might still be too pricey for most consumers.
High-definition televisions, for example, look alluring on the showroom floor, but sticker shock remains an insurmountable barrier for many shoppers, Wissman said.
"You can buy a regular 27- or 32-inch TV for $300 or $400," he said. "You have to get down to where the average price is around $1,000. It's just going to take a while for the price point to work down to where it's acceptable for middle America."
Kline, of Tweeter, which has 174 stores nationwide, said sales of high-definition TVs have picked up over the last year.
But the most desirable models - the sexy, slender plasma displays - are still too pricey for many buyers.
She said the sweet spot for high-definition plasma TVs is about $100 per inch. Most shoppers will accept a 40-inch display costing about $4,000, but right now, the cost is closer to $120 per inch, Kline said.
Still, shoppers are spending on some tech toys.
Computers and mobile phones seem to be doing well, Wissman said, and recordable DVD players might be one of the few profitable, hot products this Christmas season.
Circuit City found in its holiday outlook poll from October that a plurality of shoppers (32 percent) plan to put a digital camera under the tree this year, followed by a new TV (21 percent) and music, movies and games (17 percent).
The biggest challenge for retailers this holiday season - and for the long term - might be to find a way to stand out when everyone sells the same merchandise for roughly the same price, Wissman said.
"There's definitely something to be said for one-stop shopping convenience, but I think you still have to differentiate yourself somewhat, whether that's from a product perspective or a service perspective or a price perspective," he said.
Every weekday JewishWorldReview.com publishes what many in Washington and in the media consider "must reading." Sign up for the daily JWR update. It's free. Just click here.
Comment by clicking here.

© 2003, The Dallas Morning News Distributed by Knight Ridder/Tribune Information Services