Jewish World Review

Dennis Miller back to talking politics

http://www.jewishworldreview.com | (KRT) Dennis Miller would rather talk politics than live them.

That's why CNBC's newest yakker took a pass when California Republicans approached him to run against Sen. Barbara Boxer in `04.

"I don't want to live in Washington and sit in a room with a bunch of jerks I don't know," says Miller, 50. "I'd love to debate Boxer, though. I think she's a moron. It would be fun to pancake her."

Miller's hourlong political talk show debuts in January, to run at 9 p.m. EST Monday through Thursday. It's a homecoming of sorts - he spent six seasons as "Weekend Update" anchor on NBC's "Saturday Night Live."

It was NBC Entertainment czar Jeff Zucker's humor that won him over, Miller says.

"I like to have funny bosses. I've had idiot bosses, and they're a drag. When I have lunch with a guy who makes me laugh, I'm there. We howled. At the end, I thought, `I'll work for that cat.'

"I'm looking to have fun in my day-to-day life. I need a boss who I dig. Jeff's a good hang. I like guys who let me be me. For better or for worse, my monkey trick is my monkey trick. It's all I got."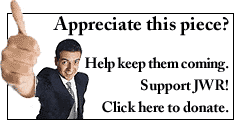 Miller's monkey trick on HBO, the weekly "Dennis Miller Live," won five Emmys. His two-season stint as a Proustian commentator on ABC's "Monday Night Football" drew mostly bad reviews.
Most recently, Miller did weekly essays on Fox News Channel's "Hannity & Colmes." His abrupt departure to cable competitor CNBC didn't sit well with Fox, but Miller says he and Fox boss Roger Ailes made nice last week.
"We had a nice chat. I like Roger. I like `em gruff, with scruffy elbows. Ailes plays a little rough."
Acting-wise, Miller just completed a three-episode arc on Fox's "Boston Public" as a snarky teacher. The gig "sounded better to me than the Senate," he says.
Miller's CNBC show will include his trademark rants, but it won't be all about funny.
"It will be more about the events of the day, not a flat-out comedy show. At HBO, my mandate was to be a comedian. I'll say what makes me mad and what I admire, completely intermingled. It's news as catharsis."
A registered Republican, Miller supported California Gov.-Elect Arnold Schwarzenegger and was the opening act at a President Bush fund-raiser in the state.
"Whatever people want to assume, I'm liberal 99 percent of the time," he says. "I just want two things: to keep one of every two dollars I make, and to have the bad guys killed before they kill us."
At home in Santa Barbara, Miller likes to kick back with his wife and two young sons. For his 50th birthday earlier this month, he had his favorite dinner: meat loaf, mashed potatoes and canned corn.
Afterward, the family watched some TV. Says Miller: "I'm turning into Hume Cronyn."
Every weekday JewishWorldReview.com publishes what many in Washington and in the media consider "must reading." Sign up for the daily JWR update. It's free. Just click here.
Comment by clicking here.

© 2003, The Philadelphia Inquirer. Distributed by Knight Ridder/Tribune Information Services