Jewish World Review

Jessica Lynch to wed Army Sergeant after two-year romance

http://www.jewishworldreview.com | (KRT) Jessica Lynch was shopping Friday in Washington, D.C., and thinking about her wedding dress.

The rosy-cheeked soldier who grabbed the nation's attention when she was captured in Iraq last spring is engaged to Army Sgt. Ruben Contreras, 24, a native of Colorado Springs, Colo.

The couple plans to marry in June.

They might settle here permanently because Contreras hopes to leave the army next year and attend college in town.

But before Lynch says "I do," she has to meet the family, so she's headed to Colorado Springs for Thanksgiving.

Lynch, 20, who still walks with crutches, had a specific detail of the wedding on her mind Friday. Would she be able to find the dress she wants in Colorado? She called Contreras' mother, Lisa Latorre, in Widefield, Colo.

"I checked, and she can get the dress here. She was really happy," Latorre said.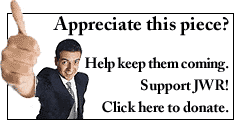 It was a small detail in the couple's romance after enduring capture, uncertainty, months of painful therapy and the glare of alternately flattering and scathing media coverage. Still, Latorre said that as a mother she understands "Jesse" wants everything to be perfect.
"I'm looking forward to them finally being able to be together and happy. They deserve that chance. They've been through so much."
She hung up her living room telephone.
Almost immediately, the telephone rang again. Someone was calling from "People" magazine.
"Can you call back later?" Latorre asked politely.
Fielding calls from reporters is part of the wedding planning.
Latorre accepts it graciously, but she is careful to keep the date and location a secret.
"I want this to be a real wedding for them, not just a bunch of media storming in," she said.
Too much attention wasn't a problem when the couple met almost two years ago at a Taco Bell near Fort Bliss, Texas, where each was stationed.
Contreras, who enlisted in 1997 after graduating from high school, saw Lynch sitting with Pfc. Lori Piestewa.
"They just started talking and flirting. He thought she was really cute," Latorre said.
Contreras punched his telephone number into Lynch's cell phone and told her to call him. Three days later, she did.
During the next few months as they went to the movies, went out to eat and hung out, they fell in love.
Contreras gave her an I.D. bracelet she always wore on her left wrist - even when she was sent to Iraq.
He wrote an e-mail to his mother saying, "I've never felt like this about a female before."
In January, Lynch was shipped to Kuwait with the 507th Maintenance Company. Contreras' company followed a few weeks later.
Luck put their tents side by side in the desert. The two passed long letters secretly to keep their relationship below the radar, fearing they'd get in trouble if people knew.
"He wrote to her, `If we ever get out of here, we're going to get married. No one's going to get us apart again,' " Latorre said.
The war started and the letter-writing stopped.
Iraqis attacked Lynch's convoy March 23, killing 11 soldiers including her friend, Lori Piestewa. Lynch was badly injured when the vehicle she was riding in ran into an overturned truck.
Iraqi soldiers captured her and took the bracelet Contreras gave her.
Contreras didn't know Lynch was missing for several days. Then he saw her name at a briefing. He broke down and cried.
Desperate for information, he called Latorre on a satellite phone borrowed from a civilian contractor.
"Mom, have they found Jesse? How is she?" he asked.
"I don't know," she replied.
Two days later, on April 1, Lynch was rescued when U.S. Special Forces stormed an Iraqi hospital where she was being held. She was flown to a hospital in Germany.
Contreras didn't get the news for a few more days.
Not long after the rescue, Latorre answered the phone and heard a weak voice on the other end. "How's Ruben? Is he OK?"
It was Lynch, but all Latorre could say was, "I don't know." She just knew her son was somewhere in Iraq.
Finally, Contreras called. Right away, Latorre dialed Lynch on a three-way call and put them in touch for the first time.
"She said, `I love you' and then he said, `No, I love you' and she said, `No, I love you.' " Latorre said. "I had to put down the phone and give them some privacy."
Privacy has been in short supply for Lynch since that call. She was on the cover of nearly every major newspaper and newsmagazine.
People have held her up as a hero and denounced her as a pawn of Pentagon propaganda.
Latorre visited Lynch in the Walter Reed Hospital in Washington, D.C., in May and found fame attracted more than the normal procession of doctors, nurses and family members. Bo Derek and Kelsey Grammer popped in on days Latorre visited.
The man Lynch really wanted to see couldn't visit. He was still in Iraq.
Contreras couldn't be there April 26, Lynch's birthday, but he had Latorre give her a new I.D. bracelet to replace the stolen one.
Contreras was sent home to the United States in mid-June. His first order of business was to buy a promise ring.
He then stayed with her for two weeks of physical therapy.
Lynch thanked him during her nationally televised homecoming. "Ruben, you never gave up on me, when I wanted to quit PT (physical therapy), you kept me going and I love you," she said, standing on a stage before thousands of people in her hometown of Palestine, W.Va.
Many newspapers later mistakenly identified him as her physical therapist.
Other obligations keep the couple apart, although Latorre said they talk on the phone "a hundred times a day."
This month Lynch is scheduled to appear on ABC, CBS, NBC and CNN. Her book, "I'm a Soldier, Too," comes out this month.
Meanwhile, Contreras is stationed in Texas.
Lynch said Friday the media attention "makes it really hard for us to be together."
The couple will have their chance Thanksgiving.
Latorre said she'll also have time alone to hatch plans with Contreras.
The plans may land the couple in Colorado Springs.
Contreras said he wants to leave the Army and become a juvenile probation officer. "It'll be tough, but I like working with kids," he said.
He said he is applying to the University of Colorado at Colorado Springs and wants to settle here.
His mother is looking forward to having the couple here for at least a few days during Thanksgiving.
"Whether the whole rescue or anything ever happened to Jesse or not, I love her. It doesn't matter what people say about her one way or the other. To be a mother and see a woman who loves your son like that …" Latorre said, pausing as tears and a wide smile stole her next thought. "There are no words."
She started to explain the big Spanish wedding she wants to have, with a traditional wedding march, the relatives, the other prisoners captured with Lynch and a list of other "important people" Lynch is drawing up.
"I don't know what we're going to do with all the cameras that show up. I guess we'll have to deal with that later," Latorre said.
Then the phone rang. "Hello?" she said.
It was "People" magazine again.
"Could you call me back maybe tomorrow?"
Every weekday JewishWorldReview.com publishes what many in Washington and in the media consider "must reading." Sign up for the daily JWR update. It's free. Just click here.
Comment by clicking here.

© 2003, The Gazette Distributed by Knight Ridder/Tribune Information Services