Jewish World Review

Schools teaching students not to tolerate bullies

http://www.jewishworldreview.com | (KRT) As far back as the days of one-room schoolhouses, student bullying was tolerated as a rite of passage.

But that look-the-other-way nonchalance changed after the 1999 rampage at Columbine High School and a later Secret Service report that said three out of four cases of school violence involved bullying.

With urgency, schools across the country looked for ways to cope with the problem. Many adopted prevention programs. Some brought in experts to talk with students, parents and staff.

Almost everywhere, the message is the same: Bullying is now unacceptable and unsafe.

Studies show bullying affects not only safety, but also academics, self-esteem and truancy.

Thirty percent of students in grades six to 10 reported being bullies, victims or both in a 2001 study by the National Institute of Child Health and Human Development.

Eight- to 15-year-olds worry more about bullying than about drugs, alcohol and AIDS, according to the Kaiser Family Foundation.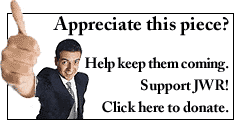 Sixty percent of teen bullies end up with a criminal record in their 20s, said the Centers for Disease Control and Prevention.
One out of 12 students has stayed home in fear of going to school, reported the National Center for Victims of Crime.
What is bullying?
Researchers define it as "aggression in which the behavior is intended to harm or disturb, the behavior occurs repeatedly over time, and there is an imbalance of power, with a more powerful person or group attacking a less powerful one."
Repeated racial, ethnic or sexual aspersions constitute bullying. But a fight between two children of about equal strength or teasing between friends does not.
And a bully and victims can be male or female.
Yet bullying is not a crime.
"There has to be harassment, threats or actual violence to be a crime," Camden County, N.J., Prosecutor Vincent P. Sarubbi said.
Among the most proactive states is New Jersey, where a law that took effect this fall mandates that districts have an anti-bullying policy and ways to respond to bullying or other forms of harassment.
"There is a culture in our schools and in our communities that allows bullying," said Randy Ross, program development specialist for the New Jersey Department of Law and Public Safety. "The question is, how do we change that culture?"
New Jersey is one of about a half-dozen states legally requiring action on bullying.
"It used to be common to say (bullying) is a rite of passage," said David Levine of Accord, N.Y., a former teacher who runs programs for teachers, students and parents. "I don't hear that now. There is a heightened sensitivity to the safety of kids."
That awareness comes from tragedy. The most prominent case was Columbine, in Colorado, where 13 people were killed before two high school gunmen killed themselves.
In July, Oaklyn, N.J., police arrested three suspects - ages 18, 15 and 14 - on allegations they were armed with handguns, machetes and 2,000 rounds of ammunition and plotted to kill school bullies.
"Bullying has always gone on. What is prevalent now is the availability of guns, and the threat to use them," said Kevin Gregan, director of clinical operations for the Genesis Counseling Center in Collingswood, N.J.
Others also worry about how family settings influence a child's conduct, especially when domestic violence or substance abuse is involved.
"Children from dysfunctional families are just as likely to be victims as bullies," said Ross, a former teacher who works with educators and law enforcement as part of a state campaign called New Jersey Cares About Bullying. "It depends on their experiences. You can't predict."
In a survey for The Inquirer's annual Report Card on the Schools in 2003, districts were asked if they had an anti-bullying policy.
In the school year before the state law took effect, 60 districts in Camden, Burlington and Gloucester Counties said they had a policy, while 24 did not. Of those, 16 said they were developing an anti-bullying education program.
"Our district started bullying-prevention programs before the state said we had to," said Jeanne Smith, public information officer for the Evesham Township School District. "A teacher working on a master's looked at eighth-grade students and presented his findings to the administration. While the students did well in their own perception, it wasn't good enough for the administration."
Evesham turned to Levine, who has worked with other area districts. Last month, during one of his many visits to the district, he spent two days with elementary school students and an evening with parents.
"Most parents who come to hear me are parents of victims, looking for help," he said.
For a second year, the state required schools to observe School Violence Awareness Week in October.
Some brought in speakers; others rewarded students with treats or privileges if a school had been "bully-free."
At Glassboro Intermediate School, two days of seventh-grade social studies classes were devoted to bullying.
"Bullying is not a normal part of growing up," said school nurse Cathy Straube, who wrote her master's thesis on bullying.
The pupils watched part of a Dr. Phil show in which a mother tells of the suicide of her teenage son, a bullying victim.
"I didn't know it could that serious," Glassboro student Derick Palmer said.
The students role-played two bullying situations: a boy trying to walk past another who is blocking his way, and a group of girls not allowing another to join their conversation.
"Now, do you think after what you have learned you can take care of bullying in this school?" Straube asked.
"Yes," the class responded.
"I do, too," Straube said. "I think we can make this school bully-free if you, the bystanders, say, `We want this school to be safe,' that bullying isn't cool."
Straube's lesson touched on two factors that many who study bullying find paramount: reaching students in middle school, and involving the estimated 70 percent considered to be onlookers.
"Middle school grades are the toughest," said Gregan, of Genesis Counseling, which works with the Collingswood schools. "It is a transitional period."
He said the onset of adolescence was a major contributor to the bullying culture. Also, middle schools often draw from several elementary schools; rather than causing students to make new friends, this often leads to bullying.
To involve bystanders, many schools have "bully boxes" - much like suggestion boxes - where students can anonymously report acts to administrators.
In Camden County, members of the prosecutor's staff visit schools to talk about bullying and what onlookers should do.
"Often, we're left to pick up pieces, to deal with the fallout," Sarubbi said. A key to reducing crime, he said, is clamping down on bullying.
"When you have silence, when you have passive acceptance, you've lost the advantage," Sarubbi said. "You're saying in an implicit way that bullying is OK. It is not OK."
Under the tougher rules in the Delsea district, which is based in Franklin Township, students found guilty of bullying or harassing may be suspended up to five days, a parent conference will be held, and a court complaint will be signed.
For about 10 years, a Delsea program called the Natural Helpers Club has urged students to assist students with problems, including bullying.
Student helpers attend an annual weekend training session.
"I never experienced something like that," sophomore Alyssa Constantine said of the training. "I learned how to handle different situations. I didn't know what to expect."
About 100 Delsea students are involved in Natural Helpers, said Linda Lawyer, the student assistance coordinator.
"It is not because we have more problems," she said. "It's that the majority of kids want a safe environment."
Every weekday JewishWorldReview.com publishes what many in Washington and in the media consider "must reading." Sign up for the daily JWR update. It's free. Just click here.
Comment by clicking here.

© 2003, The Philadelphia Inquirer. Distributed by Knight Ridder/Tribune Information Services