[ J E W I S H L I V I N G ]
outlook
The Jewish Ethicist
By Rabbi Dr. Asher Meir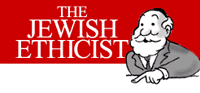 Compromised Compromise: When is a compromise unfair?


washington week
Rumsfeld to the Rescue: The Pentagon chief is a bastion of common sense


By Jonathan Tobin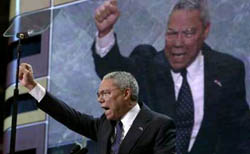 Initially dismissed as a relic from the Gerald Ford administration (he served his first term as head of the Pentagon when he was 43 years old) and just another country-club Republican retread, in the last 19 months Rumsfeld has shown himself to be the most sensible talking head in Washington. He has also shown himself to be more than a political match for the man who was thought to be the real focus of foreign-policy power when Bush took office last year - Secretary of State Colin Powell.
on media
Murder for Mature Readers: Palestine's Comic Book
By Lewis A. Fein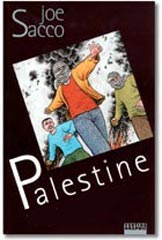 Walk into a comic store these days and you will find between the angular sketches of Captain Marvel and the melodic toughness of Mighty Mouse a more sinister -- a purposefully less innocent -- comic book: Joe Sacco's Palestine.
DEAR JWR READERS
JWR IN THE NEWS --- LITERALLY!


Your favorite website was recently profiled by the prestigious wire service, United Press International (UPI). Writer Lou Marano did an absolutely amazing job capturing, not only what makes JWR tick --- but also the overall situation we are facing. If you have a free moment, click here to view the feature-length article.


In friendship --- and gratitude,
Binyamin L. Jolkovsky,
Editor in Chief
JewishWorldReview.com


[ D A I L Y I N S P I R A T I O N ]



WISDOM EACH DAY:
Resisting our internal enemy






[ L I F E S T Y L E S ]

Dr. Ed Blonz: Does food affect children's behavior?; "fat binding"

GOPers to support McKinney's foe

Early heart disease indicator identified

Blueberries, honey help brain, heart

Consumer Reports on JWR: Technology offers security, but may forgo privacy



[ I N S I G H T ]

Leonard Pitts, Jr: Brace yourself for attacks of the stealth ads

Sean Carter: They write the songs that make the whole world ... sue

Ian Shoales: Will we soon need a passport to get caviar, duc a la orange, or Polish sausage?

Joanne Jacobs: Fun with failure (OUTRAGEOUS!)

Argus Hamilton's political zingers!
---
CIA ASKS CNN TO FIND OSAMA
Other Key government duties to be shifted to cable channels, White House says — Andy Borowitz
---


Laura Ingraham: The NEA: Let the anti-American indoctrination begin!

Jack Kelly: No proof of Saddam's wrongdoing? Yeah, right

Clarence Page: Bid farewell to the Cigarette Century

Paul Greenberg: How (much) low(er) can Bubba go? (OUCH!)

James K. Glassman: Moving on from 'sustainablity'

Capital Comment: Daily news notes, political rumors and important events that shape politics and public policy in Washington and the world

Jonathan Turley: I defended Ashcroft during his nomination; he's become a constitutional menace

Frank Gaffney: To Iraq or not to Iraq?

Betsy Hart: Mean girls and monstrous women: A feminist blows the whistle on the 'sisterhood'

David Limbaugh: Hollywood's leftist sheep

Doug Bandow: Don't start the second Gulf War

Mort Zuckerman: No time for equivocation (EXCELLENT!)

Nat Hentoff: The children left behind

Cal Thomas: Advice to Bush: Take out Saddam soon

Thomas Sowell: "Teaching to the test"





[ W O R T H 1 0 0 0 W O R D S ]

Mallard Filmore

Gary Varvel

Joe Heller

Mike Shelton

Jeff Stahler

Michael Ramirez

(Att. working columnists and editorial cartoonists: Think you have what it takes to be featured on JWR? Drop us a note. And readers: We're always open for suggestions!)



[ F A S T P O L I T I C S&nbsp ]








require ("t-ssi/rtorah.html"); ?>