Jewish World Review

Will military have their votes ignored even after reforms in place?

http://www.jewishworldreview.com | (KRT) The Defense Department and the U.S. Postal Service are preparing to assure military personnel votes are counted in November's election, but one advocate of military voting rights says the reforms miss the real problem.

An April report from the Government Accountability Office, Congress' investigative agency, pointed out long delays and logistical problems with military mail delivery, particularly in Iraq.

In the 2000 presidential election, hundreds of military absentee ballots in Florida weren't counted because they were late or had technical problems.

In response, the Postal Service will start a new labeling system to speed delivery of absentee ballots to and from military personnel, and postal employees in each U.S. county will work with local election officials to help them send out ballots, according to a recent plan.

Blank ballots from election boards will be sent, at no extra cost, by overnight mail to a military postal service agency center in one of three cities - New York, San Francisco or Miami - on their way to wherever the absentee voter is stationed.

But that's the point at which long delays can start, said Samuel F. Wright of the nonprofit Military Voting Rights Project.

"The real problem comes once the military postal service gets the ballot because they then have to find out exactly where the addressee is," he said.

The USPS reforms are good, Wright said, but they need to be backed up by Defense Department efforts to improve its own mail delivery and its voter information programs, and by county and state election officials who have absentee ballots ready and are willing to extend deadlines if delivery problems arise.

Sen. Kit Bond, R-Mo., added an amendment to this year's Senate defense spending bill, currently in reconciliation committee, that would require the Defense Department to report to Congress on recent steps to reform military voting and mail delivery.

"Mail delays not only deny our troops the fundamental right to vote but also take their toll on troop morale," Bond said, adding the military mail delivery system needs "major modernization." About 160,000 troops are in either Iraq or Afghanistan.

A Defense Department spokeswoman said she was confident troops are getting the chance to request ballots in plenty of time for the election.

"We have trained voting officers in every unit who are supposed to make one-on-one contact with everyone in their unit," Lt. Col. Ellen Krenke said.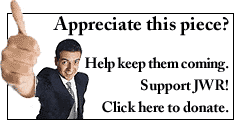 Each unit's voting officer can supply colleagues with voter registration cards and absentee ballot requests, and every military pay stub now has information on how to get in touch with those officers, she said.
"The only long-range solution with a 90 percent or greater confidence level that (troops') ballots will be counted is electronic voting," Wright said.
Earlier this year, the Defense Department scrapped an electronic-voting pilot program, citing computer security fears.
According to the Defense Department's Federal Voting Assistance Program, there are almost 6.5 million Americans living abroad who are eligible to vote, including 3.7 million civilians, and 1.4 million military personnel and 1.3 million of their family members.
Every weekday JewishWorldReview.com publishes what many in Washington and in the media consider "must reading." Sign up for the daily JWR update. It's free. Just click here.
Comment by clicking here.

© 2004, The Sun Herald Distributed by Knight Ridder/Tribune Information Services