Jewish World Review

High-tech political ads join stickers, buttons on campaign trail

http://www.jewishworldreview.com | (KRT) The first lady is popping up in the most unexpected places these days.

Laura Bush has been sighted recently on Web sites for the Food Network, Better Homes and Gardens, the Weather Channel, the Ladies Home Journal and Parents magazine.

Those are just some of the more than 50 sites that have, in the last few weeks, been featuring a 2 ½-minute video of the first lady talking about education.

``I'm Laura Bush,'' says the first lady as a way of introduction to surfers who might have turned to the Internet for something such as a recipe for chicken marsala or timely tips on potty training.

Having ``popped up'' on the computer screen, the first lady goes into her pitch about education being her passion and says that she and President Bush are friends to ``parents and teachers who want to improve America's schools.''

If you haven't already noticed, political campaigning has gone high-tech in a very big way.

Not to be left behind, presumptive Democratic nominee John Kerry is running banner ads on the Web sites of several dozen newspapers, including the New York Times, USA Today, the Detroit Free Press, the Los Angeles Times, the Miami Herald and the Akron Beacon Journal.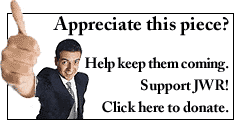 ``We have been running an aggressive newspaper Web site campaign all across the country,'' said Kerry campaign spokesman Mark Kornblau.
Unlike the ads featuring Laura Bush, the Kerry ads aren't issue-oriented. They are appeals for money.
___
``We are mainly directing traffic to our Web site (www.johnkerry.com) for fund raising. We have been breaking all kinds of records for Internet fund raising,'' said Kornblau. He said that since February, the Kerry campaign has taken in an average of $8 million a month in Web-generated donations.
``It's just an incredible groundswell of support. ... It (the Internet) is going to be a major part of our arsenal all the way through November,'' said Kornblau.
Over in the Republican camp, a Bush-Cheney spokesman said the Web ad featuring Laura Bush speaking on education is just the beginning.
``We started running the ad featuring the first lady on May 12 on more than 50 Web sites and several search engines,'' said Kevin Madden, who is based in Washington, D.C.
Calling the approach to this year's election a ``hard wire'' campaign - designed to appeal directly to voters - Madden said the Internet is the ``perfect way'' to reach specific groups of voters with an appeal crafted to their needs and interests.
He said the first lady's ad is scheduled to end within days and will be replaced shortly by similar ads, but he declined to give specifics.
Neither political camp would reveal details about its online campaign strategy, remaining hushed on the amount of money being spent or the geographic areas being targeted.
Both Bush and Kerry can thank former presidential hopeful Howard Dean for pointing the way, highlighting the power of the Internet to shape the American political landscape and raise money.
``You have to give credit to the Dean campaign in showing how effective Internet fund raising can be,'' said Rick Farmer, political professor at the Ray C. Bliss Institute of Applied Politics at the University of Akron. ``It is a wonderful way to get a lot of passionate supporters from all across the country.''
Dean, in his aborted bid for the Democratic nomination, raised more than $52 million, with the lion's share coming from contributions raised on the Internet.
___
However, the real beauty of the Internet, Farmer said, is that the online medium lends itself to what he calls hyper-narrow casting to its estimated 165 million users in the United States.
``The Internet allows you to target very specific demographics, which allows you to craft a very specific message for a very specific group of people,'' he said.
Using the example of cable television, Farmer said an advertiser who wants to reach young males can buy time on ESPN, the cable sports network. If the target audience is young, upwardly mobile females, the Lifetime network on cable is the choice.
``But the Internet can be 1,000 times more specific than that'' because it can be directed, Farmer said.
Strategists in both parties are enamored of the Internet because of its ability to combine the best of TV ads and direct mail. Online ads can run on sites that focus on a particular type of consumer from a specific geographic area in a certain income bracket.
Almost all Internet sites require viewers at some point to register to continue to navigate a site. Registration often includes specific information about age, education level and income.
Because Web sites are dedicated to very specific areas of interest, a very accurate and complex profile of a site's viewers can be created.
``So you can have Laura Bush on sites that target a particular group of women and you have her speaking directly to them,'' Farmer said.
___
The other appeal of Internet advertising is that it is not strictly regulated.
Because the Web ads aren't restricted by law, as ads on television and radio are, the potential for mudslinging is greater. Already, ads from both camps have taken nasty swipes at the other's candidate.
In a recent interview on National Public Radio, Sen. Ron Wyden, D-Ore., who came up with ``Stand By Your Ad'' in the 2002 Campaign Reform Act (the ``I approved this message'' tag line that now goes with television and radio ads), said he wants the same thing for Internet political ads.
Wyden said that in the current political landscape, the Internet has become the ``place where you hit below the belt, you sling the mud and then get out of Dodge before anybody figures out who did it.'' <
Every weekday JewishWorldReview.com publishes what many in Washington and in the media consider "must reading." Sign up for the daily JWR update. It's free. Just click here.
Comment by clicking here.

© 2004, Akron Beacon Journal Distributed by Knight Ridder/Tribune Information Services