Jewish World Review

Motor-home sales soar with baby boomers' increasing wealth, urge to roam

http://www.jewishworldreview.com | (KRT) It is your typical high-end home - granite counters in the kitchen, plush carpeting in the living room, wood paneling, master bedroom suite, big-screen television, expensive furniture - with one major exception.

This house doesn't come with views, this house goes to views.

Oh, and it gets better mileage then even the fanciest mansion on the market.

It's an RV, which not only stands for recreational vehicle, but for an increasingly popular lifestyle.

"We love the freedom," says Terry McElroy, an RV enthusiast from Vernon, Conn. "You're totally on your own. You want to stop and have lunch, stop at a beautiful spot, even sleep there, you can. You just do what you want."

Over time, McElroy and his wife, Shirley, moved up the line from truck campers, to trailers and then five years ago to a motor home.

Last October they bought a 39-foot motor home called a Phaeton, which cost a hefty, but by no means excessive, $175,000.

"The typical guy who buys a motor home is someone who has worked all his life," says Mark VanOstrand, owner of Van's RV in South Windsor, Conn. "His house is paid for, his kids are gone, he doesn't have any bills. So he doesn't have a problem financing a $200,000 RV over 20 years.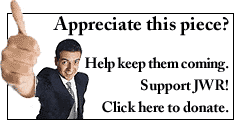 "He sees it as a second home. What are you going to buy at the Connecticut shore for $150,000 to $200,000? Not much. The big RV diesels are not designed for families; they're second homes. The government even treats them that way. You can take the same tax deductions as you would for a second home."
According to the Recreational Vehicle Industry Association, sales of RVs are growing about 15 percent a year, and last year reached $12 billion.
There are an estimated 7.2 million RVs on the road today in this country, and roughly 30 million RV enthusiasts, including renters.
Among the factors contributing to the surge in popularity are concerns about terrorism, the desire to avoid airport hassles, more leisure time, low interest rates and baby boomers nearing retirement age.
"We are just beginning to see the leading edge in sales with the baby boomers retiring," VanOstrand says. "It can only go up from here. We're seeing a big increase in the high-end stuff."
VanOstrand also says more couples in their 30s and 40s with kids are getting into the less expensive RVs.
"Take a couple with two kids, 5 and 7, they can get 10 years out of an RV," VanOstrand says. "If they bought a big explorer and went the motel-hotel route, they'd spend three times as much on a trip as they would in an RV."
There is also the matter of convenience. In an RV you can cook dinner as you go, give the kids naps, bring a pet along, take extra luggage and avoid the nuisance of frequent bathroom stops.
RVs come in all shapes and sizes, with those that can be towed by a vehicle accounting for about 80 percent of sales.
Motor home is the name given to self-contained RVs, which are further divided into three classes.
The largest, most luxurious and expensive members of this line are known as Class A motor homes. The luxury motor-home market starts around $150,000, with the heavy activity between $175,000 and $200,000. They come equipped with features such as high-speed Internet, stove, side-by-side refrigerator, washer-dryer, cedar-lined closets, king-size bed and even a fireplace.
"The most expensive RV we ever sold was a Country Coach Prevost Bus for $1.2 million," says Steward Schaffer of Lazydays, the country's largest RV dealer. "We stopped carrying that model in 2002."
Lazydays, on 150 acres outside of Tampa, Fla., sold 8,842 RVs in 2003, grossing $750 million. The dealership has 1,200 RVs on display, 273 service bays, 300 RV campsites, an 83,000 square-foot main building and a 40,000-square-foot camping store. It has 170 golf carts to move customers and employees about the complex.
Schaffer says the most expensive RV Lazydays currently sells is a Country Coach Lexa, which goes for about $750,000. The Lexa's options include all the standard amenities plus:
A 42- or 45-foot-long, 515-horsepower Cat diesel engine, double or triple slideouts, concealed drop-down 42-inch plasma television, Bose home-theater system with DVD player, fully furnished interior, fabric-covered walls, ceiling mirrors and lights, electrically operated drapes and blinds, full-motion satellite dish, GPS and On-Star, all electric appliances, awnings with electric remote wind sensor, and 50-amp service.
Of course, size isn't everything,
VanOstrand offers a luxury line of Class C motor homes made by a company called Chinook that are about half the size of Class As, but can sell for more than $150,000.
"This model is for someone who is getting up in age and wants to give up the size of a larger motor home, but not the lifestyle," VanOstrand says. "These are the Mercedes of this class."
Most dealers provide orientation sessions for their new customers, where they learn about the intricacies of their vehicles and get some driving tips.
Although it might seem a bit intimidating getting behind the wheel of a vehicle the size and width of a bus, owners say they are relatively easy to drive once you get used to it.
Just as there are levels of RV luxury, there are also levels of commitment.
Some people just like to get out for the weekend, while at the other end of the spectrum are "full-timers," people who roam the country year-round and don't own another home.
The McElroys, in their mid-60s, are in-betweeners.
"We take some long trips during the summer, four to five weeks, but more often we do weekend excursions, usually three days," Terry McElroy says. "My wife and I both own our own businesses, so we can leave when we want. Sometimes we decide an hour ahead of time, get in, turn the key and leave."
Although the McElroys traveled 15,000 miles in 2003, they don't see themselves as year-round RVers.
"We would never be full-timers," Terry McElroy says, "but we know some people who are, and they are quite happy. We're not ready for that. But going away for two or three months is definitely going to happen."
The McElroys like to go north, and have taken their home on a ferry to Newfoundland. At some point, they would like to go to Alaska.
Like most motor-home owners, the McElroys are not deterred by rising gas prices. Generally gas-powered motor homes get 9 to 10 miles per gallon, while diesels get 10 to 11 miles per gallon.
"When you pay $175,000 for a machine, you're not going to worry about a few cents a gallon," Terry McElroy says. "I don't think that impedes anyone from traveling."
Once on the road, RVers frequent campsites that cater to their needs. Many supply power, water and discharge facilities for holding tanks.
They are also places to meet other road warriors.
"You meet people on the road, then you run into them again in other parts of the country," McElroy says. "Everyone is very friendly, very nice. We love it."
Every weekday JewishWorldReview.com publishes what many in Washington and in the media consider "must reading." Sign up for the daily JWR update. It's free. Just click here.
Comment by clicking here.

© 2004, The Hartford Courant Distributed by Knight Ridder/Tribune Information Services