Jewish World Review

Racing fans bemused by the idea they could sway the election

http://www.jewishworldreview.com | (KRT) Revving engines roared in lifelike stereo from the industrial-grade sound system inside Jellybeans South Side Jam, an Allentown bar. It was race day, and not just any race day, but the Daytona 500, the first and biggest NASCAR event of the season.

A bartender rang the bar's silver "happy hour" bell twice. The race would begin in a few minutes.

Well before the bell, NASCAR fans, many wearing hats, jackets and T-shirts supporting their chosen driving heroes, claimed prime spots at the bar, or rearranged tables in a large room nearby. Televisions vied for wall space with beer-sponsor posters, and there was no shortage of either.

On the surface, Jellybeans seemed the ideal spot to survey one of the potentially important and sought-after voting blocs for the upcoming presidential election - NASCAR Dads.

Political pundits claim these voters, who tend to be white, middle-class males with a conservative political bent - but, significantly, no strong affiliations to one political party - will sway the upcoming presidential election in much the same way mini-van-driving Soccer Moms likely swayed past elections.

But in the moments before the race began at Jellybeans, the NASCAR Dad phenomenon had less cachet than it seems to have among the talking heads on political talk shows. Here, NASCAR fans had a very different idea of what a NASCAR Dad might be. For those willing to venture a guess, it was a reference to the way some sons (or nephews) of famous NASCAR drivers eventually take up the sport.

Politics didn't enter the picture.

"You're kidding," said Joe Kuzman, 50, of Allentown, who couldn't hide his dismay at the notion of politicians courting NASCAR votes. He was seated with friends at a particularly optimal viewing spot along Jellybeans' oval-shaped bar, a draft beer, a lit cigarette and several color televisions all within close range.

Kuzman follows the news faithfully, but doesn't vote regularly and may not in the fall presidential election, he said.

"What's going to hurt Bush in this election is the economy. The economy and jobs," said Kuzman.

In the larger room adjacent to the bar, Dave Moll, 57, of Macungie, Pa., was celebrating a birthday with his family. Moll counts as a NASCAR Grandad. His son, Scott, 27, is also here, with his two sons and several other extended family members and friends.

Like almost everyone else at Jellybeans on Daytona Day, the elder Moll thinks NASCAR Dad is a reference to the family lineage found in the sport. He is wearing a bright, red T-shirt and baseball cap with the name of one of the sport's most famous sons, Dale Earnhardt Jr., son of the late racing legend who died at Daytona three years ago. An official Dale Earnhardt Jr. jacket, with its beer-sponsor logo, hangs over the back of his chair.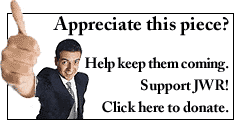 "I don't really follow politics, although I know I should," said Moll, who is a little disappointed a reporter wants to talk politics, not NASCAR racing. He keeps tabs on the news, but just finds racing more interesting. Moll plans his family vacation around NASCAR races, with a trip to the North Carolina Speedway in Rockingham each fall a highlight. He may or may not vote in the fall, but at this writing he wants to wait and see who emerges from the Democratic pack of candidates.
His son, Scott, plans to vote. A registered Democrat, he usually votes straight ticket. "I just push one button," he said, adding that the economy and "all the jobs going overseas" are the most important issues in the upcoming election.

If the NASCAR Dad phenomenon barely registers a ripple at Jellybeans South Side Jam on race day, it did raise a few hackles elsewhere, especially among NASCAR officials, who find themselves presiding over a sport that started as a Southern regional specialty, but now is followed by people across the country and beyond. NASCAR numbers its fans at about 75 million.
When the political NASCAR Dad notion first emerged late last year, the suggestion that NASCAR was a white male's preserve didn't sit well with NASCAR's chief operating officer, George Pyne, who wrote an op-ed column published in dozens of newspapers across the country.
In the column, Pyne outlined the sport's fan base. It has roughly as many female fans as male fans, a remarkable statistic among professional U.S. sports fans. Everyone may not be able to identify with the gazelles who catch 70-yard touchdown passes or the 6-foot-8 beanpoles who sink baseline jumpshots, but just about everyone drives. And with NASCAR's engine restriction rules, there are times when races actually seem like workday rush-hour traffic, with packs of cars running three abreast, transforming the banked tracks into commuter highways.
The fan base is also evenly spread among Democrats and Republicans - roughly 40 percent each - with the rest independents. And roughly 20 percent of the fan base is among "people of color," representing the sport's fastest-growing market, according to Pyne.
"NASCAR offers our fans a sense of belonging, a sense of family," said Pyne, who considers himself a NASCAR Dad. "The fans are still a cross-section of our country, but, on balance, they are well-educated and affluent. They are ... good, hard-working people. NASCAR fans are the people who won wars for America."
NASCAR didn't coin the term NASCAR Dad, but as it grew in recognition, NASCAR set out to gather data on who, exactly, its fans are.
For his part, Pyne understands why politicians are interested in the NASCAR vote, but objects to the notion that the fans will vote one particular way, for one particular party or candidate. "At the end of the day, people are going to make up their minds on a variety of factors, not on any single factor," he said. NASCAR has become a convenient platform for many, he said.

Celinda Lake, a Democratic pollster based in Washington, first spotted the trend among swing voters two years ago. She claims the Democratic party would have to secure the votes of at least half of the NASCAR Dads if the party were to regain the White House in November.
But since her research was released, the notion has taken on a life of its own. Others have added to the theory of what, exactly, constitutes a NASCAR Dad. Other pundits have claimed that NASCAR Dads are predominantly Republican, get speeding tickets emulating their heroes on the highways, drink lots of beer and pop lots of Viagra, which, incidentally, is also a major NASCAR sponsor.
James Todd, an anthropologist based in Southern California who is studying NASCAR as part of a doctoral degree, first heard the term from a NASCAR official, who was talking about ways diversity issues affect the sport.
"Hearing NASCAR Dads in the middle of that, I was astonished," said Todd, who is working on an advanced degree at the University of California at Santa Cruz. "When I first heard it, I thought it was a new masking word for talking about white, working-class guys in America."
Todd said that the people who attend NASCAR races are overwhelmingly white and middle-class, but the attendance doesn't define the fan base alone. To complete his study, Todd bought an RV and began following NASCAR events, hanging out with fans in the RV encampments found at every NASCAR event.
Todd's first full exposure to the sport was 2001 at Daytona. He was on Turn Four when Dale Earnhardt Sr. crashed nearby. Senior, as he is called by nearly everyone involved in NASCAR, died in the crash.
The fatal crash was a turning point in the sport. In the wake of Senior's death, NASCAR changed its safety rules. The death also helped change the NASCAR demographic, said Bill Spengler, who owns a NASCAR clothing and memorabilia store on MacArthur Road in Whitehall Township, Pa. "Right after Senior died, there was a big push. You started to see more kids and women's clothing. Before he died, that wasn't as prevalent," said Spengler, who has owned the store for the better part of four years.
However the notion is used, NASCAR fans have clearly become important players in this year's election. President Bush made a formal visit to Daytona this year, and voiced the famous phrase, "Gentlemen, start your engines," which set the race in motion. It was an official visit, not a campaign appearance, meaning it was paid for by the taxpayers, not the Bush re-election committee. The president left well before the race ended.
Bush wasn't alone at the track. James Caviezel, who plays Jesus in the Mel Gibson film "The Passion of the Christ," also was on hand promoting the film. One of the cars in the race had a poster for the film on its hood, a place usually reserved for logos hawking soda, beer, motor oil and tools.
Democrats, too, recognize the opportunity to reach voters. Late last year, supporters of then Democratic hopeful Howard Dean approached Brian Weber, a Long Island, N.Y., native who owns a racing car that runs on the Busch circuit, a second-division NASCAR-sponsored racing series. Would he be willing to put Dean's name on his car? The Dean campaign wasn't an official sponsor of the car, but Dean supporters paid Weber to place the candidate's name on the car.
The "Dean supporters knew I supported Dean," said Weber, who also describes himself as a NASCAR Dad. "I'm a 37-year-old white guy, but I've worked for everything I have."
After an early start as a front runner, Dean's campaign had lost momentum, and on the day Weber was interviewed, the campaign was looking flat. Later that same day, Dean announced - and later rescinded - a pledge to drop out of the campaign if he failed to win the Wisconsin primary.
But, even before the Wisconsin announcement, Weber knew things weren't going well for Dean. Weber described himself as an occasional voter, but the message Dean offered struck a chord with him. "I'm a results-oriented guy, and so is he. What is frustrating is that Dean has been saying the same thing for his entire campaign. Now, everyone is saying what Dean was saying. I'm seeing a bandwagon effect."
After finishing a distant third in Wisconsin, Dean dropped out of the race. Reached by telephone on the day Dean withdrew, Weber said that although he couldn't offer specifics, he is looking into other possibilities for what logos will be on his car when it arrives at Nazareth Speedway in May for its scheduled Busch Series race.
One thing is certain: Weber won't be voting for George Bush. "No way I'd ever vote for George Bush. He's put our country $500 billion in debt. If I go and overdraft my checking account, my wife yells at me. My life has not gotten any better" under Bush, he said.

When President Bush appeared on the multiple TV screens at Jellybeans at the beginning of the NASCAR race, the response was one of mild indifference. One barstool pundit at the end of the bar offered a few unprintables, and later, when the president was shown sitting on a platform with Richard Petty, a NASCAR legend, another bar patron asked no one in particular, "Hey, who is that up there on the platform with Richard Petty?"
It was clear the NASCAR fans were gathered at Jellybeans for racing, not politics. The biggest reactions, as expected, were reserved for the crashes. An early blown engine by driver Mark Martin's car, which looked for a moment like a serious crash, but ultimately was not, drew an enthusiastic roar from the crowd, the first of the afternoon.
"It really doesn't make a difference to me if he comes to Daytona or not," said Jim Anderson, 54, an independent voter from Bethlehem, enjoying a beer as the Daytona race began. "Bush has done a fair job so far, and I'd probably vote for him again."
There was one telling moment of unity among the fiercely independent NASCAR Fans. As country star LeAnn Rimes began to sing the national anthem, the denizens of the bar, and at the tables nearby, stood.
One patron, Thomas Warsing, 50, glanced across the bar and spotted a baseball cap still on a head. "Hey, hats off over there," said Warsing, a Vietnam Vet and a proud charter member of the Reading Motorcycle Club. The patron quickly complied.
Every weekday JewishWorldReview.com publishes what many in Washington and in the media consider "must reading." Sign up for the daily JWR update. It's free. Just click here.
Comment by clicking here.

© 2004, The Morning Call Distributed by Knight Ridder/Tribune Information Services