Jewish World Review

'Ladibug' inventors gear up for Pentagon robot race

http://www.jewishworldreview.com | (KRT) Minutes after the robot tore off a chunk of his Ballwin, Mo., garage, Warren Williams was looking for the silver lining.

An elite Pentagon-sponsored robot race was only weeks away and the $1 million prize was looking further and further off. The machine, a souped-up ATV, had lunged forward as Williams steered, but he hit the kill switch just after the vehicle collided with his house.

No matter, said Williams, a robot hobbyist. After all, he pointed out, in this race the robots pilot themselves.

"That was our first crash test," he said. His son Lucas gathered spilled Legos from the area. Later, his wife Vikki complained of a "robot induced migraine."

Come this week, the vehicle better show its brains along with its brawn. On Monday afternoon Williams and teammate Bill Zimmerly will attempt to qualify their robot for the Grand Challenge, a race across the Mojave desert organized by the Defense Advanced Research Projects Agency.

The race is meant to help build the army of the future. Team members cannot control their robots during the 10-hour journey over roughly 200 miles of desert. Instead, the vehicles must be programmed in advance to follow a set of geographic coordinates provided just before the race. In addition, the robots must navigate obstacles and other vehicles.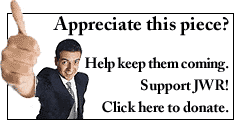 If no one completes the course, the defense department will repeat the million-dollar event in coming years.
DARPA hopes the race will boost efforts to build robotic soldiers to fight battles without risking troops' lives. Congress has mandated that by 2015, one third of all American operational combat ground vehicles be unmanned.
And playing off the popularity of reality shows BattleBots and Robot Wars, the Pentagon has tapped amateur tinkerers as their newest weapon in the endeavor.
"We wanted to get the guy in the garage," said Art Bruckheim, a consultant with DARPA.
Bruckheim and a group of government engineers visited Williams and Zimmerly after DARPA rated the team's initial proposal "possibly acceptable."
Bruckheim acknowledged that the garage raised eyebrows. Williams' makeshift workshop is strewn with saws, disemboweled robots and metal parts. In the backyard sits a Volkswagon bus with a Grateful Dead sticker.
But after seeing the constructed robot and spending hours with the officials at a nearby IHOP, the team convinced Bruckheim they deserved a place in the race.
The Ballwin squad's vehicle is a tricked-out Kawasaki Prairie 700 ATV with tank-style treads. It features a GPS receiver, sonar and radar devices, and a lightening-quick computer.
And the name? LADIBUG. "That's for Long-range Autonomous Directional Intuitive Boundary-sensing Unmanned Ground-vehicle," said Zimmerly, the programmer on Team Phantasm, as the Ballwin group calls itself.
Other entrants in the 25-team contest have dozens of engineers on hand and have spent millions. Most have modified trucks or SUVs for their vehicles. The University of Florida's NaviGator, for example, is a converted 1993 Isuzu Trooper that resembles a tank.
Team Phantasm, the only team from the St. Louis area, has worked essentially alone, and has spent tens of thousands of dollars of its own money.
Having entered robots in several televised battle shows, Williams thought early on that a homemade electromagnetic pulse weapon could level the playing field, frying his competitor's circuits. "I had it all designed out of an old microwave," he said. Alas, DARPA said no fighting.
It's a "David and Goliath approach," said Doug Freeman, a spokesman for Kawasaki. That firm donated the ATV as well as more than $15,000. Local donations included computer equipment from a local shop and food from a restaurant.
At Monday's qualifying event in Fontana, Calif., each robot will follow a short GPS course on its own. That will be tricky enough for LADIBUG, which has had trouble navigating obstacles. The team headed out to California this week to work out the kinks.
"We still have to tune and tweak," said Williams.
Every weekday JewishWorldReview.com publishes what many in Washington and in the media consider "must reading." Sign up for the daily JWR update. It's free. Just click here.
Comment by clicking here.

© 2004, St. Louis Post-Dispatch Distributed by Knight Ridder/Tribune Information Services