Jewish World Review March 13, 2001 / 18 Adar, 5761

Makeisha Madden

So you wanna be Tony Soprano?


http://www.jewishworldreview.com -- SO you wanna be Tony Soprano? It's gonna cost you. How much?

Well ... a Rolex here, a pair of Brooks Brothers shoes there, bada-boom, bada-bing, it's almost $50,000.

It costs a lot of money to look like the sleazy star of HBO's popular "The Sopranos," a show about a fictitious Italian-American mob family in New Jersey. The series, which begins its third season Sunday, has received critical acclaim and several awards, including two Emmys. Fervor for the show has inspired fans to sprinkle Soprano vernacular in their speech and even plan season-opening parties.

As the show grows in popularity, so does the Soprano look.

Who can resist all that slicked-back hair and gaudy gold jewelry?

Tony Soprano (James Gandolfini) is the boss of his family, but if you're imagining him in "The Godfather" look - Italian suits and the Regis Philbin matching tie and shirt thing - fuhgedaboudit. Tony's part of the next generation and only wears that kind of thing on special occasions, such as Anthony Jr.'s Catholic Church confirmation.

Instead, think velour running suits (a.k a the "Bensonhurst tuxedo"), silk shirts, dress slacks and a nice pair of designer shoes. When you're the don, you need only look polished in a kitschy way.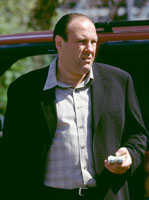 James Gandolfini as Tony Soprano
To learn how to re-create Tony's look and get into the mood of the series in time for the season opener, we paid a visit to the Tacoma Mall in Tacoma, Wash. Our store of choice? Nordstrom. Here they sell Soprano-style pants, shirts and cologne.
Store employees were very helpful and hypothesized at length about a number of Tony Soprano purchases. Greg Cheslik in the men's suit department was torn. Would Tony Soprano wear Hart, Schaffner & Marx or Zanella?
But when he rubbed the soft silk and wool blend of Zanella dress pants ($275) he could feel the Soprano taste sewn into every Italian fiber.
Erich Davis in men's fragrances knows the kind of cologne a man like Tony Soprano would wear.
"Big and powerful men wear Zaharoff," said Davis, who doesn't watch the show, but knows a few Tony-types. "This cologne is for the boss, a man that demands respect. A skinny man could not wear this."
The men's casual section was filled with golf and button-down sports shirts for Tony. Gaudy, the 100 percent silk Tommy Bahama shirts ($95), seemed appropriate.
The next stop was Friedlander's Jewelers. Ask where you can get a Rolex in the mall, and this is where everyone points. "Certified diamontologist" Christina Buzard showed me a few Rolexes, all shiny and ridiculous. The one most like Tony Soprano's has a gold and silver bracelet and fluted bezel ($5,999).
After being blinded by the pinkie rings ($295) and gold chains ($699), it was on to Gene Juarez Salon & Spa. When a made man needs to relax, he might want to schedule an appointment for the Executive Retreat For Men treatment ($195), which includes a facial, paraffin hand therapy, full body massage and Swiss shower. Unfortunately, the likelihood that Tony would have time for this type of self-indulgence is nil. More doable: a haircut ($65) and a sport manicure (catchy name meaning "man manicure," $35).
The final stop was J.C. Penny for Tony Soprano's unmentionables. Silk boxers ($20) and "wife beaters" (ribbed tank tops, which cost $15 for three) were ample and affordable.
The priciest thing Tony owns is his 2001 Eddie Bauer edition Ford Expedition ($40,545), and that's not at the mall. All the things at the mall were relatively affordable - if you're a gangster.
And this is important. Because Tony Soprano looks like a wiseguy on the outside, but inside, he's just an everyday guy who wants to look good and save money. Capisce?
Makeisha Madden writes for the Tacoma News Tribune. Comment by clicking here.

© 2001, SHNS