Jewish World Review

Detainees freed from Guantanamo reportedly rejoining terrorists

http://www.jewishworldreview.com | (KRT) Terrorists freed from the U.S. prison at Guantanamo Bay have rejoined Taliban and al-Qaida cells in Afghanistan, sources tell the New York Daily News.

Defense Secretary Donald Rumsfeld is expected to make the bombshell admission Friday in a speech in Miami, military and political sources said Thursday.

But Rumsfeld's revelation about the few prisoners in Cuba who shouldn't have been let go will be used as justification for indefinitely detaining approximately 650 terror suspects still held there, said one defense official.

The Pentagon chief will argue for greater scrutiny of each detainee, but he'll also "talk about the intent to release more" than the 87 freed to date, the official said.

Pentagon officials have refused to discuss one reported case of a Taliban commander, Mullah Shehzada, who rejoined comrades in Afghanistan after his release from the Guantanamo prison camp in Cuba last October.

Shehzada convinced his interrogators he was an innocent civilian captured by Northern Alliance troops and turned over to the United States, Time magazine reported late last year.

"(Shehzada) is not the only one," said a source briefed on the speech Thursday. "They're about to be a lot less tight-lipped about it."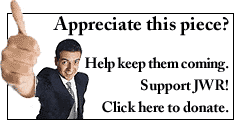 Rumsfeld is also expected to reveal that detainees have provided intelligence about human smuggling rings in Latin America aimed at sneaking al-Qaida thugs into the United States.
Other officials are skeptical that Osama bin Laden's terror network is active there. A senior diplomatic source in the region told The Daily News that reports of al-Qaida operations south of the border have been touted by Army brass without hard proof.
The other sources said Rumsfeld is making the speech, which comes as the U.S. Supreme Court weighs whether courts have jurisdiction over the U.S. naval base in Cuba, to "educate" the public about why the U.S. operates Camp Delta, where terror detainees have no access to lawyers.
Every weekday JewishWorldReview.com publishes what many in Washington and in the media consider "must reading." Sign up for the daily JWR update. It's free. Just click here.
Comment by clicking here.

© 2004, New York Daily News Distributed by Knight Ridder/Tribune Information Services