Jewish World Review

Average Americans are stars of Grand Central recording studio

http://www.jewishworldreview.com | (KRT) NEW YORK — When he stepped off the boat from Italy in 1958, Peter Facinelli dreamed of becoming a carpenter. On his first day as a busboy in New York, however, the 17-year-old immigrant made $15. Back in his small village in the mountains of northern Italy, he chopped wood for 10 hours and made only 70 cents.

"That $15 I brought home, it changed my life," Facinelli told his son, Peter Jr., during a 40-minute interview inside a soundproof booth that shut out the bustle of its surroundings, a busy passage at Grand Central Terminal.

The booth is the recording studio for StoryCorps, an ambitious oral-history project aimed at capturing the life stories of ordinary Americans whose struggles and triumphs rarely are the stuff of history books. At a time when interest in genealogy and personal history is growing rapidly, the project also offers a way for families to preserve an older generation's tales for the future.

"What we're doing is allowing people to collect their own histories," said David Reville, the director of StoryCorps, which hopes to open booths in several cities, including Chicago. "It gives everyone an opportunity to honor the most important people in their lives by listening to their stories and preserving them in a really careful way for the future."

As a sign on the brightly colored square booth says, "Listening is an act of love."

In the two months that the booth has been open, StoryCorps staffers have recorded more than 300 interviews. On Friday, despite the fact that the city's usually hectic pace was throttled back after New Year's Day, the booth was booked almost solid for one-hour sessions, which must be reserved in advance.

For $10, participants get a broadcast-quality CD recording of their interview and, with their permission, a copy will be sent to the Library of Congress' American Folklife Center.

"The significance of this project is that this is an attempt to get a handle on everyday oral histories, on the lives of ordinary people," said Peggy Bulger, director of the center, who compared the StoryCorps project to the oral histories recorded by the Federal Writers Project during the Depression.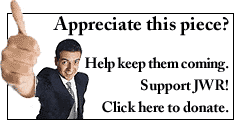 "We have found that some of our most compelling audio recordings from the '40s and '30s happen to be these man-on-the-street interviews that give you a glimpse into what life is really like," she said.
In April, the StoryCorps project will turn over its first batch of interviews to the library and announce where the next booths will be set up.
Organizers would like to include Chicago, but finding local funding for the booths is key, Reville said.
The non-profit project was the idea of radio documentary-maker Dave Isay, a recipient of a MacArthur Foundation "genius" grant who produced "Ghetto Life 101" for National Public Radio in 1993, a chronicle of life in Chicago's Ida B. Wells housing project.
With funding from such sources as the Rockefeller Foundation and the Corporation for Public Broadcasting, the project's organizers built the first of what they hope will be a series of soundproof recording booths, which eventually could include a mobile recording studio that would travel to smaller cities.
The tight interior of the Grand Central booth holds a small table where the interviewer and the subject sit across from each other while two radio-studio microphones dangle in front of them. Off to the side, a StoryCorps staff member sits at a cramped desk with a control panel and recording equipment.
After allowing time for paperwork and preparations, each one-hour segment leaves about 40 minutes for talking. An interview guide at the project's Web site (www.storycorp.org) suggests topics for a recording session, such as how a family came to America or a veteran's war experiences, but the interviewer is free to ask any question.
David Shakin asked his 76-year-old mother, Beverly, if she remembered when she first became aware that she had sexual feelings. She talked about a date who took her to the movies when she was 13 or 14 years old.
"He was tall and he was round and pink," she said of her boyfriend. "And he put his arm around me. I can remember it like it just happened. My body just lit up. … I said, `Oh, my God, this is what life is.'"
Gerbail Krishnamurthy told his daughter Kalpana about his first visit to a restaurant after coming to America from India. Wanting to avoid beef, which Hindus do not eat, he faced a bewildering menu.
"The one that made me sick was called `hot dog,'" he said, causing his daughter to burst out laughing. "I couldn't believe people eat the dogs. … I kept on going down the list. There was some hamburger. So I actually ate hamburger without realizing it was beef."
But the interviews also often venture into darker family terrain. Career disappointments, loveless marriages and abusive relatives all have been topics, and the sessions often turn emotional. One of the few items in the booth that is not a piece of recording equipment is a box of facial tissues.
"People cry all the time," said Emily Feit, who works at the booth. "I cry all the time."
Spouses have interviewed each other; girlfriends have brought their boyfriends for recording sessions. Sometimes the only relationship between interviewer and subject is friendship. But most often, organizers say, children or grandchildren want their parents or grandparents to recount the stories of their lives.
"My dad is always telling stories, and I thought they should be captured on tape," said Peter Facinelli Jr., a 30-year-old actor in Los Angeles who interviewed his father during a holiday visit to New York last week. "The life struggles that your parents and grandparents go through are fascinating."
The elder Facinelli recalled the travails of his father, who moved back and forth between Italy and a Pennsylvania coal-mining job several times from the mid-1920s to the 1940s before dying of black-lung disease.
After his lucrative first day as a busboy, Facinelli changed his mind about becoming a carpenter, working for 45 years as a waiter and maitre d' at a number of New York restaurants and private facilities, including the executive dining room at Merrill Lynch's corporate headquarters, where he witnessed people jumping out of the nearby World Trade Center towers on Sept. 11, 2001.
"I never went to high school," Facinelli, 63, said toward the end of his session, summing up his life. "I never studied English, just picked it up here and there. But I never collected unemployment, and I put my four children through college. I can't ask for better than that."
"You got your American dream?" his son asked.
"You bet," Facinelli said. "A good one.
Every weekday JewishWorldReview.com publishes what many in Washington and in the media consider "must reading." Sign up for the daily JWR update. It's free. Just click here.
Comment by clicking here.

© 2004, Chicago Tribune Distributed by Knight Ridder/Tribune Information Services