By Sheldon Kirshner
At 72, Jacqueline Park, a grandmother, considers herself a first-time author. "It feels wonderful," exulted Park, whose novel, The Secret Book of Grazia dei Ross, was recently published by Simon and Schuster.
The tome spins the tale of an Italian Jew who is suspended between two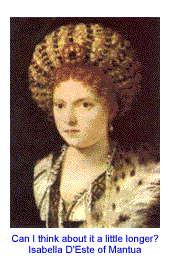 cultures. Set during the Renaissance, the novel -- which unfolds against the backdrop of religious intolerance, war, papal politics and family strife -- was inspired by two letters Park found in a library.
As a professor of dramatic writing at New York University's film school, Park was entitled to free courses. Studying art history, she became fascinated with early Renaissance painting. This, in turn, prompted her to learn Italian and delve into the chronicles of Italian Jewry.
Reading Shlomo Simonsohn's History of Jews of Mantua, Park stumbled across an intriguing footnote suggesting a forbidden romance between Pacienza Pontremoli, a Jew, and his Catholic love. Piqued by curiosity, Park went to the New York Public Library to investigate. There, on microfilm, she found two defunct Italian-Jewish journals which had printed the correspondence between Pontremoli and Isabella D'Este, the daughter of a Catholic aristocrat.
D'Este urged Pontremoli to give up his foolish attachment to Judaism and convert to Christianity so that she could wed the young man who so adored him. Pontremoli, weak and confused, wavered.
"At that point," Park said, "the curtain descends and Pacienza disappears into the mist of history."
As this material simmered in her imagination, Park decided it was the stuff of a grand, sweeping novel. In the 1970s Park had written a mystery novel based on one of her TV scripts. She immediately plunged into the task. It took her 10 years to complete the manuscript. Two more years elapsed before it was finally edited and ready for publication.
Long before embarking on The Secret Book of Grazia dei Rossi, Park produced scripts for the National Film Board of Canada and dramas for the Canadian Broadcasting Corporation. She hesitated, however, to attempt an original, full-blown novel.
"I didn't have the nerve. It seemed so presumptuous of me to tackle that form," she confessed.
Writing during sabbaticals and vacations, Park learned that the crafting of a novel is a process of self-revelation. "You don't really know what it's all about until you reach the end. A novel has a life of it's own."
Remarkably enough, Parks own life mirrors this credo. "I never had career plans," she explained. "I went where the wind took me." An unusually bright student who graduated at 19 with an honors BA degree in economics from the University of Manitoba (Canada), she went on to take her Masters degree in economic history at the University of Toronto. "I did it to widen my knowledge," said Park, who was then a Marxist.
Leaving Canada in 1960, she immigrated to America, where she met her husband, Ben Park, a TV producer, with whom she had two daughters. Later, she began teaching at NYU, where she is now a professor emerita.
For Park, The Secret Life of Grazia dei Rossi, coupled with her commitment to promote the book, and her intention to write two more Renaissance-era novels, comes at a fortuitous juncture. "My husband died last year, and there was a hole in my life. Now I have a good reason to get up in the morning."
The novel has also brought her closer to her Jewish roots. "It took me 60 years to appreciate that heritage," said Park, who founded a Torah study group while composing her novel.