Jewish World Review Jan. 11, 2005 / 11 Teves, 5766
Penalized for working swiftly
By Rabbi Dr. Asher Meir
Customers feel they're being cheated by my prompt service. Can I shlep out the repairs?

http://www.JewishWorldReview.com | Q. Because of my expertise as a technician, I'm often able to do complex repairs in a few minutes. But when I return the item so quickly my customer thinks he's been cheated! Is it ethical to drag out the repairs if that makes the customer feel he is getting better service? Either way the price is the same.

A. It may make you feel better to know that the prophet Elisha faced a similar problem. When he told the Aramean general Naaman that he could cure his leprosy by merely dipping seven times in the Jordan river, the general was furious that the prophet prescribed such a simple treatment. His servants had to calm him down and reassure him that on the contrary, he should be happy that Elisha was able to effect such a rapid "repair"! (II Kings chapter 5.)

Let's analyze your question. Normally it is forbidden to give a false impression of how much you exerted yourself for someone. For example, the Talmud teaches that if you just happen to run into someone, you may not lead them into believing that you made a special trip to meet them. Even though the person will feel better thinking that you honored him in this way, you shouldn't benefit from undeserved gratitude; rather, you should subtly inform him that he has an exaggerated impression of your efforts.

It follows that if the customer is satisfied to get his repair back after five minutes, but you keep him in the shop fifteen minutes to give the impression that you invested a lot of effort on his job, you are subtly misleading him. Our Sages call this "geneivas daas" — stealing someone's goodwill.

But your case is different. You're not trying to score points with the customer; you're just trying to stave off unfair resentment. In this case the customer doesn't have to know how little time you need to get the job done. (Of course it goes without saying that you can't lie about this.)

This is like "reverse discrimination:" If you drag out the repair for five minutes instead of the two you really need, you're not giving the false impression that you spent unusual effort on the job — you're giving the accurate impression that you spent a normal amount of time on it.

Of course it's better if you can avoid misleading the customer altogether. Try to learn how to explain to customers how only your unique expertise enables you to give them such quick service.

SOURCES: Babylonian Talmud, Chullin 94b; Rabbi Aaron Levine, Case Studies in Jewish Business Ethics p. 330
Every weekday JewishWorldReview.com publishes inspiring articles. Sign up for our daily update. It's free. Just click here.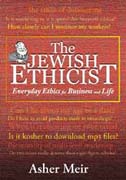 THE JEWISH ETHICIST, NOW IN BOOK FORM
You've enjoyed his columns on JWR for years. Now the Jewish Ethicist has culled his most intriguing — and controversial — offerings in book form.
HARDCOVER
PAPERBACK
Sales help fund JWR.
---
JWR contributor Rabbi Dr. Asher Meir, formerly of the Council of Economic Advisers in the Reagan administration, is Research Director of the Business Ethics Center of Jerusalem, Jerusalem College of Technology. To comment or pose a question, please click here.


Previously:

When is it a bluff?
'Rate and switch'
My paycheck is late!
Should schools cater to an elite?
All's fair in love?
Comfort and Competition
Do I need the caller's permission to put a call on the speakerphone?
Overtime for lost time
Is it unethical to play suppliers against each other to get the lowest bid possible?
Do family members have precedence in charity allotments?
What the world of business can teach us about our annual process of repentance and renewal
Are religious leaders subject to criticism?
Vindictive Vendor: How can I punish an abusive competitor?
Blogging Ethics: Is the blogger responsible for defamatory posts?




© 2005, The Jewish Ethicist is produced by the JCT Center for Business Ethics