<!- end inthis -->
Jewish World Review March 7, 2013/ 25 Adar, 5773
Americans speak every language, but only English unites us
By Jeff Jacoby


<!— jwr_control_panel —>




<!— attribution —> http://www.JewishWorldReview.com | <!— attribution —> Gabriel Gomez, one of three Republicans vying for the US Senate seat vacated by John Kerry, speaks Spanish like a native and seems intent on making sure every voter knows it.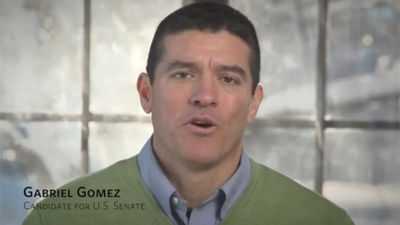 Gabriel Gomez introduces himself first en espaņol, and only afterward acknowledges "those of you who don't speak Spanish."
The Cohasset businessman, a former Navy SEAL commander, announced his candidacy last month in an online video that opened in Spanish: "Me llamo Gabriel Gomez, y yo estoy anunciando que voy a correr para ser senador de los Estados Unidos." Then he switched to English: "For those of you who don't speak Spanish, today I'm announcing my run for US Senate." He did the same thing as he hit the campaign trail for the first time last week. At an American Legion post in Quincy, he began by introducing himself en espaņol, only afterward acknowledging "those of you who don't speak Spanish."
Bilingual fluency is a great asset, and Gomez acquired his effortlessly: He was born in Los Angeles to parents who had recently emigrated from Colombia, and as a child was speaking Spanish before he learned English. In a Republican Party anxious to appeal to Hispanics — especially after an election in which the Hispanic vote broke heavily for Democratic candidates — Gomez clearly believes his Latino roots and flawless Spanish give him a political edge. In Massachusetts last November, more than 4 of every 5 Hispanic voters backed Elizabeth Warren in her challenge to Senator Scott Brown. So it's hardly surprising to hear Gomez calling himself a "new kind of Republican" as he goes out of his way to address voters in Spanish.
He's not alone. In February, Florida Senator Marco Rubio gave the official Republican response to President Obama's State of the Union speech, the first time a leading member of the opposition party did so in two languages. Rubio's address was delivered live in English on the major TV networks, while a version he had prerecorded in Spanish aired simultaneously on the Spanish-language networks.
Outreach to ethnic minorities is a timeless political practice in this country, as American as sampling a bratwurst during Oktoberfest or marching in a Columbus Day parade. To hear some strategists tell it, the eagerness with which candidates like Gomez or Rubio are seeking ways to campaign in Spanish is part of that same melting-pot tradition — as innocuous as George W. Bush welcoming guests to the White House Cinco de Mayo party with mariachi music and a jovial "mi Casa Blanca es su Casa Blanca!" As Republican media adviser Alex Castellanos recently told National Journal, "When you speak to people in their native language, you are telling them we're part of the same community."
But if that's the case, why didn't Republicans arrange for a full-blown response to the State of the Union address in Chinese or French or Vietnamese? Why hasn't Gomez made a point of introducing himself in Portugese or Italian or Russian? Spanish may be the second-most common language spoken in the United States, but there are dozens of other languages used daily by millions of American voters. Don't those voters also need to be reassured that we're all "part of the same community"?
English has always been integral to the American identity. Without a common language, the miracle of E Pluribus Unum would never have been possible. Americans come from every corner of the globe; they represent a vast array of cultural, ethnic, and linguistic traditions. Yet they have been able, by and large, to form a single nation — to mold an American mainstream, despite such a hodgepodge of incompatible origins. They couldn't have done it without a commitment to English as the national tongue.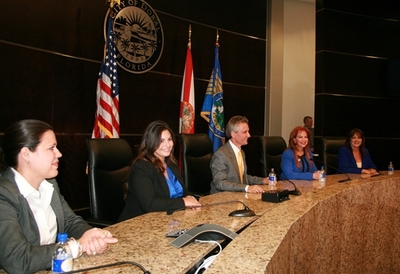 A proposal to make Spanish a second official language was unanimously opposed by city councillors — all Spanish-speaking Latinas — in Doral, Fla.
Rubio and Gomez could learn a lesson from the city councilors of Doral, Fla., a Miami suburb whose mayor recently proposed making Spanish the official second language. Few places in America are more Spanish-friendly than Doral: Nearly 80 percent of the population speaks Spanish at home. It is where Univision, the leading Spanish TV network, is headquartered. Every member of the city council is Latino. Yet every one voted against the mayor's resolution.
"We came here," Councilwoman Ana Maria Rodriguez explained, "knowing we had to adapt to the language of this country." Generations of immigrants have known the same thing, and their embrace of English has been essential to the great American success story.
Spanish is a rich and beautiful language. But privileging Spanish in public life is a reckless strategy for partisan success. Latinos don't come to America to be patronized or pandered to, but to share in the blessings of American unity. One nation, indivisible. One language, indispensable.
Every weekday JewishWorldReview.com publishes what many in the media and Washington consider "must-reading". Sign up for the daily JWR update. It's free. Just click here.
Jeff Jacoby is a Boston Globe columnist. Comment by clicking here. <!— previous columns by author —>
© 2010, Boston Globe
Columnists
Toons
Lifestyles