Jewish World Review July 28, 2004 / 10 Menachem-Av, 5764

Nat Hentoff




[an error occurred while processing this directive]
The FBI's fired whistleblower

http://www.NewsandOpinion.com | Were it not for the determination of Sens. Patrick Leahy (D-Vt.) and Charles Grassley (R-Iowa), Attorney General John Ashcroft would still be preventing the public from knowing the allegations of an FBI whistleblower that that agency has been covering up its own incompetence that is dangerous to national security.

The dismissed accuser, Sibel Edmonds — a linguist and translator with expertise in Mideast languages — was hired by the FBI soon after Sept. 11. As the Boston Globe recently reported on July 5: "Sifting through old classified materials in the days after the Sept. 11, 2001, attacks, (Edmonds) said, she made an alarming discovery: Intercepts relevant to the terrorist plot, including references to skyscrapers, had been overlooked because they were badly translated into English."

Moreover, on Oct. 27, 2002, Edmonds told a CBS-TV "60 Minutes" reporter that there was a large backlog of untranslated FBI interviews with possible terrorists, as well as wiretaps. But she was told to do her work slowly so that the FBI could get a bigger budget to hire more translators. Edmonds had also revealed to her superiors that one of her colleagues was involved with an organization under FBI surveillance.

They were not pleased to hear from her on that.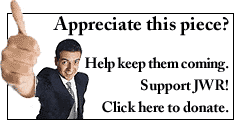 For her industrious whistleblowing, Edmonds was fired in March 2002. Taking up her cause, Sen. Grassley told "60 Minutes" that Edmonds' accusations were "absolutely credible," adding that the FBI, with its pattern of concealing its weaknesses, "needs to be turned upside down."

Edmonds sued to get her job and her reputation back. But, so intent was the Justice Department to deep-six her case that, in May of this year (as reported by the grassroots government-oversight group organization 9/11 Citizens Watch) "the FBI retroactively classified information about Edmonds' claims provided to congressional staff more than two years ago." Accordingly, senators involved in her case had "to remove previously public material from their Web sites." Any of their staff who spoke about this information that had formerly been on those Web sites could have been prosecuted for violating national security.

On July 6, it looked as if this gag rule might become permanent when Judge Reggie Walton of the U.S. District Court for the District of Columbia dismissed Edmonds' lawsuit on the basis of Ashcroft having invoked the rarely used "state secrets privilege."

Steven Aftergood, Director of the Project on Government Secrecy at the Federation of American Scientists — a service I frequently consult — said of the jettisoning of Edmonds' case: "Secrecy has been allowed to trump the judicial process."

But Sens. Leahy and Grassley were not deterred. In a July 9 letter to Ashcroft, Justice Department Inspector General Glenn Fine and FBI Director Robert Mueller, the senators said they knew of Fine's investigative reports on Edmonds' allegations and wanted to see them. Two years after those accusations, the senators pointed out, "we are no closer to determining the scope of the problem (in the FBI's translation program) or what the FBI intends to do to rectify personnel shortages, security issues, translator inaccuracies and other problems that have plagued the translator program for years."

Seeing that letter, I called the Inspector General's office and was told that a copy of the reports would be sent to those senators, who have security clearance, but the public would not have access. The reports have arrived at their offices, but the senators, and those of their staffs with clearance, are forbidden to disclose any of that information to the public because the reports remain classified.

But the Inspector General's spokesman tells me that Glenn Fine is working with the Justice Department and the FBI to permit partially declassified sections of those reports to become available to the rest of us.

That this administration, very much including Ashcroft, overclassifies information has long been a complaint of the press and members of Congress on both sides of the aisle. But the reclassification of previously public access to Edmonds' charges has been described by attorney Michael Kirkpatrick of Public Citizen (which has been involved in this case) in stinging terms to the Project on Government Oversight:

"We have been doing national security litigation for more than 30 years, and in our view, this is the most egregious misuse of the classification authority we've seen. Classification is to keep secret information that is sensitive. It is not to suppress debate over (previously) widely public information. Yet that is exactly what Ashcroft is doing."

Adds Edmonds: This is part of "John Ashcroft's relentless fight against me, and my information." This fight is also directed against what is now quaintly known as "the public's right to know" in our essential oversight responsibility over our government as responsible citizens.
Every weekday JewishWorldReview.com publishes what many in Washington and in the media consider "must reading." Sign up for the daily JWR update. It's free. Just click here.

Nat Hentoff is a nationally renowned authority on the First Amendment and the Bill of Rights and author of several books, including his current work, "The War on the Bill of Rights and the Gathering Resistance". Comment by clicking here.
[an error occurred while processing this directive]

© 2004, NEA