Jewish World Review July 20, 2004 / 2 Menachem-Av, 5764

Nat Hentoff
Valedictorian of the year

http://www.NewsandOpinion.com | With an unremitting emphasis on high-stakes tests in reading and math, the nation's public school students are learning far less about what used to be called civics — the history and practice of our liberties and responsibilities under the Constitution. But New York City's students have received a vivid lesson on the core of American freedoms: the First Amendment's right to freedom of speech and the press.

At the graduation ceremony for the High School of Legal Studies in Brooklyn, the valedictorian, Tiffany Schley delivered what turned out to be the city's most memorable commencement address in many years. She is editor of her high school paper, chairman of the yearbook committee, and a member of the student council, and this fall will study law and psychology at Smith College in Massachusetts on a full scholarship.

The New York Daily News broke what became a national story on how much school officials still have to learn about the First Amendment. Tiffany's speech included her school's shortage of textbooks, overcrowded classes, administrators who disdained meeting with students to discuss remedies for the school's problems, and a revolving door of principals — four in the past four years.

Before she could get to positive remembrances about her time in the school, an assistant principal cut off her microphone. This was not the first time Tiffany experienced what is called in textbooks "prior restraint of speech" — or just plain censorship. Before giving her talk, she had to show the speech to the school's principal, who rewrote it, turning it into a chorus of hosannas for her education there.

Tiffany — in the letter and spirit of the Supreme Court's 1969 decision (Tinker v. Des Moines Independent School District) — read what she had originally written until she was deprived of the First Amendment rights. That High Court had said resoundingly: "It can hardly be argued that either students or teachers shed their constitutional rights to freedom of speech or expression at the schoolhouse gate." In a democracy, the Court decided, the process of education must be democratic unless the exercise of students' freedoms of speech interfered with the learning of the other students or "materially disrupts classroom work."

The next day, when Tiffany came to school along with the other graduating students to pick up their diplomas, she was denied hers. The august Education Department declared that her speech disrupted the graduation ceremony for the other students. Moreover, she and her mother were escorted out of the building by security guards after school officials said both of them had been disrespectful, and that Tiffany had to apologize for her commencement speech.

When Mayor Michael Bloomberg, speaking for many New Yorkers, read about the suspension of Tiffany's First Amendment rights in the Daily News, he reacted in the spirit of James Madison and Thomas Jefferson, though in more idiomatic language:

"What bozo tried to hold back a diploma in a country where freedom of speech is so prized I don't know. Fortunately, the chancellor (Joel Klein), when he heard about it overruled it. They should have given her a diploma. C'mon, let's get on with it."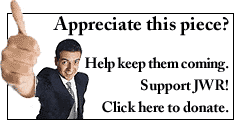 When the diploma was still not forthcoming, and no city school official, including the chancellor, had called Tiffany to apologize to her, she finally received her diploma at a Brooklyn church where aroused members of the community celebrated her Americanism.

As for Tiffany's truncated speech having disrupted the learning of the other students, 16-year-old Terri Perry told the Daily News: "I think that she spoke the truth. That is why they are mad." And one of the teachers, who spoke anonymously for fear of retribution from school officials, said: "We live through this struggle day in and day out, and she was just using her voice to talk about it on her end."

On WABC-TV's "Like It Is," a Sunday talk show focusing on issues of black New Yorkers, host Gil Noble asked Tiffany what advice she had for those kids who feel wholly outside the democratic process — convinced that their voices will not be heard.

"Speak out!" she said. Schley had proved why the First Amendment is considered by historians and legal scholars to be in its rightful leading place in the Bill of Rights.

But Congress also needs a First Amendment lesson. As of this writing, our lawgivers seem about to pass a constitutional amendment that, for the first time in American history, will put a limiting footnote on the First Amendment — prohibiting the physical desecration (otherwise undefined) of the American flag. Has Congress no idea that the American flag stands for the very freedom of speech that Tiffany Schley so bravely and inspiringly exercised?

If Congress betrays her and the nation's Founders, the state legislatures are ready to follow right along to, indeed, desecrate the meaning of the flag.

So much for July 4, which purportedly celebrates our First Amendment rights against the government.
Every weekday JewishWorldReview.com publishes what many in Washington and in the media consider "must reading." Sign up for the daily JWR update. It's free. Just click here.

Nat Hentoff is a nationally renowned authority on the First Amendment and the Bill of Rights and author of several books, including his current work, "The War on the Bill of Rights and the Gathering Resistance". Comment by clicking here.

© 2004, NEA