Jewish World Review April 26, 2004 / 5 Iyar, 5764

Nat Hentoff
Pickering's reputation restored

http://www.NewsandOpinion.com | For two years, Federal District Court Judge Charles Pickering, a Mississippi Republican, has suffered continuous character assassination by Senate Democrats who have filibustered his nomination by President Bush to the 5th Circuit Court of Appeals. He is on that bench now only because of a temporary recess appointment.

The assaults on the judge have been led by Sen. Charles Schumer of New York, who has accused him of "glaring racial insensitivity." And NAACP National Chairman Julian Bond proclaimed that "a vote for Pickering is a vote against civil rights."

Most damaging has been the charge — carelessly circulated nationwide by many in the media — that Pickering went to extraordinary lengths 10 years ago to lessen the sentence for one of three white men who burned a cross at the home of an interracial couple in Mississippi. But, at last, in a March 28 "60 Minutes" segment, Mike Wallace restored Pickering's reputation in a report from Mississippi showing 16 million CBS viewers the actual facts of Pickering's record — on and off the bench.

As for Pickering's "glaring racial insensitivity": In 1966, after civil rights leader Vernon Damer was killed by a firebomb, a Ku Klux Klan commander, Sam Bowers, was charged with the murder. As a county prosecutor, Pickering, at considerable peril to his life, testified that Bowers had a history of violence. When Pickering was subsequently defeated in a re-election bid for the state legislature, the Klan bragged it had caused his defeat.

Moreover, Pickering said to Wallace, that when racism was rife in Mississippi, "We sent our children to the integrated schools, even though there was a good private school less than a block from our home. We supported integrated public education."

As a defense lawyer during the early 1980s, Pickering continued, he took the case of "a young black man who was charged with robbing a young white girl at knifepoint. And it was not a popular case for me to take on. But I thought he was innocent and that he needed a defense. I didn't think he would have gotten a good attorney otherwise. He was acquitted."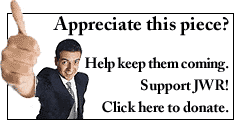 With regard to the cross-burning case, the fact (as journalists from The New York Times, National Review, Atlanta Journal-Constitution and I have reported) is that Pickering acted in the interest of justice.

Two of the white cross-burners accepted plea bargains and served no jail time. One of them was the ringleader, who had shot into the house before the cross-burning took place, and had a history of violence against blacks.

The third defendant, Daniel Swan, who had no such record, was offered a much harsher plea deal with jail time, and went to trial instead. Pickering told Mike Wallace that it was the worst case of disproportionate sentencing he had ever seen.

Accordingly, he pressured the federal prosecutors to drop part of Swan's conviction under the federal "hate crime" laws so that Pickering could sentence him to 27 months in jail rather than 7-1/2 years. The National Review reported that one of the prosecutors eventually wrote that "he personally agreed with the judge that the (original) sentence was draconian."

Also on "60 Minutes," Mike Wallace emphasized that, "many black attorneys who practice before him say Pickering is fair and first-rate." One of them, Deborah Gambrell, a Democrat, said she has appeared before him year after year, including representing the NAACP in a case, and was "shocked and appalled" at the charges that Pickering is "insensitive on racial issues."

Pickering told Wallace that "To accuse a white southerner of being a racist is about the worst thing you can do. I have worked for more than three decades trying to provide better relations between the races, trying to protect equal rights. That's my core being. And they've attacked that."

Yet, in a series of ongoing editorials on Pickering, The New York Times continues to find him wanting on civil rights and keeps repeating that his action in the cross-burning case disqualifies him from sitting on the 5th Circuit Court of Appeals, despite contrary facts raised by the paper's own reporters.

As for Charles Schumer, the Democrats' hitman on Pickering — he told Wallace that "the bottom line is if Judge Pickering were so sensitive to the long and sad racial history in Mississippi, he would never have done what he did with the case of cross-burning."

Paraphrasing what a defense attorney said to Joe McCarthy in the Army-McCarthy hearings on alleged communists in our land: At long last, Sen. Schumer, have you no sense of decency?
Every weekday JewishWorldReview.com publishes what many in Washington and in the media consider "must reading." Sign up for the daily JWR update. It's free. Just click here.

Nat Hentoff is a nationally renowned authority on the First Amendment and the Bill of Rights and author of several books, including his current work, "The War on the Bill of Rights and the Gathering Resistance". Comment by clicking here.

© 2004, NEA