Jewish World Review April 20, 2004 / 30 Nissan, 5764

Nat Hentoff
Despite Bush's warning, can we trust Sudan?

http://www.NewsandOpinion.com | Finally, attention is being paid to the killings, rapes and other evils of genocide in the Darfur region of Sudan. After only mildly rebuking Sudan President Omar al-Bashir on March 22, President Bush told him on April 7 that the Sudanese government "must immediately stop local militias from committing atrocities against the local population and must provide unrestricted access to humanitarian aid agencies. I condemn these atrocities."

And U.N. Secretary-General Kofi Annan, after these atrocities had been going on for 14 months, expressed "a deep sense of foreboding" on April 7. "The international community cannot stand idle."

If the National Islamic Front government keeps banning humanitarian workers from Darfur, Annan said that "the international community must be prepared to take swift and appropriate action. By 'action' in such situations I mean a continuum of steps, which may include military action."

Because of this pressure, on April 8, a 45-day cease-fire was arranged between the Sudanese government and two rebel groups, the Sudan Liberation Movement and the Justice and Equality Movement.

But the Sudanese government has continually broken its agreements, and accordingly, international vigilance and pressure must be maintained. Even now, the U.S. State Department reports continuing aerial bombardment and other military actions, encouraged by the Sudanese government, following the cease-fire.

Meanwhile in Congress, Virginia Republican Frank Wolf, who for years has personally visited countries to report on human rights abuses, has introduced a concurrent resolution in the House "condemning the Government of the Republic of Sudan for its attacks against innocent civilians in the impoverished Darfur region of western Sudan." The resolution stands as he monitors the questionable cease-fire.

Wolf has been joined on the Senate side by Kansas Republican Sam Brownback, who has also been vigorously involved in protesting human rights crimes in a number of countries. He went to southern Sudan to interview Christian and animist black slaves who had been rescued from their Arab masters in the North.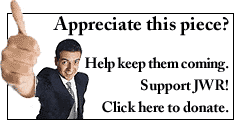 In focusing on the crimes against black non-Arab Muslim farmers in Darfur by the Arab Muslim Janjaweed militia — supported by the Sudanese government — the Wolf-Brownback resolution charges that Sudanese government forces have "engaged in the use of rape as a weapon, abducted children, destroyed food and water systems and burned villages."

"Nearly 3 million people are beyond the reach of aid agencies trying to provide assistance, and mortality rates in the Darfur region are catastrophic — possibly as high as 1,000 per week. There is no question that the Sudanese government is complicit in these attacks and they must be held responsible."

Doctors Without Borders — the Nobel Peace Prize-winning medical humanitarian relief organization — reported that the region is the scene of "catastrophic mortality rates."

Wolf tells me that if these atrocities are not definitively ended — and confirmed by allowing international human rights workers on the scene — he and Brownback plan to go to Darfur to see for themselves, and to help bring media coverage of this genocide.

Also calling world attention to Darfur is Samantha Power, who won a Pulitzer Prize for one of the most important and haunting books of our time, "'A Problem from Hell': America and the Age of Genocide" (HarperCollins, 2003) In an April 6 New York Times op-ed, she wrote that Sudan "is desperate to see American sanctions lifted ...

"President Bush must use American leverage to demand that the government in Khartoum cease its aerial attacks, terminate its arms supplies to the Janjaweed and punish those militia accused of looting, rape and murder.

"The Europeans can help by urging the Security Council to refer the killings to the newly created International Criminal Court. Though the United States has been hostile to the court, this is one move it should not veto, as an investigation by the court could deter future massacres."

On April 7, Kofi Annan, admitting his and other world leaders' responsibility "for not having done more to prevent or stop the genocide (in Rwanda)" proposed a crucially needed "action plan to prevent genocide, involving the whole United Nations system."

Part of the multi-dimensional plan "calls for both the U.N. Secretariat and the Security Council to keep the mandates and resources of all our peacekeeping forces under constant review, particularly with the threat of genocide in mind, and to be ready to reinforce them promptly when the need arises." Regardless of whether the cease-fire in Darfur holds, this plan must go forward for the future.

Annan pointed out that even now, U.N. peacekeepers "are no longer restricted to using force only in self-defense. They are also empowered (to protect) local civilians threatened with imminent violence."

If that mandate had been in place in Rwanda 10 years ago, hundreds of thousands of lives would have been saved.
Every weekday JewishWorldReview.com publishes what many in Washington and in the media consider "must reading." Sign up for the daily JWR update. It's free. Just click here.

Nat Hentoff is a nationally renowned authority on the First Amendment and the Bill of Rights and author of several books, including his current work, "The War on the Bill of Rights and the Gathering Resistance". Comment by clicking here.

© 2004, NEA