Jewish World Review Oct. 18, 2004/ 3 Mar-Cheshvan, 5765

Suzanne Fields
Beauty in the eye of the voter

http://www.NewsAndOpinion.com | Everybody's looking for the niche to make the difference.

Some people think they see the mother lode in the beautiful people, especially the vote of the beautiful women. (How big such a niche may be is another matter.)

When Vogue magazine discovered that 22 million unmarried women - single, divorced and widowed - didn't vote for George W. Bush, Al Gore, Ralph Nader or Pat Buchanan four years ago, the magazine blamed the ladies for the status quo: "Their numbers represent an enormous block - the largest groups of nonparticipating eligible voters - that could have changed the fate of the 2000 race, altered the current status of health-care, child-care, job creation and education legislation, shifted the tactics of the war on terror, and perhaps avoided the very existence of the war in Iraq."

That's a big-time roar, even for women. Laura Dawn is the "events and cultural director" of moveon.org, the leftwing advocacy site for John Kerry that claims Michael Moore's "Fahrenheit 9/11" gets to the root of the "problem".

"I understand why women don't vote," she says. "Who is more interesting to you? Hillary Clinton or Britney Spears? We need someone like Britney Spears saying it's cool to vote." (Somewhere Elizabeth Cady Stanton is spinning, and it's not in a spin room.)

Mimi Swartz, who files dispatches for women under the dryer, offers several unflattering reasons why women stay home on Election Day. No. 1, they're insecure. "Unlike their male counterparts, they feel they have to be well informed to vote, and will stay away before they cast a vote they feel is foolish." With arguments and persuasion like that, the 19th Amendment would have been dead on arrival.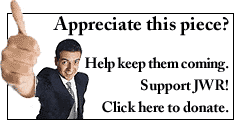 Another reason women don't vote is narcissism: "Women - especially busy women - don't see what's in it for them, particularly when the majority of candidates are still white males who don't speak to their concerns." (Elizabeth Cady Stanton continues to spin.)

My favorite rationalization is that women are too busy "multitasking," holding down jobs, grocery shopping, carpooling, helping the kids with their homework, talking on their cell phones, sending faxes, checking their answering machines and Blackberries. But they're not too busy to stage a Woman's Day of Action, where they're urged to register to vote at beauty shops and shopping malls, between pedicures and shopping for thong panties and waxing nostalgic for a certain former president who knew how to appreciate certain intimate fashion items.

Few of us (one hopes) expect serious political discourse from a magazine whose editor decries the color schemes of the terrorist alerts, where "fuzzy logic" refers to a mix of purple mink inserts in a Gucci jacket and "escape plans" are about taking tea at chic Laduree in Paris. Charlotte Perkins Gilman, the early feminist writer, worried about women becoming "the slaves of fashion, lifting their skirts, exhibiting their legs, powdering their noses." She could never have imagined what's currently in vogue (or Vogue). She complained about "nudes in the streetcar with knee and thigh in full evidence," but what would she make of "hot shorts" for Kerry or protest panties with x-rated anti-Bush slogans?

Getting out the Beautiful Women vote is supposed to be a nonpartisan exercise, but there's a decidedly blue-state cast to the endeavor. "Everyone I know reads the New York Times and listens to NPR," says Heather Lurie, co-founder of the Rocky Mountain Riveters in Colorado who's out to change minds in the red-state majorities. She wants to enlist women from the Junior League, women who "are educated and have incredible spending power." Some of the other groups for getting out the women's vote have names like "Pilates Against Bush," or "Running in Heels," and sip sour apple martinis called "Bushtinis.

If any of the beautiful people plan to vote for the president, they usually keep their secret to themselves. Tina Brown, former editor of Vanity Fair, the New Yorker and Talk magazine who writes a column now for The Washington Post, tells of a fashionable party of beautiful people in New York where the host handed out ballots and announced the winner at the end. "The surprise in that gathering was not the 133 votes cast for Sen. Kerry but the 20 for President Bush," she writes. "Eyes narrowed and swiveled among the guests seated at the long trestle tables as a surreptitious hunt went on for the secret saboteurs."

Maybe those 20 remembered how George W. declared war against terror after the World Trade Center came tumbling down, and just maybe they think he'd make a better commander in chief than John Kerry in a war that, whoever wins, will go on, and on. Maybe they think voting is more than a fashion statement.
Every weekday JewishWorldReview.com publishes what many in Washington and in the media consider "must reading." Sign up for the daily JWR update. It's free. Just click here.
Comment on JWR contributor Suzanne Fields' column by clicking here.

© 2001, Suzanne Fields. TMS