Jewish World Review March 18, 2004/ 25 Adar, 5764

Ann Coulter
The reign in Spain falls mainly on the lame
http://www.NewsAndOpinion.com | After a terrorist attack by al-Qaida that left hundreds of their fellow countrymen dead, Spanish voters immediately voted to give the terrorists what they want — a socialist government that opposes America's war on terrorism. Al-Qaida has changed a government.
Until the bombings last week, the center-right Popular Party of outgoing Prime Minister Jose Maria Aznar had been sailing to victory. But then the al-Qaida bombs went off and Spaniards turned out in droves to vote against the government that had been a staunch Bush ally in the war on terrorism. (I guess it's OK for a Spanish socialist to "politicize" a terrorist attack just to get elected.)
In a videotaped message, the al-Qaida "military commander" for Europe claimed credit for the bombings, saying that the terrorist attack was meant to punish Spain for supporting the war in Iraq. The message came as a total shock to liberals who have been furiously insisting that Iraq had absolutely nothing to do with al-Qaida.
Apparently al-Qaida didn't think so. After the Madrid bombings, it looks like liberals and terrorists will have to powwow on whether there was an Iraq /al-Qaida link. Two hundred dead Spaniards say there was.
The New York Times called the Spanish election "an exercise in healthy democracy." And an ATM withdrawal with a gun to your head is a "routine banking transaction." Instead of vowing to fight the people who killed their fellow citizens, the Spanish decided to vote with al-Qaida on the war. A murdering terrorist organization said, "Jump!" and an entire country answered, "How high?"
One Spaniard who decided to switch his vote in reaction to the bombings told the Times: "Maybe the Socialists will get our troops out of Iraq and al-Qaida will forget about Spain so we will be less frightened." That's the fighting spirit! If the violent Basque separatist group only killed more people, Spain would surely give them what they want, too.
After his stunning upset victory, Socialist Party leader Jose Luis Rodriguez Zapatero vowed to withdraw Spanish troops from Iraq if the United States does not turn over Iraq to the United Nations. He also vowed that all of Spain's remaining trains will run on time.
Zapatero said the war with Iraq had "only caused violence" and "there were no reasons for it." One reason for the war, which would seem to be a sufficient reason for a more manly country, is that the people who just slaughtered 200 Spaniards didn't like it.
But, like the Democrats, the Spanish hate George Bush more than they hate the terrorists. Zapatero said the war in Iraq was based on "lies" and called on President Bush and Tony Blair to "do some reflection and self-criticism." So don't think of the Spanish election as a setback for freedom — think of it as a preview of life under President John Kerry!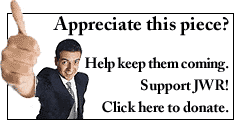 What kind of lunatic would blame Bush for 200 Spaniards killed by al-Qaida bombs? Oh wait — Howard Dean just did. Summarizing the views of socialists everywhere, Dean said: "The president was the one who dragged our troops to Iraq, which apparently has been a factor in the death of 200 Spaniards over the weekend."
Yes, with 1,700 dead or injured Spaniards, George Bush certainly has some explaining to do. What have the terrorists ever done besides kill and maim thousands of innocent civilians? Bush isn't fully funding "No Child Left Behind," for G-d's sake!
Before he was put into office because he supported policies favored by al-Qaida terrorists, appeasement candidate Zapatero said: "I want Kerry to win." Kerry is also supported by North Korean dictator Kim Jong Il, who broadcasts Kerry speeches over Radio Pyongyang with favorable commentary.
So now Kerry really does have two foreign leaders on record supporting him: a Socialist terrorist-appeaser and a Marxist mass murderer who dresses like Bea Arthur.
Zapatero predicted that his own victory would help the anti-war party "in the duel between Bush and Kerry." Would you mind repeating that, sir? I was distracted by that large white flag you're waving.
However Spain's election affects Americans, we can be sure that Spain's surrender to terrorism hasn't been lost on the terrorists. It's difficult to imagine the American people responding to a new terrorist attack by deciding to placate the terrorists, as the Spanish did. A mollusk wouldn't react that way to an attack. Only a liberal could be so perverse.
No matter how many of our European allies may surrender to the terrorists, America will never be alone. This is a country founded in a covenant with G-d by people who had to flee Europe to do it.
Sailing to the New World in 1630 on the ship Arabella, the Puritans' leader and governor, John Winthrop, said Americans were entering into a covenant with G-d to create a "city upon a hill." We would be judged by all the world if we ever broke that covenant. But if we walked with G-d, "We shall find that the G-d of Israel is among us, when 10 of us shall be able to resist a thousand of our enemies." He has intervened in our affairs before, such as in 1776, 1861 and 1980.
With the Spanish election, we are witnessing a capitulation to savagery that makes full-scale war inevitable. The Democratic candidate wants to represent Godless Europeans. The Republican candidate wants to represent Americans. As Winthrop said: "The eyes of all people are upon us."
Every weekday JewishWorldReview.com publishes what many in Washington and in the media consider "must reading." Sign up for the daily JWR update. It's free. Just click here.
JWR contributor Ann Coulter is the author of, most recently, "Treason: Liberal Treachery from the Cold War to the War on Terrorism." (Sales help fund JWR.)
Copyright ©2001 Universial Media
Click here for more Ann Coulter