Jewish World Review July 7, 2004 /18 Tamuz, 5764

Tony Blankley
IT'S EDWARDS!
http://www.NewsAndOpinion.com | With four months to go before the presidential elections, no sensible person should make even an educated guess of the winner. We don't know much more today than we did a year and a half ago. Back then it was pretty obvious that George Bush was likely to get re-elected if the public judged his handling of Iraq and the war on terror favorably.

If the public judged him poorly on that supreme topic, the Democratic Party nominee was likely to win — unless they nominated a total loser. They avoided that latter contingency at the last moment — by rejecting Howard Dean — and so are prepared to harvest most of the anti-Bush votes that will be available.

While there are several obvious minor plusses and minuses that attach to the Edwards selection, Mr. Kerry's chances would be about the same if he had chosen almost any of the top dozen mentioned vice-presidential names. We are already 24 hours into a frantic over-assessment of what the Edwards selection means. Republican-leaning commentators are painting in bold hues Mr. Edward's minor shortcomings, while those who lean Democratic are falling over their adjectives to describe Mr. Edwards' selection as a stroke of inspiration on the part of Mr. Kerry. It is all too tedious to listen to.

The political class' Edwards huffing is like a summer heat rash — it is mildly irritating but should subside in about a week. Wear loosely fitting clothes, keep out of the heat, and ease your way through an adequate provision of gin, tonic, limes and bitters. Tropical drinks served with little umbrellas are acceptable substitutes. Now would be an excellent time to catch up on your genuine summer fiction reading (in other words, avoid Edwards media commentary for a week, which is not quite fiction, nor quite non-fiction. It is not so much fiction as it is faction).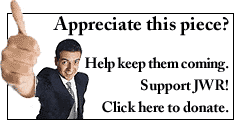 By about July 13, Mr. Edwards will return, with Mr. Kerry, back into obscurity until July 28, when he will re-appear on the evening news to deliver a seemingly sincere, empathetic and vigorous acceptance speech at the Democratic Convention. At that point, shrewd commentators will judge the speech to have hit just the right mark: hitting Bush and Cheney firmly, but not overshadowing Mr. Kerry's expected drone on the 29th.

At that point there will be another very exciting week where Mr. Kerry and Mr. Edwards will travel around the country — pretending to really get along with each other's wives. Inevitably we will be obliged to be on a first-name basis with the wives. This always seems a little sexist to me — but the liberal media always insist on trying to induce such strained intimacy with nominees' wives.

Theresa and Elizabeth will explain to Ms. Couric of NBC News how much they have in common: Elizabeth growing up poor in North Carolina and meeting her first and only husband in law school; Theresa growing up rich in the colonial charms of rural East Africa and meeting her current husband in the aftermath of a famous funeral.

When the cameras turn off, the two wives will go to their respective corners and get sincere performance critiques from their anxious husbands. After about a week of such measured patter — none of which will have the slightest effect on the election — we can all return to our televisions sets to watch the Olympics on August 19. The main interest at the Olympics will be to see if the terrorists attack in Athens, or if our athletes are merely verbally abused by the international flotsam and Euro trash who attend such affairs.

Then it will be time to see the Republican Convention starting on August 29. Commentary will not be so generous to Mr. Bush and Mr. Cheney as it was to the Democrats. Excessive camera time will be expended watching Bush-hating left-wing freaks and other establishment dignitaries say rude things about our president and vice president. We will hear and see less of the Republican wives than we did of Elizabeth and Theresa. None of this will matter either. Then the World Series will be on.

Finally, the public will pay attention to the campaign. With a short month left, the undecided likely voters, the 5-10 percent of the electorate, will look up and see who they want to vote for. If Iraq looks to be going to hell in a handbasket, they will vote for the other guy. If things seem OK in Iraq, they'll vote for the guy currently in the White House. Thus is history made. And nobody has come up with a better way yet.
Every weekday JewishWorldReview.com publishes what many in Washington and in the media consider "must reading." Sign up for the daily JWR update. It's free. Just click here.


Tony Blankley is editorial page editor of The Washington Times. Comment by clicking here.
06/23/04: The Clinton legacy — OOPS!
06/16/04: We desperately need one man, one mind in charge
06/09/04: It's called victory
06/02/04: Bush wings it — and does well
05/25/04: Beyond 'the speech': A lesson from Lincoln
05/19/04: America: The strong horse
05/12/04: Why Rummy must not resign
05/05/04: Speak up, Mr. Kerry
04/28/04: Kerry's fatal flaw
04/21/04: Beware of an old man in a hurry
04/14/04: Islam confronting its demons?
04/08/04: Vigilance is not enough
03/24/04: Kerry personally vulnerable
03/24/04: Futile finger pointing
03/17/04: The Spanish disease
03/10/04: Euro back-stabbers for Kerry
02/25/04: What makes John Kerry tick?
02/18/04: Kerry's pre-emptive war policy
02/11/04: George W. Bush — grand strategist?
02/04/04: Elections in the age of terror
01/28/04: There's a war on?
01/21/04: It's good that we live in ignorance of the future
01/14/04: The strange case of immigration politics
01/07/04: Funding for American presidential elections is beginning to go global
12/31/03: Make us laugh
12/24/03: War prophesies
12/17/03: Analyze this!
12/10/03: Until peace is ready to be negotiated …
12/03/03: AFL-CIO meets Monty Python
11/26/03: Republicans need to learn from the Romans
11/19/03: All of a sudden we have a responsible media?
11/12/03: To arms
11/05/03: Mayor Mike's appetite for self-destructive accusations
10/29/03: A bloody march to peace
10/22/03: Calls for a general 's head because his comments may have ruffled the feathers of our esteemed enemies!?
10/08/03: The leakers' agony
10/01/03: Managing a scandal
09/24/03: Will we have to balance our strong ethical and religious revulsion of cloning against the danger of being surpassed by a gene-manipulated super-race?
09/17/03: The skinny on the First Ladies
09/10/03: More than cynicism will be needed to defeat prez
09/03/03: Dead Man Politickin'
08/27/03: Patience is not America's long suit
08/13/03: George Will's trifecta of punitive aspirations
07/30/03: A question for the candidates: Whose side are you on?
07/23/03: When GOPers attack their leader
07/17/03: Spanish fest mirrors U.S. elections
07/09/03: On the horns of a dilemma
06/25/03: The continuing deaths of American and British soldiers in Iraq should not be rhetorically minimized -- but sanctified
06/18/03: No reason to feel defensive about criticism of the war on terrorism
06/11/03: The Clintons — self-proclaimed geniuses — have no defense against the charge of cunning mendacity
06/04/03: George 'Machiavelli' Bush? Nah
05/28/03: When 'progressives' become reactionaries
05/21/03: Yes, this conservative is defending the NYTimes
05/14/03: Playing the politics of deflation
05/07/03: Only the stupid could think it'll be the economy: Comparing the Bushes 04/30/03: How to squelch increasing Iraqi distrust of America
04/25/03: Winning the war, losing the peace
04/16/03: Our own domestic Senate Republican Guard better be prepared for a grinding
04/03/03: At this human moment we need to act like humans, not just calculating analysts
04/02/03: If we could only draft Jennings' eyebrow to the cause, we wouldn't need the 4th Armored Division?
03/26/03: This war is showing the world who we really are
03/19/03: Time for America to laugh at itself
03/13/03: They're coming out of the woodwork: Russert, Buchanan and Moran
03/05/03: Franc-tireur
02/26/03: World history is shifting under our feet --- even our most experienced statesmen are, effectively, inexperienced
02/19/03: The shame! We've mischaracterized the French 02/12/03: Schroeder and Chirac will be disproportionately undercutting their interests
02/05/03: We need to rise above our temporary anger and seek to preserve our bonds with our European cousins
01/29/03: Who is President Bush's stupidest opponent: Saddam Hussein or Tom Daschle?
01/22/03: We call them our European cousins --- but I demand a DNA test
01/16/03: Dems bare partisan teeth
01/02/03: Before the cheering must come the struggle
12/27/02: Long ago and far away
12/18/02: Be glad that Gore's gone?
12/11/02: What fun! A titanic, once-in-a-century partisan battle royal is in the offing
12/04/02: Kerry atwitter
11/27/02: The unThankful list
11/20/02: First the scare, then the yawn
11/13/02: It's going to be a long two years for Lefty Pelosi and the Frisco Dems
11/06/02: Technology: A pollster's worst enemy --- thank goodness!
10/31/02: Watch this election's Wheel of Fate
10/23/02: The Ari and Colin Show: Politics has never been, well, more vaudeville-like
10/09/02: Bush beats drums of realism
10/02/02: Needed: A political chromatograph to detect any true statements in the public domain
09/25/02: Buchanan's new mag
09/18/02: There are many forms of peace
09/11/02: The imperial period of our history starts
09/04/02: Memo to Powell: In periods of upheaval, the refusal to act gives aid to those bent on destruction
08/30/02: Logging old growth is a sham issue

© 2004, Creators Syndicate