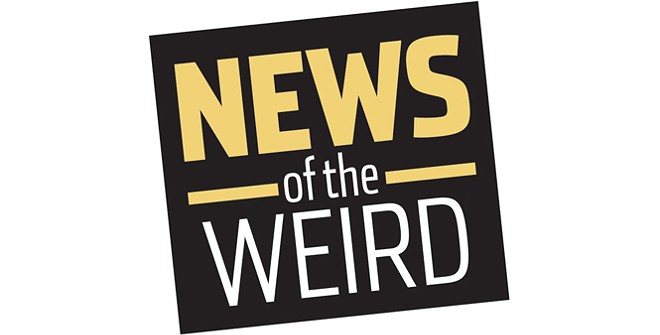 •
A 33-year-old man from Pittsburgh, Pennsylvania, was arraigned April 29 on two counts of abuse of a corpse and one count of criminal mischief after he flushed his grandparents' ashes down the toilet.
The Tribune-Review reported that Thomas Porter Wells was living at his mother's house when she became fed up with his drinking and marijuana use and asked him to leave last September.
Denise Porter told police she learned from a relative in February that Wells had disposed of her parents' remains, which had been stored in a box as part of a memorial in her bedroom, before leaving. Wells denied flushing the ashes, but he later texted his mother that he would flush her remains, too, after she died. [TRIBLive, 4/29/2019]
• What began as a quiet family dinner at home quickly escalated into a front-yard brawl on April 22 in Bedford, Virginia.
Fox News reported that Mark Turner, 56, his girlfriend, the girlfriend's son and the son's girlfriend had retired to the front yard after dinner when an argument broke out between the two men about whether Chevrolet or Ford makes better vehicles.
According to the Bedford County Commonwealth's Attorney Wes Nance, Turner allegedly pulled out a knife but ended up slashing his girlfriend's back as she tried to calm the situation.
Next Turner went inside and retrieved a gun, but as the girlfriend again tried to get between him and her son, he allegedly shot the woman five times in the leg. He also shot the son in the arm, and two of his stray bullets hit the son's girlfriend in her back and cheek.
Finally, according to prosecutors, Turner barricaded himself in the house, where police eventually shot him with a beanbag round and took him into custody.
Turner was charged with felony malicious wounding, use of a firearm in the commission of a felony and possession of a firearm by a felon. [Fox News, 5/2/2019]