<!- end inthis -->
Jewish World Review April 16, 2012/ 24 Nissan, 5772
Buying 'Buffett Rule' makes you a fool
By Mark Steyn
http://www.JewishWorldReview.com | In the end, free societies get the governments they deserve. So, if the American people wish to choose their chief executive on the basis of the "war on women," the Republican theocrats' confiscation of your contraceptives, or whatever other mangy and emaciated rabbit the Great Magician produces from his threadbare topper, they are free to do so, and they will live with the consequences. This week's bit of ham-handed misdirection was "the Buffett Rule," a not-so-disguised capital-gains tax hike designed to ensure that Warren Buffett pays as much tax as his secretary. If the alleged Sage of Omaha is as exercised about this as his public effusions would suggest, I'd be in favor of repealing the prohibition on Bills of Attainder, and the old boy could sleep easy at night. But instead every other American "millionaire" will be subject to the new rule – because, as President Obama said this week, it "will help us close our deficit."
Wow! Who knew it was that easy?
A-hem. According to the Congressional Budget Office (the same nonpartisan bean counters who project that on Obama's current spending proposals the entire U.S. economy will cease to exist in 2027) Obama's Buffett Rule will raise – stand well back – $3.2 billion per year. Or what the United States government currently borrows every 17 hours. So in 514 years it will have raised enough additional revenue to pay off the 2011 federal budget deficit. If you want to mark it on your calendar, 514 years is the year 2526. There's a sporting chance Joe Biden will have retired from public life by then, but other than that I'm not making any bets.
Let's go back to that presidential sound bite:
"It will help us close our deficit."
I'm beginning to suspect that the Oval Office teleprompter may be malfunctioning, or that perhaps that NBC News producer who "accidentally" edited George Zimmerman into sounding like a racist has now edited the smartest president of all time into sounding like an idiot. Either way, it appears the last seven words fell off the end of the sentence. What the president meant to say was:
"It will help us close our deficit ... for 2011 ... within a mere half-millennium!" [Pause for deafening cheers and standing ovation.]
RECEIVE LIBERTY LOVING COLUMNISTS IN YOUR INBOX … FOR FREE!



Every weekday NewsAndOpinion.com publishes what many in the media and Washington consider "must-reading". HUNDREDS of columnists and cartoonists regularly appear. Sign up for the daily update. It's free. Just click here.
Sometimes societies become too stupid to survive. A nation that takes Barack Obama's current rhetorical flourishes seriously is certainly well advanced along that dismal path. The current federal debt burden works out at about $140,000 per federal taxpayer, and President Obama is proposing to increase both debt and taxes. Are you one of those taxpayers? How much more do you want added to your $140,000 debt burden? As the Great Magician would say, pick a number, any number. Sorry, you're wrong. Whatever you're willing to bear, he's got more lined up for you.
Even if you're absolved from federal income tax, you, too, require enough people willing to keep the racket going, and America is already pushing forward into territory the rest of the developed world is steering well clear of. On April Fools' Day, Japan and the United Kingdom both cut their corporate tax rates, leaving the United States even more of an outlier, with the highest corporate tax rate in the developed world: The top rate of federal corporate tax in the US is 35 percent. It's 15 percent in Canada. Which is next door.
Well, who cares about corporations? Only out-of-touch dilettante playboys like Mitt Romney who – hmm, let's see what I can produce from the bottom of the top hat – put his dog on the roof of his car as recently as 1984! That's where your gran'ma will be under the Republicans' plan, while your contraceptiveless teenage daughter is giving birth on the hood. "Corporations are people, my friend," said Mitt, in what's generally regarded as a damaging sound bite by all the smart people who think Obama's plan to use the Buffett Rule to "close the deficit" this side of the fourth millennium is a stroke of genius.
But Mitt's not wrong. In the end, a corporation doesn't pay tax. The marble atrium of Global MegaCorp's corporate HQ is indifferent to the tax rate; the Articles of Incorporation in the bottom drawer of the chairman's desk couldn't care less. Every dollar of "corporate" tax has to be fished out the pocket of a real flesh-and-blood human being, whether shareholder, employee or customer.
And that's the problem. For what Obama's spending, there aren't enough of them, or us, or "the rich" – and there never will be. There is only one Warren Buffett. He is the third-wealthiest person on the planet. The first is a Mexican, and beyond the reach of the U.S. Treasury. Mr. Buffett is worth $44 billion. If he donated the entire lot to the Government of the United States, they would blow through it within four-and-a-half days. OK, so who's the fourth-richest guy? He's French. And the fifth guy's a Spaniard. No. 6 six is Larry Ellison. He's American, but that loser is only worth $36 billion. So he and Buffett between them could keep the United States Government going for a week. The next-richest American is Christy Walton of Wal-Mart, and she's barely a semi-Buffett. So her $25 billion will see you through a couple of days of the second week. There aren't a lot of other semi-Buffetts, but, if you scrounge around, you can rustle up some hemi-demi-semi-Buffetts: If you confiscate the total wealth of the Forbes 400 richest Americans it comes to $1.5 trillion, which is just a little less than the Obama budget deficit for year.
But there are a lot of "millionaires," depending on how you define it. Jerry Brown, California's reborn Gov. Moonbeam, defines his "millionaire's tax" as applying to anybody who earns more than $250,000 a year. "Anybody who makes $250,000 becomes a millionaire very quickly," he explained. "You just need four years." This may be the simplest wealth creation advice since Bob Hope was asked to respond back in 1967 to reports that he was worth half-a-billion dollars. "Anyone can do it," said Hope. "All you have to do is save a million dollars a year for 500 years."
It's that easy, folks! Like President Obama says, all you have to do to pay off his 2011 deficit is save $3.2 billion a year for 500 years.
He thinks you're stupid. Warren Buffett thinks you're stupid. Maybe you are. But not everyone is. And America's foreign debtors understand that "the Buffett Rule" is just another pathetic sleight of hand en route to the collapse of the U.S. dollar, and of American society shortly thereafter.
When he's not talking up his buddy Warren, the Half-Millennium Man has been staggering around demonizing Paul Ryan's plan, which would lead, he says, to the end of the weather service, air traffic control, national parks, law enforcement, and drinkable water. Given what's at stake, you might think then that the president would have an alternative plan. But he has none, save for his proposal to pay off the 2011 federal deficit by the year 2526. The Obama No-Plan plan means the end of everything. That really ought to be the only slogan the Republicans need this fall:
What's your plan?
And all you hear are crickets chirping.
But don't worry, they're federally funded crickets, chirping at a research facility in North Carolina investigating whether there's any correlation between chirping crickets and the inability of America's political institutions to effect meaningful course correction.
Hey, relax. The Buffett Rule will pick up the tab.
Every weekday JewishWorldReview.com publishes what many in the media and Washington consider "must-reading". Sign up for the daily JWR update. It's free. Just click here.
JWR contributor Mark Steyn is a syndicated columnist. Comment by clicking here.
•
ARCHIVES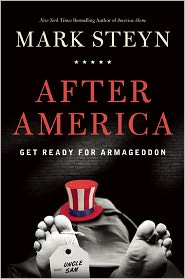 STEYN'S LATEST AT A 44% DISCOUNT
"After America: Get Ready for Armageddon"
In his giant New York Times bestseller, America Alone: The End of the World as We Know It, Mark Steyn predicted collapse for the rest of the Western World. Now, he adds, America has caught up with Europe on the great rush to self-destruction.
It's not just our looming financial collapse; it's not just a culture that seems on a fast track to perdition, full of hapless, indulgent, childish people who think government has the answer for every problem; it's not just America's potential eclipse as a world power because of the drunken sailor policymaking in Washington—no, it's all this and more that spells one word for America: Armageddon.
What will a world without American leadership look like? It won't be pretty—not for you and not for your children. America's decline won't be gradual, like an aging Europe sipping espresso at a café until extinction (and the odd Greek or Islamist riot). No, America's decline will be a wrenching affair marked by violence and possibly secession.
With his trademark wit, Steyn delivers the depressing news with raw and unblinking honesty—but also with the touch of vaudeville stand-up and soft shoe that makes him the most entertaining, yet profound, columnist on the planet. And as an immigrant with nowhere else to go, he offers his own prescription for winning America back from the feckless and arrogant liberal establishment that has done its level best to suffocate the world's last best hope in a miasma of debt, decay, and debility. You will not read a more important—or more alarming, or even funnier—book all year than After America. Sales help fund JWR.
© 2012, Mark Steyn
Columnists
Toons
Lifestyles