<!- end inthis -->
Jewish World Review Jan. 26, 2010 / 11 Shevat 5770
India's model of reflective patriotism
By Anne Applebaum
http://www.JewishWorldReview.com | JAIPUR, INDIA—The Amber Fort is the same, the pink buildings still glow in the early-morning sun, the hawkers seem unchanged and so do the elephants. But almost everything else is different. The last time I was in Jaipur, India's capitalist revolution had not yet begun and most of the tourists were scruffy foreigners wearing backpacks. Now, they are just as likely to be well-coiffed, neatly dressed -- and Indian. Across the fortress courtyard, elegant Delhi couples swathed in cashmere listen politely to their guides, while middle-class ladies in saris shuffle past their French and Japanese counterparts, waving digital cameras.
Tourism is a luxury, one that is now available to millions of Indians thanks to two decades of growth, open markets and global trade. It is also a sign of the times. People become curious about their own country when they are proud of it. They pay to hear the history of their landmarks when they are no longer pining to go abroad. Indian tourists are part of a larger phenomenon: All around the world, rising prosperity and rising patriotism go hand in hand. But what sort of patriotism is India's going to be?
In India's general vicinity, there are many models on offer. Chinese leaders, expressing a self-confidence born of export wealth, frequently convey their patriotism using nationalist rhetoric. They treat all internal criticism as treason, declare themselves impervious to world opinion and demonstrate their power by snubbing President Obama at a climate summit. Russian patriotism, meanwhile, often takes on a neo-imperialist tinge. Russian leaders, expressing a self-confidence born of oil wealth, indulge in saber-rattling and sometimes physical attacks on their neighbors. Indeed, the conjunction of Russia's invasion of Georgia with the Beijing Olympics in the summer of 2008 was instructive: Two new models of national self-confidence were on display that week, along with two ways of expressing it.
Indian patriotism could develop in either direction. Saber-rattling is not exactly unheard of here, and nationalist sentiment has appeared in unexpected places. Newspaper headlines this week featured the national cricket league's recent refusal to draft Pakistani players, a decision widely attributed to politics and prejudice. Resistance to internal criticism and even the repression of dissidents are not unknown here either, especially in the poorer provinces. Indian editor Tarun Tejpal can list several such incidents off the top of his head: His energetic magazine, Tehelka, has reported on police officers who rape female travelers with impunity in one particularly violent region of the country, as well as on local laws that violate rights guaranteed in the national constitution. This reporting, he says, has had no political impact.


I heard Tejpal make these points down the road from the Amber Fort, at this year's Jaipur Literature Festival. From a large stage in a crowded room, he declared that India's new elite had been "bought off" with consumer goods and had slid into political complacency as a result; India's newly wealthy had ignored the continued suffering of the poor and, in particular, the ongoing violations of human rights. He made these points passionately, and many heads nodded. The crowd -- packed with the newly wealthy and newly elite --rewarded him with hearty applause.
This was, in other words, a patriotic audience: Not nationalistic, not imperialist, not aggressive but, rather, self-critical, focused on what is still wrong as well as what has gone right. I don't want to make too much of a single session at a single festival, but it was clear that no one was intimidated by being there, no one was afraid to say anything out loud. It's that sort of patriotism, so hard to find in China and Russia, that gives India its lively novelists, its open public culture, its energetic film industry. That sort of patriotism, if it can be encouraged and maintained, will keep Indian politics diverse and democratic over time -- even if its economy stops growing.
It's also that kind of patriotism that makes tourists like me feel so energized by a brief visit. Like economic cycles, political trends come and go. At the moment, democracy is out, authoritarianism is in, and it is fashionable in many parts of Asia to claim that rapid economic growth requires censorship and central political control. India presents a real alternative to that model. I know that many Indians would violently disagree with that assessment -- and that makes me more optimistic still.
Every weekday JewishWorldReview.com publishes what many in the media and Washington consider "must-reading". Sign up for the daily JWR update. It's free. Just click here.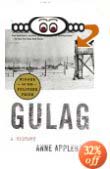 APPLEBAUM'S LATEST
Gulag: A History
Nearly 30 million prisoners passed through the Soviet Union's labor camps in their more than 60 years of operation. This remarkable volume, the first fully documented history of the gulag, describes how, largely under Stalin's watch, a regulated, centralized system of prison labor-unprecedented in scope-gradually arose out of the chaos of the Russian Revolution. Fueled by waves of capricious arrests, this prison labor came to underpin the Soviet economy. JWR's Applebaum, a former Warsaw correspondent for the Economist and a regular contributor to the Wall Street Journal and the Washington Post, draws on newly accessible Soviet archives as well as scores of camp memoirs and interviews with survivors to trace the gulag's origins and expansion Sales help fund JWR.
Comment on JWR contributor Anne Applebaum's column by clicking here.

Previously:

01/12/10: Haiti's man-made disasters
01/12/10: We need a smarter way to fight the jihadi elite
01/05/10: How every year we waste millions on wasteful homeland-security projects
12/30/09: The next decade will be bad for authoritarian regimes except one
12/15/09: The Apocalypse Is Not Upon Us

11/24/09: Superpower without a partner 11/17/09: Why has the global response to swine flu been so politicized?
11/10/09: After the wall fell
11/03/09: Angela Merkel's Quiet Revolution
10/20/09: Will the President of Europe Be a Gifted Pol or a Compromising Bureaucrat?
09/29/09:What Is Iran Afraid Of?
09/22/09: Letting Europe Drift
09/17/09: Greed and fear are proving stronger than companies' commitment to free speech
09/08/09: Will Obama Fight For Afghanistan?
09/01/09: The Polish Prologue
08/20/09: Why Afghans Need a Vote
07/29/09: No Burqa For Clinton
07/14/09: The Summit of Green Futility
07/09/09: Obama Puts Medvedev Ahead of Putin
06/30/09: In Morocco, an alternative to Iran
06/23/09: An overlooked force in Iran
06/16/09: Some good in a bad election
06/09/09: Why Is the Right Doing So Well in Europe?
06/02/09: Is China Pulling Strings in North Korea?
05/26/09: What a Member of Parliament Deserves
04/22/09: The Twitter Revolution That Wasn't
04/14/09: Do we really need interactive exhibits to bring Jefferson to life?
04/07/09: No Nukes? No Thanks: Obama's odd obsession with universal nuclear disarmament
03/31/09: What's Loud, Unnecessary, and Costs $75 Million?
03/23/09: Ctrl-Alt-Diplomacy
03/03/09: European Disunion
02/24/09: Who cares what Hillary Clinton says to China's leaders about human rights?
02/17/09: Witless protection
02/10/09: Our Ticket Out of Afghanistan
01/27/09:Why some foreigners can't believe Obama won the presidency fair and square
01/20/09: A Flight Test for All of Us
01/14/09: Europe's New Cold War
01/07/09: Pointless Peace Proposals
12/30/08: The magnificent rhetorical legacy of the Founding Fathers
12/23/08: Do riots in Athens portend demonstrations in Paris and Cincinnati?
12/16/08: Breach of Trust: Bernard Madoff's massive fraud will cripple American capitalism
12/09/08: In praise of charismatic politicians
12/03/08: Moscow's Empire of Dust
11/20/08: Getting Past Mythmaking In Georgia
11/12/08: In Praise of Political Rock Stars
10/03/08: Election Day myths you must resist
09/30/08: Not just a metaphor: Lehman Brothers was economic's 9/11
09/04/08: Class of '64
08/28/08: Did Hillary really help the Barack cause?
08/27/08: 'Show of Power,' Indeed
08/19/08: What Is Russia Afraid Of?
08/13/08: When China Starved
08/11/08: Two of the world's rising powers are strutting their stuff
08/05/08: How Alexander Solzhenitsyn's The Gulag Archipelago changed the world
07/29/08:'The Hour of Europe' Tolls Again … But are European politicians up to the task?
07/15/08: Why Does Obama Want To Campaign in Berlin?
07/01/08: Citizen Athletes: How did a guy who can't speak Polish end up scoring Poland's only goal of Euro 2008?
06/24/08: Why do we expect presidential candidates to be kind?
06/17/08: Pity the Poor Eurocrats
06/12/08: Is the World Ready for a Black American President?
05/28/08: The Busiest Generation: America seems to value its children's status and achievements over their happiness
05/20/08: Leave Hitler Out of It: The craze for injecting the Nazis into political debate must end
05/13/08: A Drastic Remedy: The case for intervention in Burma
05/07/08: A Warning Shot From Moscow?
04/23/08: Radio to stay tuned to
04/17/08: China learns the price of a few weeks of global attention
04/01/08: Head scarves are potent political symbols
03/26/08: The Olympics are the perfect place for a protest
03/19/08: Could Tibet bring down modern China?
03/12/08: Have political autobiographies made us more susceptible to fake memoirs?
03/05/08: Why does Russia bother to hold elections?
02/20/08: Kosovo is a textbook example of the law of unintended consequences
02/06/08: A Craven Canterbury Tale
02/06/08: French prez' whirlwind romance reminds voters of his political recklessness

© 2009, Anne Applebaum. By permission of the author
Columnists
Toons
Lifestyles