The murder of one's child is every parentís worst nightmare. This is how such a murder turned a secular American mother into a believer.

http://www.jewishworldreview.com | The morning Koby Mandell and Yosef Ish-Ran were stoned to death in a cave in the Judean hills, a deer charged out of the wadi and stole into the boys' village of Tekoa, south of Jerusalem.
It stepped up to the window of a woman named Zahava, who works at the local nursery school. Its coat was muddy, and its legs were covered in blood. Afraid, Zahava threw a stone toward the animal, but he wouldn't move. She didn't understand why he wouldn't leave her yard.
Sherri Mandell thinks the deer wouldn't go back because he was scared. "He had seen the horror that had been inflicted on two innocent children," she writes in her new book, "The Blessing of a Broken Heart."
"He was frightened to return to the canyon, the dry riverbed, to his home," which had been "stained with the evil human beings can inflict when they are committed to hate."
The bereaved mother writes that hate can steal a person's soul, but she will not let it. Instead, since her son's death, she has glimpsed the soul through the curtain of ordinary reality. "The spirit of G-d has hovered over me, flickering and returning."
She hopes that in telling her story, readers will be blessed, better able to recognize the blessings in their own pain and struggle to lead a life of meaning. The blessing of a broken heart is a heart that seeks G-d.
On May 8, 2001, Koby, 13, and Yosef, 14, cut school to explore the canyon behind Tekoa, a West Bank Jewish settlement. The next day their bodies were found in the Haritun Cave, 500 yards from the community. News reports say their arms were bound. Their heads were smashed in by rocks and their blood smeared on the cave walls.
The Jerusalem Post reported that an anonymous caller claiming to represent a group called Hizbullah-Palestine told foreign news agencies that the boys' deaths were revenge for the Israeli Army's killing of 4-month-old Iman Hijo on May 7 in the Khan Yunis refugee camp in the southern Gaza strip.
Palestinian officials in Khan Yunis admitted to Britain's The Guardian that mortars had been fired from the camp on Jewish settlements but denied that any firing had come from the area where the baby girl lived.
Israeli Prime Minister Ariel Sharon said: "I am very sorry. I am sure we will make every effort to avoid tragic cases like this."
Moral equivalence in a senseless "cycle of violence"? Sherri Mandell doesn't think so, and she holds the media responsible for the misrepresentation.
"We're trying to translate pain into healing and growth," she said in a phone interview from Tekoa. "The Palestinians take the pain and translate it into hate and vengeance. And then the media report it as if we were totally equal on both sides. ... It's horrible.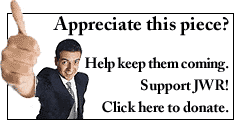 "I feel in a way that the media are culpable. I feel that by their denial — their insistence on 'balance' of what is an unbalanced story — they distort the truth. This can't be reported as a 'balanced' story."
The Mandells are an American family, and Koby was a U.S. citizen. His father, Rabbi Seth Mandell, was director of Hillel — the Jewish student organization — at the University of Maryland at College Park for five years. Three younger children survive. Yosef's mother's family is from Iran, and his father's family is from Turkey.
ORDER THE BOOK
Click HERE to purchase "The Blessing of a Broken Heart". Sales help fund JWR.
Sherri Mandell did not grow up religious, and she wrote that Koby's death "catapulted" her into belief.

"I came to Israel, I wasn't religious," she told United Press International. "I liked Judaism, but I didn't feel G-d. And then once Koby was murdered, all these things happened. It was like G-d was speaking to me somehow."

She feels that Koby's story is connected to Jewish history. "It's not a new story," she said. "People want to think it's just this last intifada or the most recent suicide bombings."

In fact, the story goes back thousands of years. The name Amalek is a symbol of evil and denotes implacable enmity toward the Jewish people, but being an Amalekite always had a political dimension. This was not a thrill-killing. The boys' heads were not crushed by perverts but by guerrillas with defined war aims: the annihilation or expulsion of every Jew in the Middle East, perhaps allowing for a subjugated remnant.

The Torah (Bible) says that when the Israelites were coming out of Egypt, weary and worn out, the Amalekites cut off the weak who were straggling at the end of the column (Deuteronomy 25:17-19). An Amalek seems to rise up in every generation, and now, perhaps, the story has come full circle.

"He was killed because he was Jewish," Sherri Mandell said of her son, "and the Palestinians are taught to hate Jews."

And why did she choose to stay in Israel after her son's death, which she likened to Cain's killing of Abel (Genesis 4:1-16)?

"Because Koby died for being a Jew. For me Israel is the best place to be a Jew, and I wanted to be more Jewish. I feel like he died for this country, so I wouldn't leave it."

Mandell rejects the view that when bad things happen, it's because G-d isn't looking. "That's not what I believe or what traditional Judaism believes. ... He's controlling everything. There's an order and a purpose." She feels she is part of a story that is larger than herself, one that was almost pushed in her face after Koby was killed.

She kept seeing deer. According to Jewish mysticism, the doe is the symbol of G-d's compassion. In the Zohar, a Kabbalist Bible commentary, a doe is unable to give birth until bitten by a snake. The evil of the snakebite generates redemption.

Then there were the bullets through the jewelry boxes. What are the chances that two bullets, fired at Tekoa five days apart from more than a mile away, would pass through the jewelry boxes of two girls, one of them Koby's little sister Eliana? All of Eliana's jewelry was destroyed on the evening of May 21, 2001, except for a pendant containing the traveler's prayer.

Eliana had bought the pendant the month before on a school trip to Meron, in northern Israel, the burial place of Shimon bar Yochai, the 2nd century rabbi associated with Kabbalah.

"The week that Koby was killed is two days before the holiday when we celebrate Shimon bar Yochai's birth and death," Mandell said. By tradition, the rabbi isolated himself in a cave for 12 years to study the light of the Torah — to study Jewish mysticism.

"I felt there was this connection with Shimon bar Yochai in the cave, with Koby being killed in the cave, that there was a message there for me. But also with Eliana with the jewelry box. I kept trying to think. The box was destroyed. What does that mean?"

She concluded that the "box," the body, was destroyed, but the soul survives somewhere, and she can still connect to it.

"Death no longer scares me," she writes.

Sherri Mandell does not want to be defined by tragedy,

"What do we do with the pain?" her husband asked a rabbi who lost a child in a bus accident.

"You must use it to grow," the rabbi answered.

Other rabbis warn not to ask, "Why Koby?" There are no whys, they say. There is only for what — making meaning from suffering.

Mandell says that with tragedy comes a wider range of emotions. "It's like you're living in a parallel universe, and you've also acquired this wisdom and knowledge about the mystery of life and the need to connect to other people and to G-d — and to joy. The essentials. You really connect to what is necessary. ...

"When we connect to what's really important, then we connect to the soul. I feel Koby's soul acting in the world, because since he was killed we were able to do so many things: this camp for 600 kids this summer, terror victims. I feel like we've been able to grow from his murder and that he's helped us somehow."

The Koby Mandell Foundation offers programs that alleviate the isolation felt by those who have lost a loved one to terrorism. Camp Koby and Yosef provides children with art, music and drama therapy — and a place where others understand.

"They can touch what has happened to them," Sherri Mandell said. "They don't have to hide it. There's not this sense of shame attached to it. And they can talk about it. A lot of families don't talk at all about the person who was killed. ...

"In Israel there's this tendency to just go on, because Israelis just have to survive. In America, too, people don't know what to do with grief. But if you just go on and you don't touch the place where you're hurting, then it's hard to grow."

At the Women's Healing Retreats, widows and bereaved mothers get a real break for two days at a hotel. They are nurtured with group counseling, massage, and yoga. Family Healing Retreats are three-day vacations that promote better communications among the survivors. And Young Adult Healing Retreats provide fun for those aged 20 to 30 who face the special problems of being part of a bereaved family.

Mandell was asked if her family relationships had changed.

"With my husband, especially right after Koby was killed, it was like we were one person," she replied. "We just had this kind of unity we'd never had. We were experiencing the same exact thing. We needed each other. We still do, in a way. So it created a very, very strong bond between us.

"With my other children, everything changes because everything gets shuffled around. All of the sudden the oldest isn't there anymore. Birth order really determines a lot of how you relate to the kid. ...

"Also ... your kids see you in a very vulnerable place. They know their parents can't protect them. ... It also separates them from other children, in a way. They grow up. They get very wise. ... They carry a bigger weight. ...

"There's this kind of life force that refuses to surrender to despair. People mistake grief for depression. And it's not depression. It's really something that breaks boundaries, in a way. It's as if I was planted in the ground from this shock and trauma and loss. It's almost as if I was buried. And in order to come out of that and grow, you have to be able to find a way for the light to reach you — or for you to reach the light. You have to reach toward the light in a very strong way.

"You can't stay where you were. If you stay where you were, you'll be destroyed, basically.

"I'm talking about traumatic death and things that are tragedy. But it also translates to ordinary pain. I was talking to somebody today, and she said: 'I think everybody has their little version of hell.' And some have big versions. But life has pain in it. That's the way it is."

Lou Marano is an editor at United Press International. To comment, please click here.

© 2003, UPI