Jewish World Review May 28, 2008 / 23 Iyar 5768
Rachael Ray, Dunkin' Donuts and the Keffiyeh Kerfuffle
By Michelle Malkin


http://www.JewishWorldReview.com | I've been a fan of Dunkin' Donuts for years. Their Munchkins are heaven. Their coffee is better and cheaper than Starbucks. And the company's management has taken a brave and lonely stand in support of immigration enforcement — refusing to hire illegal aliens and blowing the whistle on applicants with bogus Social Security numbers.

So it was with some dismay that I learned last week that Dunkin' Donuts spokeswoman Rachael Ray, the ubiquitous TV hostess, posed for one of the company's ads in what appeared to be a black-and-white keffiyeh.

The keffiyeh, for the clueless, is the traditional scarf of Arab men that has come to symbolize murderous Palestinian jihad. Popularized by Yasser Arafat and a regular adornment of Muslim terrorists appearing in beheading and hostage-taking videos, the apparel has been mainstreamed by both ignorant (and not so ignorant) fashion designers, celebrities and left-wing icons.

Three years ago, pop singer Ricky Martin donned a traditional red-checked keffiyeh with the phrase "Jerusalem is ours" inscribed in Arabic. Apologizing for his obliviousness, Martin said: "I had no idea that the keffiyeh scarf presented to me contained language referring to Jerusalem, and I apologize to anyone who might think I was endorsing its message." Venezuela's Hugo Chavez, Spain's Jose Luis Rodriguez Zapatero, Democratic National Committee Chairman Howard Dean, Hollywood darlings Colin Farrell, Sienna Miller and Kirsten Dunst, and rapper Kanye West have all been photographed in endless variations on the distinctive hate couture. So has Meghan McCain, daughter of the GOP presidential candidate, who really ought to know better given that her dad positions himself as the candidate best equipped to "confront the transcendent challenge of our time: the threat of radical Islamic terrorism."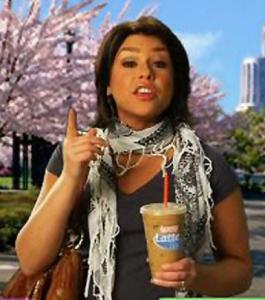 The scarves are staples at anti-Israel rallies in San Francisco and Berkeley. Balenciaga made them chic on the runway. British retailer Topshop sold them stamped with skull prints. Urban Outfitters turned the keffiyehs into a youth trend a few years ago and marketed them as "anti-war scarves." Which brings us to Rachael Ray.


Ray hawked Urban Outfitters scarves on her website before appearing in the Dunkin' Donuts ad. If she (or whichever stylist is dressing her) wasn't aware of the jihad scarf controversy before she posed for the Dunkin' campaign, she should have been. Urban Outfitters initially pulled the keffiyeh merchandise and apologized when Jewish customers protested, but reintroduced them with different names and colors in several global markets. This is the same company that marketed a bigotry-laced "Everyone loves a Jewish girl" T-shirt stamped with dollar signs and shopping bags. Most recently, the company halted sales of a violence-promoting T-shirt last week depicting a young Palestinian boy in a keffiyeh carrying an AK-47 assault rifle, over the word "Victimized." The T-shirt also featured the Palestinian flag, a map of the Palestinian territories and a small white dove.


"Please understand that we do not buy items to provoke controversy or to intentionally offend," a company spokesman pleaded. Their actions, however, speak louder than their assuaging words.


Dunkin' Donuts won't identify where Ray's scarf was purchased, but issued this statement after blogger Charles Johnson at Little Green Footballs (littlegreenfootballs.com) and I, along with many other bloggers and consumers, called attention to it:


"Thank you for expressing your concern about the Dunkin' Donuts advertisement with Rachael Ray. In the ad that you reference, Rachael is wearing a black-and-white silk scarf with a paisley design that was purchased at a U.S. retail store. It was selected by the stylist for the advertising shoot. Absolutely no symbolism was intended. However, given the possibility of misperception, we will no longer use the commercial."


It's refreshing to see an American company show sensitivity to the concerns of Americans opposed to Islamic jihad and its apologists. Too many of them bend over backward in the direction of anti-American political correctness. Naturally, liberal commentators on the Internet are now up in arms over Dunkin' Donuts' decision to yank the ad and mock anyone who expresses concern over the keffiyeh's symbolism.


It's just a scarf, the clueless keffiyeh-wearers scoff. Would they say the same of fashion designers who marketed modified Klan-style hoods in Burberry plaid as the next big thing?


Fashion statements may seem insignificant, but when they lead to the mainstreaming of violence — unintentionally or not — they matter. Ignorance is no longer an excuse. In post-9/11 America, vigilance must never go out of style.

Every weekday JewishWorldReview.com publishes what many in the media and Washington consider "must-reading". Sign up for the daily JWR update. It's free. Just click here.


Comment on JWR contributor Michelle Malkin's column by clicking here.



MICHELLE'S LATEST:
In Unhinged: Liberals Gone Wild

Un·hinged

adj : affected with madness or insanity; [syn: brainsick, crazy, demented, distracted, disturbed, mad, sick, unbalanced]
— The American Heritage Dictionary
*** Warning: Unhinged liberals are hazardous to the nation's health.
They're slashing your tires. Burning your lawns. Heaving pies at Republican pundits. Hurling racist epithets at minority conservatives. Nursing nutty conspiracy theories. And pining publicly for the murder of President Bush.
And they call us crazy?
In In Unhinged: Liberals Gone Wild, Michelle Malkin plays conservative Margaret Mead to the alien political creatures of the American Left. With uproarious detail and rollicking reportage, Malkin chronicles the bizarre world of leftists gone mad in their natural habitats: the mainstream media, academia, Hollywood, and Washington.
Unhinged unmasks liberals who've completely abandoned rationality and reality. They're taking chainsaws and bayonets to campaign signs. Running down political opponents with their cars. Setting fire to political opponents in effigy. Defacing war memorials. Swiping yellow ribbons off cars. And supporting the fragging of American troops.
In Unhinged, you'll meet:
- The Top 10 Unhinged Leftists, Celebrities, Media Liberals, and Politicians. - The Pennsylvania Democrat who repeatedly screamed "faggot" at his Republican opponents on the Senate floor. - The Florida Democrat who tried to run down former Florida Secretary of State Katherine Harris with his Cadillac. - The Democrat congressman who claimed the capture of Saddam Hussein was staged by GOP operatives to help the Bush re-election campaign. - The veteran newsman who claimed that Bush advisor Karl Rove and Osama bin Laden are working hand-in-hand to help the Republican Party. - And hundreds more unhinged liberals gone wild!
With wit, wisdom, and a bullet-proof vest, Michelle Malkin ruthlessly and raucously skewers the myths of liberal tolerance, peace, and civility. Unhinged shows how conservatives are driving their opponents mad. The good news for liberals? Self-help starts here.
© 2005, Creators Syndicate