Jewish World Review August 16, 2004 / 29 Menachem-Av, 5764

Ian Shoales
Wanna feel 'complete'? Amputate a limb

http://www.NewsAndOpinion.com | Barbara D. Phillips, in a recent edition of the Wall Street Journal, in the course of column on makeovers, extreme makeovers, and plastic surgery, brought a new disorder to my attention: BIID, or Body Integrity Identity Disorder. People who have this believe they need to amputate a limb in order to become complete.

Previously this disorder was called "Apotemnophilia," then Amputee Identity Disorder (or AID) and finally Body Integrity Identity Disorder. It is identified with Gender Identity Disorder, in which one feels that one is a man trapped in a woman's body, or vice versa. With BIID, the sufferer feels that he or she is an amputee trapped in a whole person's body. The sight of amputees makes BIID sufferers anxious.

There is not necessarily a sexual component to this. People who want to have sex with amputees are a whole different syndrome, apparently. There is a web site, by the way, called biid.org, which makes no judgments on those who wish to lop off an arm and a leg in the pursuit of self-esteem. In their FAQ section, they answer the question, "Is there any treatment for this condition," with "Anecdotally, patients undergoing surgery for this condition have had their symptoms resolved and no longer suffer with the desire, function better on a daily basis and have had an overall improvement in their lives. Their need of psychotherapeutic services usually ceases."

In other words, chopping off a limb, anecdotally, may lead to happiness for those unhappy few whose secret desire is to have a limb chopped off. Makes a certain kind of sense.

But then we all do all sorts of things to enhance our sense of self worth. Neckties, perfumes, hair dyes, really nice shoes, nose jobs, Botox, overpriced cars, contact lenses, sex changes — none of which make any sense at all from an Amish perspective, but then again, the Amish are making fashion choices of their own, are they not? I would venture to guess that there is a disorder called Amish Identification Disorder, in which sufferers have a compulsion to grow beards, wear black clothing, and drive buggies.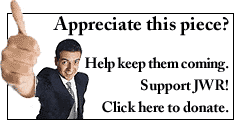 Then there's "The Swan," the television program on Fox in which presumably ugly women undergo liposuction, plastic surgery, implants, bleaching, and other enhancements. At the end of the season, they will all compete in a beauty contest, in which the greatest transformation of ugly duckling to swan will be rewarded will be showered with riches, and the others…?

Well, I don't know. Maybe they'll have to lop off a finger, like a Yakuza who failed at his mission.

Don't laugh. You'll make lines.

Enjoy this writer's work? Why not sign-up for the daily JWR update. It's free. Just click here.

JWR contributor Ian Shoales is the author of, among others, Not Wet Yet: An Anthology of Commentary. Comment by clicking here.

08/03/04: Stooged
07/27/04: Television: More real than ever
07/19/04: Therapy killed the video star
03/09/04: NASCAR Dad and other societal figments
03/01/04: In its efforts to disguise itself, has spam disappeared?
02/24/04: Hi! I'm Ted! Fly me!
02/12/04: It really is a Small World After All
02/04/04: PT, I hardly knew ye
01/29/04: Soylent green is cattle!
01/22/04: Shoales to PETA: Please SHUT UP!
12/23/03: McLattes
12/16/03: Pledge rock
12/10/03: Bad Cat
10/15/03: Subpoena as business model
10/09/03: Milk?
09/29/03: Rejected by a dating site
09/09/03: Dead, Live!
08/27/03: That Wacky Deutschland
08/12/03: Puffery
08/08/03: Love that (other) Bob!
08/04/03: Is the free market doomed?
07/08/03: Hill Williams at Bay
06/30/03: The Amazing Red Faced J-Lo
06/25/03: TCB, KFC
06/16/03: Because it's there
06/11/03: The Matrix regurgitated
06/05/03: Here, Spike
05/07/03: When Hippies Retire
04/09/03: Your mommy could have told you that silence is the stoic's path to personal salvation --- hey, but who would have listened?
04/01/03: Hedging the war
03/28/03: Space: The Penultimate Frontier
03/18/03: Hour of the Narc
03/07/03: Home entertainment tips for pinkos --- no joke!
02/28/03: When Anorexia is a good thing
02/21/03: Aussie invasion!
02/11/03: This museum of my dreams would be no accident
02/03/03: Hasn't 'reality TV' always been with us?
01/30/03: Get tougher?
01/21/03: Spinning through the 'newscycle'
01/16/03: "G" for verbal violence?
01/03/03: Farewell to novelty
12/23/02: Neo-frontiers
12/18/02: A nation of hypochondriacs?
12/11/02: Cursed
11/08/02: Good news for skateboarders looking to keep up with world events
11/01/02: "Extreme" annoyance
10/24/02: Snipers are people, too!
10/16/02: Hockey Therapy
10/08/02: Cupid, the parasite
10/03/02: How to have fun in Africa
09/30/02: If you are employed, you're part of the problem
09/25/02: "Up and comers," go away!
09/18/02: Collectibilitized
09/10/02: Monotone felons
08/20/02: Will we soon need a passport to get caviar, duc a la orange, or Polish sausage?
08/14/02: Law and Disorder --- and Starbucks
08/12/02: Rummy's monkey
08/05/02: Time for some real cultural heroes
07/31/02: Yearning for a nostalgic American product that was neither
07/24/02: Voicemail heaven?
07/18/02: At the movies with your friendly neighborhood curmudgeon
07/12/02: King of Kitsch
07/09/02: Musicians' brains
07/01/02: Where's my cow?
06/24/02: Modern record stores can be a scary proposition
06/21/02: Life IS a movie?
06/19/02: Spreading fertilizer on a dictionary to try to raise a novel
06/17/02: Happy cows are really miserable?
06/12/02: Very similar to a rock
06/05/02: Of Humice and Men
05/30/02: Pooches in sharkskin suits and the end of dog tags
05/22/02: We baby boomers used to rule the roost
05/20/02: The Files now Ex
05/14/02: Entangled in Spider-Man's web!?
05/02/02: April Showers May Come Our Yadda Yadda
04/24/02: From child murderer to milk hawker
04/10/02: New realities
03/21/02: You did it your way? I have to kill you now!
03/14/02: IN THIS CORNER … SUSAN LUCCI AND STEPHANIE ZYMALIST!
03/12/02: Life in the warehouse
01/28/02: Shoes and food
01/24/02: Suspension of disbelief has nothing to do with whether we accept something as real or not
01/22/02: Save the Grand Ole Opry?
12/15/01: If you truly want to appeal to the lowest common denominator …
12/11/01: KNITTING!
12/07/01: Conspiracy by the 'fat suit' lobby?
12/04/01: The future of comic books
11/15/01: Literary tips in a jar
11/12/01: The ectoplasm of a ghost economy
11/05/01: Sumner Redstone's passions
10/31/01: My irony
10/29/01: Even in wartime, America can still bring it home
10/25/01: Ad memories
10/17/01: Pathetic me
10/08/01: War time lite
10/01/01: Confessions of a sarcastic scribe
09/11/01: The end of Mom
09/07/01: Boy Loses Girl, Boy Bites Girl, Boy Gets Girl
09/05/01: Virtual elegance?
08/31/01: I COPY, THEREFORE I AM
08/28/01: Buzz!
08/23/01: Radio workout
08/20/01: I robot, you Jane
08/15/01: A wild and crazy world!
08/10/01: When the future was "as real as a dime"
08/08/01: Garage Dearth!
08/06/01: That Big Clock
08/02/01: Stop the pop!
07/31/01: Catchphrase history of the world
07/26/01: The Bride of Science
07/23/01: That java jive
07/17/01: Homogenized hegemony
07/13/01: Applying Newton's First Law of Physics to textbooks
07/10/01: The dumb and the dead

© 2003, Ian Shoales