Jewish World Review June 16, 2006 / 20 Sivan, 5766
Our Dad Who Art in Heaven
By Julia Gorin


http://www.JewishWorldReview.com | Amid intermittent calls to end Father's Day at some schools (since there are kids who have two mommies), I'd like to suggest that on Father's Day we honor the dad that everyone does have, whether they know it or not: the Divine

I know, I know. I can see the eyes rolling already, but all I'm asking is — even if you don't believe He exists, or if you have issues with Him, or if you've given up on Him (hey, we can't pick our relatives) — let's just agree to make Father's Day the one day out of the year that all people — regardless of religion — agree at least to skip a day of dissing Dad. If only out of respect for your siblings who still love Him — and I'm asking as a sibling (or didn't you ever wonder how it is that there's less than 1% difference among all our DNA?).

I remember when my biological sister and I first learned of our other Father at the ages of 6 and 4, we tried tossing greeting cards into the sky. But if you're someone who denies any relation to Him, that is, you're among my many atheist brothers and sisters, not to worry — you still get to go to His house when it's your time (you just feel kind of dumb when you get there). Because a parent's love is unconditional, and Dad'll forgive you even as He's yelling that He exists and you're yelling back, "We'll just have to agree to disagree on this one. I'm just tripping, Dad, it's the drugs, man; I've been here before." (Of course, once he finally convinces the kids, the usual child-parent cycle will kick in and our "thinking" siblings will rebel and insist on trying to make Heaven "a better place" and "make a difference.")

I suspect Dad gets a bigger kick out of atheists, though. Sure He loves His believers, but the Divine likes a challenge too. And don't forget, Dad's a practical joker; a gag is no fun if the subject already knows who's pulling the strings.

What's cool for the rebellious types is that this is one Father you really can blame for everything that goes wrong with your life, and accuse of not being there for you (though He has his own way of letting you know when you've done Him proud or not).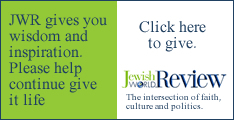 So since shopping for a man is hard enough as it is (and what do you get a man who has everything?), the least we can do is give Him a day where we don't say anything mean about Him.

Just think of all the jobs He has — and at His age. To name a few, He's a scientist, a construction worker, a mathematician, a cook, a therapist, and a designer (consider all the crazy-looking birds and fish — and the zebra). Dad gets great naches, by the way, from watching His offspring follow in his footsteps when we choose even one of His fields.

And does anyone ever stop to be impressed by what a genius He is? A considerate genius, no less. Just think how bad the inside of a nose must smell. And yet we smell everything but our noses.

So for those who aren't annoyed that He's still alive, out of respect, at least give Him a call. Either direct-dial at bedside or go to a medium, though I can't recommend those long-distance rates. You never know; a miracle could happen, which is just the Divine's way of saying, "Who's your daddy!"
Every weekday JewishWorldReview.com publishes what many in in the media and Washington consider "must-reading". Sign up for the daily JWR update. It's free. Just click here.
JWR contributor Julia Gorin is a widely published op-ed writer and comedian who blogs at www.JuliaGorin.com. Comment on by clicking here.
© 2005, Julia Gorin.