http://www.jewishworldreview.com | The biggest threats to the Jewish people today are internal, not external. By far.
That's not how we feel. But that's the truth.
The fact that we don't see that truth, understand that reality, means we are failing to fix the problems within, while needlessly obsessing about the non-problems without.
The result is that our internal problems are getting worse and making us weaker, while our tiny external problems are blown out of proportion, thus scaring us and making us feel vulnerable for no reason.
I have felt this way for a long time, but never more so then recent weeks.
An incredible number of things took place in just the last week that made it more clear than ever.
For starters, there was that MTV commercial.
Yes, if you don't see just how accepted Judaism is in this country, how a part of this country we are, how much our ways are known, consider this. A commercial for MTV, designed to show how hip it is, featured a young woman standing at a bimah in shul, singing, in Hebrew, her aliyah as if she was Christine Aguilera. Next to her was a rabbi in tallis, behind her an ark with Star of David.
Pooh, pooh that all you want, but there is no more powerful evidence that we can relax, we've made it, we're home.
But I got a lot more evidence for you to consider, evidence that, beyond the shadow of a doubt, shows that we are our own worst enemies.
Item one: Birthright Israel is slashing the number of participants on its summer trip this year because of funding problems.
Now, yes, I have not been a big fan of Birthright, which provides a free 10- day trip to Israel for 18 to 26 year olds. But this is not about me, it's about those who do see Birthright as a way to keep young Jews Jewish and get young Jews to care about Israel.
Those who have backed Birthright include the state of Israel, the North American federation system and 14 philanthropists, including Michael Steinhardt and Charles Bronfman.
Together, the three agreed to provide funding of $210 million over five years.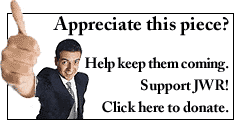 In other words, chump change, considering how much money the American Jewish community raises and spends each year.
And yet, both Israel and the federation system haven't come up with their share of the dough and aren't likely to. For a program they have called a revolutionary way to strengthen Jewish identity.
The result is that several thousand young American Jews who wanted to go to Israel this summer, have been turned away. Yes, have expressed interest in going to Israel when Israel badly needs visitors and young Jews badly need Israel, but have been told sorry, no money.
Indeed, Steinhardt says the program may have to be shut down.
How we gonna blame the Palestinians or the Tribune for that one?
Item two: An agreement has been reached between Germany and the Claims Conference on providing compensation to victims of Nazi medical experiments.
Under the agreement, each of the 1,778 victims will receive a one-time payment of $5,400.
I don't remember when I've read such an obscene story.
$5,400 for Jews who underwent such things as sterilization, amputation of limbs, organ removal, infusion of infectious diseases, immersion in ice water. $5,400.
Of course, no amount of money is enough for those who endured such pain and torture. Gideon Taylor, executive vice president of the Claims Conference, calls it "symbolic payments to the victims."
If they are meant to be symbolic, why not $6 million to each victim. Better yet, why not take the symbolism of Germany finally acknowledging its responsibility and apologizing for what was done in its name, and leave it at that, not taint it with money, especially an amount that makes a mockery of the powerful symbolism of the act itself.
How a Jewish organization could have agreed to this is beyond me.
Item three: Jews and Jewish organizations are "the principal targets of Middle East terror in the world today," says Steven Pomerantz, a former assistant deputy director of the FBI.
As a result, the Conference of Presidents of Major American Jewish Organizations and the North American federation system have come up with SCAN, Secure Community Alert Network.
The purpose of SCAN is to alert Jewish institutions all around the country in case of danger of terrorism.
All things considered, a wise and necessary effort.
Well, guess what SCAN's budget is?
$25,000.
And get this. Organizers say it is just in its initial stages, this more than two years after 9/11. But, adds Malcolm Hoenlein, top man at the Conference of Presidents, at some point, it'll hire a part time professional.
$25,000 for national Jewish security. $25,000 to coordinate all the country's national Jewish agencies and alert all the local ones. And some time down the road, a part time professional to help out.
And, oh, all SCAN does is let Jewish organizations know something's coming. It doesn't tell them what to do about it. "If a community will not know what to do with intelligence, it's nothing," said Arieh Amit, former Jerusalem police chief. "They could be a resource, as well as just an alert mechanism," said Nick Bunz of the Manhattan JCC. "They could be a professional specialized institution that focuses uniquely on Jewish institutions, Jewish buildings and Jewish events."
They could be. But not for $25,000, not with a part time professional and not when they are just starting with the initial stages and aren't in any hurry.
But they have, at least, come up with a cool name. Which makes me feel more secure already. How about you?
Item four: A new survey shows that Jerusalem is the poorest large city in Israel.
If this ain't a shandah, I don't know what is. Jerusalem, the holy city, the hometown of G-d, the place where the temples were and the Western Wall is. A place we cherish more than any other, have prayed and fought to have back in our hands for more than 2,000 years.
A city we've let go to seed.
Shame on us.
Item five: Finally, anti-Semitism.
We are obsessed with anti-Semitism. Europe is anti-Semitic. The media is anti-Semitic. Anti-Semitism is back and stronger than ever. Hell, it's as bad in 2004 as it was in 1934, says "Creepy Old" Abe Foxman of the ADL. Anti-Semitism. Boo.
We spend so much of our time and resources worrying about it, fighting it, fearing it, talking about it. We let it affect all we do, all we are.
For basically no reason.
This week, showed how nuts we are.
Consider. Israel, for the first time ever, held a national day against global anti-Semitism, complete with special session of the Knesset. And so, Israel now has a day on its calendar devoted to the new anti- Semitism.
The very same week it did that, only adding to our irrational, unfounded, and destructive obsession with something that ain't much of a threat anymore, the following took place:
France announced that it will provide more than $18 million to beef up security at Jewish institutions. Prime Minister Jean-Pierre Raffarin announced that during a meeting of his new Cabinet committee on anti- Semitism.

Malaysia's former prime minister called for greater tolerance between Muslims and non-Muslims.

Yes, this is the same nut who said Jews run the world. That got all kinds of play in the Jewish community. But now he says "Muslims should accept other people's religions." How come we don't pay attention to that? Why isn't that as significant, if not more?

A controversial Canadian Indian leader was rejected as a candidate for a national committee, because of a remark he made last year praising Hitler.

Thirty countries have written to the International Court of Justice opposing a hearing on Israel's West Bank security fence. The United States, the European Union, Canada, Russia and South Africa are among the countries or bodies that oppose this month's hearing at the International Court of Justice.

European Commission President Romano Prodi proposed that the European Union adopt an annual Holocaust remembrance day. "The memory of the Shoah," he said, "a unique and unprecedented tragedy, is a universal value."

A new poll shows that 73 percent of Americans oppose U.S. aid to the Palestinians.
I could go on and on. What the above shows is that, yes, there is anti- Semitism in the world, but this time is different than any other time ever. This time, governments are on our side, action is being taken, those fomenting anti-Semitism are being punished. People get it, the powerful get it, and both are on our side.
Everything has changed for the better for us. Except us.
Real problems from within, we ignore. Lesser, thank G-d, problems from without, we go nuts over.
If you want something to worry about, I'd start with that.