[ J E W I S H L I V I N G ]
outlook
The promise of Purim
By Yaffa Ganz


In the future "days to come," all of the holidays will be cancelled except for Purim, the most free-wheeling, noisy, disorderly, feast and drink filled day in the Jewish year. — — Why should a rousing, boisterous, "minor," one-day, rabbinically ordained holiday that doesn't even rate the saying of the thanksgiving prayer, Hallel, be with us forever, while major, Divinely ordained holidays such as Passover, Shavuos and Sukkos will not?



perspective
Fighting Iron with Irony
By Rabbi Avi Shafran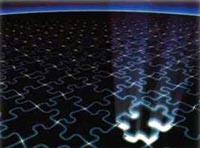 Chance, the Book of Esther teaches us, is an illusion; the Creator is in charge. Amalek may fight with iron, but he is ultimately defeated with irony. A contemporary Purim story.





[ D A I L Y I N S P I R A T I O N ]



WISDOM EACH DAY: Start your day off right with words that will speak to your heart and soul. (NEVER TRIED THIS FEATURE? YOU DO NOT KNOW WHAT YOU ARE MISSING!)




[ L I F E S T Y L E S ]

Dr. Robert A. Wascher's Health and Science Report: The continuing controversy regarding screening mammography

Consumer Reports on JWR: Fixing up your 401(k)

Dr. Ed Blonz: Tomato effects on men; impact of taking all of those tablets




[ I N S I G H T ]



John Ziegler: Where have you gone Gary Hart?

Linda Bowles: My husband, my hero (PLEASE READ!)

Clarence Page: It's hard to be 'objective' during wartime

Diana West: Destiny's prefabricated child


---
PAPER THAT ENRON STOCK IS PRINTED ON IS WORTHLESS, TOO, PAPER EXPERTS SAY
Stock Certificates Dissolve, Spontaneously Combust On Contact, Tests Show — Andy Borowitz
---
Bill Steigerwald: 10 minutes with ... Tony Snow

Joel Mowbray: The Audacity to Be Black and Conservative (IMPORTANT!)

Bill Schneider: 'Cowboy' or not, Bush has the 'axis of evil' running scared

Fred Barnes: Winning by not fighting

Stanley Crouch: The unmasking of a phony black hero

Amity Shlaes: States' smokescreen for tax hypocrisy (SMART!)

Linda Chavez: Never underestimate the ability of unelected bureaucrats to overturn the expressed will of the people

Mort Kondracke: Pickering fight shows libs at their worst

Chris Matthews: Big Brother revisited?

Betsy Hart: The case for school choice

Philip Terzian: Who's sleepwalking now? (EXCELLENT!)

Jeff Jacoby: Buchanan's lament

Gayle A. Cox: Is there a way to surgically remove our discontent?

Frank Gaffney: Rumsfeld's 'now hear this'

Cal Thomas: Pols testing new ways to raise taxes





[ W O R T H 1 0 0 0 W O R D S ]

Mallard Filmore

Bob Gorrell

Gary Varvel

Mike Shelton

Gary Brookins

(Att. working columnists and editorial cartoonists: Think you have what it takes to be featured on JWR? Drop us a note. And readers: We're always open for suggestions!)



[ F A S T P O L I T I C S&nbsp ]








require ("t-ssi/rtorah.html"); ?>

Previously:

Rabbi Nathan Lopes Cardozo: Keeping the faith, Part II

The Jewish Ethicist: Poaching employees

Rabbi Yitzchok Adlerstein with Rabbi Michael Broyde: Fouling out on a Higher Court

Jihad in America (VIEW THE AWARD-WINNING VIDEO!)



Elliot Gertel: Hollywood Bar Mitzvah$

Ask Wendy: Sisterhood on the line; Time to cross Ts on ex?

Michael Feldberg: Staying Jewish on the Arizona Frontier

Amy Sara Clark: Are hamantashen mainstream? They're not just for Purim anymore









Richard Z. Chesnoff: Iranian mullahs are sponsoring a course in Lebanon for Palestinian terrorists on how to operate SAM-7 surface-to-air missiles

Irshad Manji: Take a leaf from the Prophet, Yasser

Jeff Jacoby: STEVEN EMERSON AND THE NPR BLACKLIST

Binyamin L. Jolkovsky: NPR's goof is boon to its critics

Jonathan Tobin: The man who knows too much