Chanukah favorites from young Jewish culinary entrepreneurs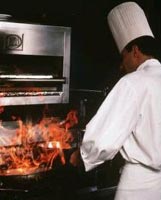 By Ethel G. Hofman
http://www.jewishworldreview.com | It used to be many a Jewish parent's dearest wish that his or her offspring would grow up to be a doctor or lawyer. In the 21st century, that's no longer true. Celebrity chefs, sexy and large as life on television, have boosted the culinary profession to incredible new heights. To aspire to the position of executive chef is a worthy and admirable goal.

All across the country, young Jewish men and women are making their mark in the field of food. Who would have thought that Georges Perrier, undisputed emperor of French haute cuisine at Philadelphia's Le Bec Fin, would have named Daniel Stern, a 32-year-old Jewish boy from Cherry Hill, N.J., as the executive chef of his stellar restaurant - no doubt in an effort to regain Mobil Travel Guide's fifth star lost in the year 2000.
Stern never attended a culinary school. "Whenever I needed money, I worked in kitchens," he says. "But at the back of my mind, I always wanted to run a restaurant." So he walked the streets, dropping off resumes at hundreds of restaurants and even offered to work for free.
"I learned everything on the job," he says, laughing. Hands-on training took him to work alongside famous chefs such as Daniel Boulud, owner/chef of Restaurant Daniel, and Gray Kunz, formerly executive chef at Lespinasse, in New York, to the Ritz Carlton in California. While working as sous chef at the Ritz Carlton Half-Moon Bay outside San Francisco, he got the call from Perrier: "Come and cook lunch for six."
After a quick weekend visit to see his family, he was tired and didn't feel well, but recalls that he "didn't have the time to feel nervous." A day later, Stern was offered the position of executive chef at Le Bec Fin.
Stern's dishes are innovative without being pretentious. Homespun ingredients marry with the exotic (as in veal tenderloin with truffles and collard greens), but Stern also continues to serve Le Bec Fin classics. He's also added a lighter sparkle to the menu. The result - each bite of food is an exciting adventure, dazzling the tastebuds.

Alon Shaya grew up in Narberth and credits Donna Tarcov, his home-ec teacher, with steering him to a culinary career. On graduating high school, he reminisces: "I didn't know what I wanted to do. ... I just knew I loved food and cooking, and Ms. Tarcov zeroed in on a talent I didn't know I possessed. ... She recommended me to Derek Davis at Sonoma. I worked there for a year, and fell in love with food and its preparation."
Then it was on to the Culinary Institute of America, described by the 23-year-old as "the best experience of my life - I couldn't wait to get up in the morning and go to classes." In Las Vegas, his skills were further perfected by working in the 20 different restaurants at the Rio Hotel and Casino, "cooking everything from sushi to fine French and Italian dining."
Presently, Shaya is the executive chef at Antonio's Italian Restorante, an elegant dining destination within the hustle of Harrah's St. Louis Casino and Hotel. Asked if his Jewish upbringing conflicts with his work, he explains, "To fully explore your talents, you must cook everything you can lay hands on, ... otherwise you're limited - like a one-handed carpenter."
Keep watching Alon Shaya. He's just beginning what promises to be a brilliant culinary career.

Then there's Amy Beth Edelman, owner of the Night Kitchen Bakery in Chestnut Hill. She believes that her Jewish upbringing was a vital force in guiding her into a culinary profession.
In a recent telephone conversation, Edelman acknowledges that being Jewish means that food, meals and family life are of the utmost importance. "My mother cooked every night, no processed foods. Everything was fresh and made from scratch. When we did eat out, we were exposed to good restaurant food."
Encouraged by her family - especially her grandmother, who cut out articles on cooking schools to show Edelman - she enrolled in the Culinary Institute of America.
"I immediately fell in love with the campus, the feeling of professionalism and the teaching staff, who had world-wide experience." After graduation, the now 30-something foodie opened a catering business, which she sold in 2000 to buy the Night Kitchen Bakery.
Better than any candy shop, a visit to the little store is an unforgettable experience. Step out of the cold into a warm homey atmosphere; sweet, spicy aromas waft from the kitchen, where old-fashioned favorites like thumbprint cookies and new introductions, like the chocolate-raspberry buttercream cake, are baked fresh.
RECIPES
The following recipes are generous in use of oil and dairy products, making each a fitting dish for the the eight days of Chanukah. Dishes fried or cooked with oil symbolize the miracle of the untainted, one-day supply of oil found in the ransacked First Temple in Jerusalem - and which burned for eight days instead on one.
CURRIED PAN-FRIED TILAPIA (PAREVE)
From Chef Alon Shaya. Serves 4.
4 chilean sea bass fillets (6 oz. each)
1 tsp. kosher salt
1 tsp. lemon juice
1 Tbsp. chopped fresh garlic
1/2 cup extra-virgin olive oil
extra oil for frying
In shallow dish, mix the salt, lemon juice, garlic and olive oil.
Add the fillets, turning to coat each side. Marinate for 2 hours.
Pour enough oil into a heavy skillet to thinly coat the surface. Heat over a high heat. Add fillets, reduce to medium-high and cook until golden-brown on one side, 4 to 5 minutes, depending on thickness.
Flip over and cook 3 to 4 minutes longer, until flakes appear opaque when separated with a fork.
Serve with White-Truffle Risotto.
WHITE-TRUFFLE RISOTTO (DAIRY)

From Chef Alon Shaya. Serves 6

1/2 cup extra-virgin olive oil
1/4 cup finely diced white onion
1/2 cup fennel, thinly sliced
2 cups arborio rice
kosher salt to taste
4 cups vegetable stock
1/4 cup shredded Parmesan cheese
2 Tbsps. white-truffle oil (available in specialty stores)
2 Tbsps. unsalted butter
Heat oil in heavy-bottomed saucepan. Add the onion and fennel, and cook for 2 minutes over a low heat to soften. Add the rice and 1/2 teaspoon salt. Stir until the rice is coated in the oil-and-onion mixture.
Add half the stock and let simmer, stirring constantly, until the rice has absorbed all of the liquid. Continue adding stock slowly. Keep stirring, until the rice is tender and all liquid is absorbed. Fold in the cheese, truffle oil and butter. Season with salt to taste.
AMY BETH'S CHANUKAH SHORTBREAD COOKIES (DAIRY)
Makes 15 to 20 cookies


1/2 lb. (2 sticks) unsalted butter, softened
1 cup confectioners sugar
2 tsps. vanilla extract
2 1/2 cups cake flour
1/2 tsp. baking powder
1/2 tsp. salt
blue sanding sugar to sprinkle
Preheat oven to 350 degrees. Spray a baking sheet with nonstick cooking spray.
Sift together the flour, baking powder and salt. Set aside. In a mixing bowl, cream the butter and sugar until fluffy (about 3 minutes). Gradually add the flour mixture and mix well. Chill dough for 1 hour. Roll out on a floured board to about ¼-inch thick. Cut out with Star of David or dreidel cookie cutters. Dust with blue sugar.
Bake for 10 to 15 minutes, until slightly brown at edges. Cool slightly before removing to wire rack.
PERFECT CHOCOLATE CAKE (DAIRY)
(Daniel Stern baked this cake when he was a young teenager, and it's been a family favorite ever since. The cake recipe is from an old McCall's Dessert Cookbook; the frosting is from MAIDA HEATTER'S BOOK OF GREAT CHOCOLATE DESSERTS)

CAKE INGRIDIENTS

1 cup unsifted unsweetened cocoa
2 cups boiling water
2 3/4 cups sifted all-purpose flour
2 tsps. baking soda
1/2 tsp. salt
1/2 tsp. baking powder
1 cup butter or margarine, softened
2 1/2 cups granulated sugar
4 eggs
1 1/2 tsps. vanilla extract

FROSTING INGRIDIENTS

5 oz. unsweetened chocolate
1 cup heavy cream
1 1/4 cups granulated sugar
1/4 lb. (1 stick) sweet butter
1 tsp. vanilla extract
Preheat oven to 350 degrees. Grease well and lightly flour two 10-inch baking pans.
To Make Cake: In medium bowl, combine cocoa with boiling water, mixing with wire whisk until smooth. Let cool completely.
Sift flour with soda, salt and baking powder.
In large bowl with an electric mixer at high speed, beat the butter, sugar, eggs and vanilla, scraping bowl occasionally with rubber scraper, until light, about 5 minutes.
At low speed, beat in flour mixture, in fourths, alternately with cocoa mixture in thirds, beginning and ending with flour mixture. Do not overbeat.
Divide evenly into prepared pans. Smooth tops.
Bake 25 to 30 minutes, or until surface springs back when gently pressed with fingertip. Cool completely. Carefully loosen sides with spatula. Remove from pans to wire racks.
To Make Frosting: Chop chocolate into small pieces and set aside. In a heavy, three-quart saucepan, stir the cream and sugar to mix. With a wooden spoon, stir over a moderate heat until the mixture comes to a boil. Reduce heat and let simmer for exactly 6 minutes.
Remove from heat, add the chocolate and stir until melted. Add the butter and stir until melted. Add the vanilla and stir. May sit out at room temperature until mixture reaches a consistency thick enough for filling and frosting, or may be chilled over an ice bath to frosting consistency.
Serves 20 to 24.
Editor's Note: Two 9-inch cake pans work well, too.