Jewish World Review Dec. 15, 2006 / 24 Kislev, 5767
The Miracle and Mystery of Jewish History
By Rabbi David Aaron
Celebrating the Soul-Meaning of Chanukah
Albert Einstein once said: "There are two ways of looking at the world: Either you see nothing as a miracle or you see everything as a miracle."
Chanukah reminds us that Judaism sees everything as a miracle. But Hellenism saw nothing as a miracle. To the Greeks, a miracle was an absurdity. To them, only what was reasonable, logical, and rational could be real. Miracles were illogical and, therefore, not possible.
The Greeks could never see the light of Chanukah, the light of miracles, because they only believed in the light of logic and reason. According to the Greeks, the world always existed, it never was created. History is an inevitable process — the present and the future are linked to the past and are the necessary outcome of the past. Nothing unusual will happen or can happen. History will march on, a consequence following consequence. Similarly, their view of G-d or gods was of super-beings detached from the world. Their gods didn't care about man. Therefore, miracles were impossible.
This is why Judaism irritated the Greeks so much, and this is why they decided to wipe it out. They first outlawed Sabbath and circumcision and the Jewish protocol for establishing the beginning of a Hebrew month on the onset of a new moon. Specifically, they focused on those areas, because the message of these Jewish rituals contradicted their world view of reason and logic.
The weekly celebration of Sabbath expresses the Jewish belief that the world is a creation of G-d and He created it as "something from nothing." Not logical, of course. And why did G-d create the world? Not because He had to, but because He simply wanted to. The world doesn't exist necessarily, but rather the world is a pure expression of Divine will and freedom — a spontaneous act of love. And what's more, when G-d created the world, He didn't finish it. Rather He left it incomplete, so that we could have work to do, play a role in creation and become G-d's partners. That's what the Book of Genesis means by: "G-d blessed the seventh day and sanctified it, because on it He had abstained from all His work which He created to do."
In other words, G-d created work that needed to be done. G-d not only created a world, but He created a world that is full of work to do. And we are the ones who are meant to do that work and help complete the world. G-d wanted a partner to help Him finish the job. Therefore, He created an imperfect, incomplete world in order that He could make a contract/covenant with us to complete it with Him.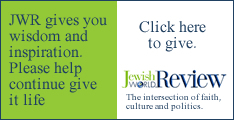 To the Greeks, the idea that man could be a partner with G-d was ridiculous. When Greeks would see Jews performing circumcision on their children — as a physical sign of this covenant — they thought the act was a horrible mutilation of the perfection of the human body. How can you take nature and in any way imply that you can change it, fix it, or make it better? They reasoned that nature is already perfect, that it's a complete manifestation of reason.
The same goes for the sanctification of the new moon. In accordance with Jewish law, a Jewish court would determine the first day of the upcoming Hebrew month based on the testimony of two witnesses who saw the moon waxing. This tradition demonstrates our belief that we take part in determining time and making history. Again, to the Greeks, this was totally illogical. According to their view, history cannot be changed, and time is a manifestation of reason.
Judaism believes that G-d created the world, cares about us, and invites us to be His partner in making history and perfecting His creation. The Greeks assumed that the world is perfect already. Everything is as it should be. The world is eternal, the events of history are inevitable and G-d is impersonal. Therefore, don't expect any favors, don't expect any novelties, don't expect any divine interventions, don't expect miracles, and have no hope. Life is just one big Greek tragedy.
Therefore, the Greeks wanted to do away with the Jews and their commitment to Torah (religious) life.
Torah study, however, was very interesting to the Greeks. They even had the Torah translated into Greek. But they thought that the Torah was written by human beings and should be studied only for the sake of the human wisdom it contained. To the Greeks, there is no such thing as divinely given wisdom; there is only human wisdom, born out of logic.
However, many things in the Torah simply did not make sense to them.
I find that very often — when people are first exploring Judaism — they expect it to be logical and explainable. But if we could explain it all, then that would mean that the Torah is completely reasonable and rational. If the Torah were completely reasonable and rational, we wouldn't need a G-d to reveal such a Torah. A human being could reveal such a Torah. But if the Torah is a prophetic divine revelation, then there are obviously going to be laws and commandments in it that are beyond our rationale. But it is essential to understand that the purpose of Torah and its commandments is not simply to teach wisdom and offer good advice for better living. The Torah and the commandments express the will of G-d — what G-d wants us to do. They enable us to establish a personal loving relationship with G-d.
If the only things I was willing to do for my wife were the things that make sense to me, we might have a lot of arguments. But shouldn't I do what my loved one asks of me just because I love her? To fulfill her request is an opportunity to show her love and bond with her. This is also true of our relationship to G-d, our Ultimate Loved One.
Get the perfect holiday gift



You can buy Rabbi David Aaron's latest best seller: "Inviting G-d In: Celebrating the soul-meaning of the Jewish holy days" at a discount by clicking HERE. (Sales help fund JWR.).

Of course, the Greeks did not believe that people should be trying to bond with deities. To them, a deity was an object for meditation. What's love got to do with it?

For the Greeks, intelligence was the highest achievement of the human being. And if the Jews studied Torah for that purpose, well then, fine. But for the Jews, the highest achievements of the human being were, and continue to be, responsibility and moral excellence. We value intelligence, we value learning, but that is because we believe that learning — G-d's law, the Torah — nurtures our loving relationship with G-d and leads us to be more moral. G-d loves us, cares for us and therefore, He gave us His Torah so that we can bond with Him and experience His love for us.

The Mystery of Jewish History
For centuries historians and philosophers have puzzled over miraculous the survival of the Jewish people. As Mark Twain (who was not Jewish) wrote in his famous essay "Concerning the Jews" published in Harper's magazine in 1897:



If the statistics are right, the Jews constitute but one percent of the human race. It suggests a nebulous dim puff of star dust lost in the blaze of the Milky Way. Properly the Jew ought hardly to be heard of; but he is heard of, has always been heard of. He is as prominent on the planet as any other people, and his importance is extravagantly out of proportion to the smallness of his bulk.

His contributions to the world's list of great names in literature, science, art, music, finance, medicine, and abstruse learning are also way out of proportion to the weakness of his numbers. He has made a marvelous fight in this world, in all the ages; and he has done it with his hands tied behind him. He could be vain of himself, and be excused for it.

The Egyptian, the Babylonian, and the Persian rose, filled the planet with sound and splendor, then faded to dream-stuff and passed away; the Greek and the Roman followed, and made a vast noise, and they are gone; other peoples have sprung up and held their torch high for a time, but it burned out, and they sit in twilight now, or have vanished.

The Jew saw them all, beat them all, and is now what he always was, exhibiting no decadence, no infirmities of age, no weakening of his parts, no slowing of his energies, no dulling of his alert and aggressive mind. All things are mortal, but the Jew; all other forces pass, but he remains. What is the secret of his immortality?

The great French philosopher Blaise Pascal came to the same conclusion. In his book Pensees he writes:
It is certain that in certain parts of the world we can see a peculiar people, separated from the other peoples of the world and this is called the Jewish people ... This people is not only of remarkable antiquity but has also lasted for a singular long time ... For whereas the people of Greece and Italy, of Sparta, Athens and Rome, and others who came so much later, have perished so long ago, these still exist, despite the efforts of so many powerful kings who have tried a hundred times to wipe them out, as historians testify, and as can easily be judged by the natural order of things over such a long spell of years. They have always been preserved, however, and their preservation was foretold …

We should not be here. We broke all the historical rules. No other nation has survived under these kinds of conditions. We are a people of miracles who believe in a G-d of miracles. We believe in a G-d who cares, a G-d who loves us. He created the world and He is free to do as He pleases. If G-d so wills it, something radical and new can happen at any moment.
Chanukah is a time to remember and celebrate that we have reason to be unreasonable and celebrate G-d's everlasting love.
Adopted from Rabbi David Aaron's latest best-seller: "Inviting G-d In Celebrating the soul-meaning of the Jewish Holy days"


Every weekday JewishWorldReview.com publishes uplifting articles. Sign up for the daily JWR update. It's free. Just click here.
To comment on this article, please click here.
JWR contributor Rabbi David Aaron is the founder and dean of Isralight, an international organization with programming in Israel, New York South Florida, Philadelphia, Los Angeles and Toronto. He has taught and inspired thousands of Jews who are seeking meaning in their lives and a positive connection to their Jewish roots.
He is the author of the newly released, Inviting G-d In, The Secret Life of G-d, and Endless Light: The Ancient Path of Kabbalah to Love, Spiritual Growth and Personal Power , Seeing G-d and Love is my religion. (Click on links to purchase books. Sales help fund JWR.) He lives in the old City of Jerusalem with his wife and their seven children.

© 2006, Rabbi David Aaron