Jewish World Review Dec. 8, 2006 / 17 Kislev, 5767
Want to have it all?
By Rabbi David Aaron
Secrets to ultimate wealth
I once came across a billboard that said, "Many poor souls live in million dollar houses." From personal experience I know this to be true.

I've walked into mansions of multi-millionaires, and in certain such places, I have felt a lack of spiritual wealth and blessing. These places were filled with expensive furniture and rugs and a million dollars worth of art, but the emptiness was palpable. Although each house was an outstanding and elegant piece of architecture and interior design, it wasn't a home. It missed its purpose. It was without blessing.

According to the Kabbalah, the entire theme of life is G-d's desire to be present and manifest in our world. This is the purpose of this world and our existence. This is why G-d instructed Moses, "Let them make Me a sanctuary and I will dwell among them."

Kabbalah reveals the awesome secret of how G-d contracts His infinite spiritual qualities in order to enter into our finite consciousness. People think that in order to see and meet G-d, they will have leave or nullify this finite world; they think that they must transcend time and space. But this is not true. G-d meets us in our world. All we have to do is open the door of consciousness — open the eyes of our soul.

When the Torah relates the story of creation, it ends the recitation of events of each day with: "And G-d saw that it was good." What did G-d see about each creation that made it good? G-d saw that it was complete — it fulfilled its intended purpose. But, after the creation of Adam, the Torah keeps mum. This is because the first human being had yet to actualize his potential to be a living sanctuary for G-d. He had not yet fulfilled his intended purpose. He was not yet whole and complete. And why were the other elements complete at creation, but the human being was created incomplete? Man, unlike all the rest of creation, has free will. Only after man makes the right choices does he fulfill his purpose, achieve wholeness and embody godliness. When we do that feel a great sense of abundance and blessing. Such people have it all.
All or Plenty
The Torah quotes Esau saying he has plenty but the Patriarch Jacob said: "I have it all." Jacob is referring, of course, to his relationship with G-d. When a person has a consciousness of G-d, and devotes his whole life to serving G-d's purpose, then he really does have it all. What more could he ask for?

A self-serving person has no purpose beyond him/her self. S/he is like a corporation without a mission statement— an organization without a cause —-a computer without a program. A life without service is poverty stricken, empty and useless. Imagine a person who meditates all day and does nothing to actively change and improve this world — doesn't serve to bring G-d's loving-presence into the world. Such meditation is only self-absorption and lacks the blessing acquired only through service.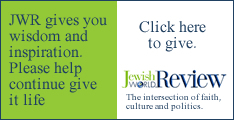 When I was growing up, there was a picture in our living room of several old sages, with pale faces, long white beards and thick glasses, studying Torah around table piled high with thick tomes; the room looked gloomy and dark and they presented a sad sight, all hunched over from years of sitting there, never getting any exercise.

That was my concept of a religious person and his/her ultimate goals in life. And I sure didn't want to end up being one of them. Therefore, I was shocked to learn that the Torah's idea of a servant of G-d is someone who a live wire. And that live wire transmits vitality, abundant goodness and blessing — the presence of G-d. When you are in the presence of such people you sense a powerful flow of energy and you feel high just being in the same room. Indeed they have it all.

I remember once meeting Rabbi Raphael Levin, the son of Rabbi Aryeh Levine, whose life was portrayed in a wonderful book called, A Tzaddik in Our Times. Rabbi Raphael is, like his father, considered a truly holy person. He shook my hand, taking his time about it, not letting go right away, and suddenly I felt like I was becoming spiritually charged. The feeling didn't leave me for the whole day.
Get the perfect holiday gift



You can buy Rabbi David Aaron's latest best seller: "Inviting G-d In: Celebrating the soul-meaning of the Jewish holy days" at a discount by clicking HERE. (Sales help fund JWR.).

A holy person charges everyone around him/her. S/he is more than a live wire, rather s/he is like the switch that completes the circuit so that the electricity flows. That's why we are told that even when a holy person passes away, he or she is still alive.


On the other hand, an evil person, who considered dead even when s/he is alive.


How so? First of all, an evil person doesn't even acknowledge that his/her joy and true source of wealth is to serve G-d's purpose. S/he proclaims: "I'm self-defined, self-sufficient, independent, and I don't belong to any higher order. I don't have to abide by anybody's rules. I am my own person. I am my own boss." An evil person doesn't acknowledge G-d nor seek a life of service, therefore, G-d is not in his/her life. And s/he cannot be a channel for G-d. Instead of feeling charged when you are with this person, you feel drained, as if all of your energy is being sucked out of you.


When Torah enjoins us to serve G-d with joy, it is not talking about some egotistical power that commands, "Serve me, or I'll punish you. And you better do it with a smile!" Rather, if you truly understand that serving G-d is the most self-gratifying experience a person can have, of course you will do it joyfully. You will be actualizing what you have been brought into this world to be — a vessel and a vehicle for the presence of G-d on earth, for the qualities of love and justice and truth and beauty and wisdom, all the qualities of G-d. What greater wealth it there?






Every weekday JewishWorldReview.com publishes uplifting articles. Sign up for the daily JWR update. It's free. Just click here.

To comment on this article, please click here.




JWR contributor Rabbi David Aaron is the founder and dean of Isralight, an international organization with programming in Israel, New York South Florida, Philadelphia, Los Angeles and Toronto. He has taught and inspired thousands of Jews who are seeking meaning in their lives and a positive connection to their Jewish roots.

He is the author of the newly released, Inviting G-d In, The Secret Life of G-d, and Endless Light: The Ancient Path of Kabbalah to Love, Spiritual Growth and Personal Power , Seeing G-d and Love is my religion. (Click on links to purchase books. Sales help fund JWR.) He lives in the old City of Jerusalem with his wife and their seven children.








© 2006, Rabbi David Aaron