Jewish World Review June 1, 2006 / 5 Sivan, 5766
Never build a wall without a window
By Dave Weinbaum
http://www.JewishWorldReview.com | When I played football my freshman year in High School, I weighed 108 pounds. There was a wall between me and the varsity first stringers. But because my high school didn't cut, they allowed us preemies to play on the "B" team.

We could dream ourselves playing alongside the behemoths. In scrimmage, the 220 + pounders would knock the snot out of us. We understood the size of the mountain we needed to climb, much less conquer.

That was our window.

Some of us chose to pay the price of opening that window and found eventual success.

Those demanding instant gratification quit.

There should remain windows of opportunities for Mexican immigrants as well. But they should have to pay the price of going through the motions of waiting in line behind others seeking legal citizenship and not be Johnny-come-latelies.

If they don't like it…tough. It's NOT THEIR COUNTRY…yet.

The US has the right to protect its' borders, at least as diligently as Mexicans arresting, convicting and deporting Central American Mexie wannabes on its' southern border.

You don't have to be antique to appreciate old things

It's 2006.

We have smart bombs, cruise missiles, pinpoint laser systems, guided rockets and long range jet fighters and bombers. While Liberals have stopped one line of defense, our ability to dig oil wells and build refineries, even they couldn't stop some military advancements.

Then how the heck are walls going to protect us?

I'll tell you.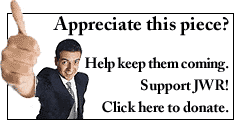 For now, those south of the border are low tech invaders.

The Great Wall of China, something that I nearly had a heart attack climbing on top of last year, was a paramount of defense in the provinces that it shielded. This fragmented structure started in 770 BCE. Its' 2700 years of primitive assembly is reminiscent of Boston's Big Dig without the delays or corruption.

It worked!

The only way those Chinese provinces were defeated was from within.

Israel's wall is a test case for the US wall. While survival is the purpose to the Jewish States' structure, the US can learn from its' before and after stats. Suicide murders by Palestinians have gone from 41 in 2002, the beginning of construction, to 5 in 2005. The wall, scheduled for completion in 2008, is preventing murderers from killing Israeli men women and children.

On the flip side, Israel's need for retaliation has been downsized, saving many Palestinians.

True, the wall has caused hardship for Palestinians. Access to jobs, relatives, and schools has been frustrated by the barrier.

But when one considers the reaction Israel COULD have exacted to protect its citizens, it seems downright humane.

After 9/11, the equivalent of one or two bus bombings in Israel, the US conquered two countries, killed or captured 3/4's of known terrorists along with the unintentional deaths of thousands of innocents. Then they toppled the old regimes and installed new ones. We STILL occupy those countries and won't get out anytime soon.

Israel would be more than justified to react as the USA did to its' terrorist attacks.

There are no unsolvable problems, only well hidden answers.

My In-laws just emailed me their solution to illegal immigration:
Dig a moat the length of the Mexican Border.
Take the dirt from the moat and use it to raise the levees in New Orleans.
Put the Florida alligators in the moat.

Now…, any other problems you want us to solve?

Gotta love 'em!

Hey, better a wall with windows than a moat full of starving gators.
Every weekday JewishWorldReview.com publishes what many in in the media and Washington consider "must-reading". Sign up for the daily JWR update. It's free. Just click here.
JWR contributor Dave Weinbaum, originally from Chicago, is a businessman, writer and part-time stand-up comic. He resides in a Midwest red state. Comment by clicking here.
© 2005, Dave Weinbaum