Jewish World Review May 25, 2005 / 16 Iyar, 5765
Lib leaders in La La Land
By Dave Weinbaum


http://www.JewishWorldReview.com | When you spend all your time looking for mice, the elephants will trample you.

Demo leaders are celebrating their recent election losses with a brilliant plan to deny power to a duly elected Republican President, House, and Senate. How is this possible? Dems are threatening to use the unconstitutional, unprecedented (in judicial appointee floor votes) filibuster. Are Howie "The Scream" Dean, Harry "Bush is a Loser" Reid, and Nancy "I threw a shoe" Pelosi, smarter than they sound? Maybe. It all depends on the reaction of the Republican leaders.

Senator Bill Frist has indicated he'll go for the throat with the nuclear option of closing down the Dem talk marathon by voting out the filibuster as it relates to judicial nominations. It's an obvious choice, BUT has he considered what the political fallout will be? When you're on the bubble beware of the pinheads.

Keep in mind that the definition of filibuster is "…a tactic such as irrelevant speech or several such speeches used to delay or prevent the passage of legislation."

Knowing the above, just look who wants to talk to Congress:

1. Senator John "flip-flop" Kerry. Could we hear a rendition of how he REALLY won the election, or how he REALLY was in Cambodia on Christmas Eve in 1968?


2. Senator Ted "Glug Glug" Kennedy. Can he do more than 15 minutes without a martini? I hear only water and milk are allowed during a filibuster. Beware if Senator Glug's water comes with olives and twists, or if his milk is served with a pineapple wedge and umbrella.


3. Minority Leader, Nevada Senator Harry Reid. I hear his parents won him in a poker game. No one knows why, but several years later they founded Gambler's Anonymous.


4. Any Demo Senator willing to be advised by DNC chair Dr. Howard Dean, on how to give a fair and non accusatory one hour speech. By the way, I heard Dr. Dean tried to donate his brain to science, but they were only taking used ones. Well, at least we know that unlike "brain dead" Republicans, Dean still has one!


5. Senator Barbara "My Best Friends are Black" Boxer. Secretary of State Condy Rice may disagree with you on that one, Madam Senator.
And this is the leadership of the Democratic Party!

As Dick Morris recently pointed out, why would any Republican in his right mind want to stop the Demo twits in this misadventure?

Further, look who the left will be trying to stop! Texas Supreme Court Justice Priscilla Owens and California Supreme Court Justice Janice Rogers Brown are both eminently qualified, well liked by their peers, ABA approved WOMEN! Judge Brown is a black woman, whose story reads better than Horatio Algiers. I'd love to see those genius Libs talk for hours about these obviously evil Judges. Let the cameras roll! I'll bet CBS and Newsweek might even be able to get this right! Hope the Demo leaders have fun explaining themselves to blacks and women trying to get ahead in this country. Then there's Judge Estrada, who gave up the appointment fight in deference to his family. Can the Democrats say Hasta la vista to their FORMER Latino voters? Can the Republicans get better minority recruiters? Can the RNC call Ringling Brothers to get a bigger tent?

Maybe the Libs have decided that elections just aren't their thing. Is their solution the appointment of Judges who believe that the other branches of government are unnecessary? It's a stretch, but looking at the recent judicial bird delivered to Congress and the President in the Schiavo case, it's a distinct possibility.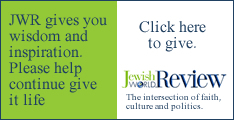 Whatever their motives, Dems are toying with further self-destruction. They should be able to figure out that the more they talk, the more votes they lose to the Conservatives.

What Libs really need is to take a lesson from the newest member of the Bush family; long lost cuz Bill "Bush Lover" Clinton, and Newt's new gal pal, Hillary "Hide the Records" Clinton. As they say in professional poker, the Clintons "know when to hold 'em and they know when to fold' em."

I can see it now…a new American Express Card commercial:

Dems stopping Judge Owens and Judge Brown: Cost? Black and Women Constituencies.


Dems with unlimited speech covered by media: Cost? 10 years of Republican Campaign Commercials.


Dems showing their true motive of power at all costs? PRICELESS!
Every weekday JewishWorldReview.com publishes what many in in the media and Washington consider "must-reading". Sign up for the daily JWR update. It's free. Just click here.


JWR contributor Dave Weinbaum, originally from Chicago, is a businessman, writer and part-time stand-up comic. He resides in a Midwest red state. Comment by clicking here.
© 2005, Dave Weinbaum