http://www.JewishWorldReview.com | "Since arriving in Canada I've been accused of thought crimes, threatened with criminal prosecution for speeches I hadn't yet given and denounced on the floor of Parliament (which was nice because that one was on my "bucket list")." Ann Coulter

Ann is always at her best when she's dodging pies, attacking poor unsuspecting "imperfect" Jewish interviewers or psychically breaking foreign laws with think- speech. Like raunchy books banned in Boston in ancient days and today's thought monsters who spread Muhammad Cartoons, the left wing speech censors cooperate with "Progressive" Governments.

Wild men like Geert Wilders, Mark Steyn and Ezra Levant have all had run-ins with like-kind governments for the above alleged crimes.

Such is the fate of Ann Coulter. Unlike many, however, Coulter relishes the controversy and knows how to string it along and profit from it.

Ann was banned from giving her contracted speech at the University of Ottawa by its provost Frank A. Houle. (I'm NOT making up that name). His letter threatening Ann was published and arguably ignited demonstrations of hate that caused the cancellation of the speech for security reasons. Ann has complained before the Canadian Human Rights Commission.

Meanwhile, the perils of Pauline (Ann) are on the top of newspaper folds and leadoff stories all over the world adding to Coulter's already profitable enterprises.

Ironically, I read her columns on an "unperfected" website, the Jewish World Review, where my missives have resided for the last five years drawing flattering comparisons to Ann.

I was never banned.

I did stand-up comedy where I quickly found out that if I wanted to get laughs, I had to write and perform material that was over-the-top. I did this just to get the feel of what it was like to get laughter and applause. I was never banned.

My writing has also got me the moniker of "The Rush Limbaugh of the Ozarks!" This was before I had a talk radio show.

I was never banned.

I've hosted a weekly radio talk show for the last year and a half. On my second show I said "heck" or "dang" or something that catalyzed a letter of complaint from a listener. I was threatened, in writing, by the station owner with immediate show cancellation if I ever said anything like that on the air again. I've been on double-secret probation ever since. Keep in mind that at the time I was sponsoring the show with two of my businesses. If they fired me they'd be losing my business. Now I have five more sponsors with several more in the mill in a lousy time slot. The show is profitable on its own.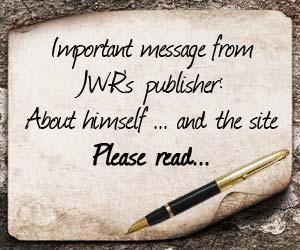 I now address the station manager lovingly as "Pig Vomit" and:

I was never banned.

On the show last week, some putz said this country was founded on Christian values and, BTW, what was I? I responded that I was Jewish, thanked him for allowing me to live in his country and then I told him to say "Hi" to the rest of his brown shirt friends.

Yet I was never banned.

Referring back to my weekly Internet/newspaper column, I upset people as much as Coulter does but on a much smaller scale. Often my columns will get 50 to 100 comments in various outlets but in no way as widely spread as Ann's. Many of the notes are nasty, insulting, threatening and anti-Semitic.

Yet I've never been banned.

The local chapter of the NAACP slandered me recently as being an anti- Muslim. The instigator was a converted Muslim NAACP bored member who oft disagrees with me and tries to get me purged from business and outlets that publish me.

Yet I've never been banned.

Let's face it. When it comes to provoking people and profiting from it, Ann is all pro and I'm a minor league slacker. That being said, I'm comfortable in that role. I would rather have a dialogue with my political adversaries than die from a log thrown by one.