Jewish World Review March 19, 2010 /4 Nissan 5770
New intifada laid at Obama's hissy feet
By Dave Weinbaum





http://www.JewishWorldReview.com | Geography is tough -- even tougher than faking your way to the Presidency. I could see where someone who believes there are 57 states in the USA and, as of yesterday, still has no clue what Obamacare includes could be easily confused. Giving President Obama the benefit of the doubt, maybe he didn't realize Jerusalem has been the capital of Israel , AKA the land of the Jews for over 3,250 years.

How then can one expect an idealist unconcerned with process and facts to understand housing for Israelis in their own capital is even more appropriate than building homes for Americans anywhere in the USA?

It's one thing for the gaffer, VP Joe Biden, to get his panties in a wad over the announcement of 1,600 new settlements to be built in Jerusalem . After Bibi apologized to him profusely and after Biden and wife made Netanyahu wait for over 90 minutes for a state dinner, things died down. The unfortunately timed announcement was rapidly entering the mausoleum of historical trivia.

Then Dear Leader throws a public tantrum two days later:

Obama: "Those Jews are NOT going to get away with this! My Reverend warned me about these people, especially those Hebrews in my cabinet. I'll do something so despicable and low Netanyahu will have nightmares for the rest of his days. I'll sic Hillary on him!"

Sometimes life has been a real rough ride for Jews. It takes a lot of faith to cope with the historical depravity of what enemies have done to our ancestors up until now — but a phone call from Hillary? Have you no mercy Mr. President?

I'm sure after the 43 minute withering lecture was over, Bibi was begging to be water boarded rather than continue. I heard aides kept untangling the phone wire from around his neck in his effort to strangle himself. Don't believe me? Ask Bubba. And he merely cheated on Hillary with a Jew. Thank goodness he didn't provide her housing.

BTW, it may be informative that the Clinton Foundation received a contribution of 10 to 25 million dollars from Saudi Arabia . Millions more came from Kuwait , Oman , the United Arab Emirates , Qatar and Brunei . I could be wrong but Israelis are not welcome to visit, much less establish a citizenship, build a house and open a business in any of those countries.

What's a Palestinian leader to think of all this? He'd have to be an idiot with a death wish to step in the way of an American President doing the heavy lifting for him. All Abbas had to do was release the Palestinian Kiddie Corp for another episode of the last millennium's favorite pastime, "Let's Stone the Jews!"

The leaders of Hamas, Hezbollah , Syria , Saudi Arabia and Iran must be giddy at the President's legitimizing of the Palestinian peace talk walk-out. Now they can continue their real goal of killing all Jews and taking over Israel unfettered by distracting phony peace chatter. What, like they needed an excuse?

Never play patty-cake with a slasher

Some friendly advice: Looking back on your last year and a quarter as the Commander-in-Chief, there have been several successes:

The conduct of the wars via the search and destroy missions against al-Qaeda and the Taliban in Afghanistan and Pakistan , something I urged the Bush Administration to get busy with.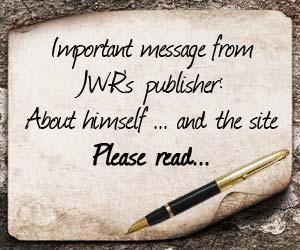 The continuation of the Bush program that's making Iraq into a strong and ever- growing democratic success.

These events occurred when you acted like a president and deferred to the good judgment of those who work for you and (I know you'll cherish this) the Bush Administration. Thank you Bush/Cheney/Petraeus/McChrystal and you, Mr. President, for recognizing that success and continuing it.

"Israel is a sovereign nation and ally, not a punching bag. Enough already." Rep. Anthony Weiner

How about letting some real experts handle the rest of the Israeli/Palestinian negotiations, like the participants themselves? Put some distance between you and the "process," something you admit you're not concerned or familiar with.

And please don't forget; the land of Israel was promised to the Jews from a position just short of your ego, G-d, or if you prefer, Allah.

Mr. President, please stem this intifada, stat.
Every weekday JewishWorldReview.com publishes what many in the media and Washington consider "must-reading". Sign up for the daily JWR update. It's free. Just click here.
JWR contributor Dave Weinbaum hosts DaveWeinbaum.com. He is a businessman, writer and part-time stand-up comic and resides in a Midwest red state. Comment by clicking here.
© 2009, Dave Weinbaum