Jewish World Review Jan. 15, 2003 / 12 Shevat, 5763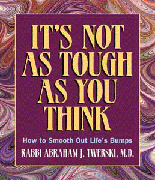 You may purchase this
book by clicking on link in bio below
Keeping it simple
http://www.jewishworldreview.com | King Solomon sized up the world's problems in one sentence: "God created man simple, but they sought many intrigues" (Ecclesiasties 7:29). If people would stop complicating things, many problems could be solved. But no, man has a penchant for taking simple things and twisting them around.

A disciple once told the Rabbi of Rizhin, the great Chassidic master, that he was not sufficiently learned to know what was right and what was wrong, and he asked whether the Rabbi could give him some simple guidelines. The Rabbi responded, "Think of yourself as a tightrope walker. When a tightrope walker feels he is being tugged to one side, he maintains his balance by leaning a bit to the other side. Most of a person's drives are his biological impulses, which seek to be gratified. If you find yourself being attracted to do something, pause and lean a bit toward not doing it. That way you will maintain an even balance."
Like the disciple, we may often be uncertain whether a given action is right or wrong. Here is another good guideline: Is there a possibility that you might ever have to deny doing it? If yes, then don't do it! Another good rule: Will you have to make excuses for what you've done? If so, don't do it! We don't make excuses for having done what is right and we don't have to deny doing it. And yet another: Do you have to look around to see whether anyone is overhearing what you are about to say or whether anyone may be watching what you are doing? If so, don't say it and don't do it.
Just think of what life would be like if we adhered to these simple rules!
---
Abraham J. Twerski, M.D. is a psychiatrist and ordained rabbi. He is the founder of the Gateway Rehabilitation Center in Pittsburgh, a leading center for addiction treatment. An Associate Professor of Psychiatry at the University of Pittsburgh School of Medicine, he is a prolific author, with some 30 books to his credit, including It's Not As Tough As You Think: How to smooth out life's bumps, from which this was excerpted (Sales of this book help fund JWR). Send your comments by clicking here.




© 2002, Mesorah Publications, Ltd.