Jewish World Review Jan. 14, 2003 / 11 Shevat, 5763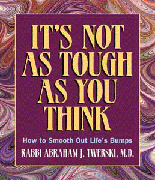 You may purchase this
book by clicking on link in bio below
A sober perspective
http://www.jewishworldreview.com | A recovering alcoholic said, "I naively expected that when I stopped drinking, everything would go smoothly. This was not the case, and I had many setbacks. But eventually I recognized a pattern: Every setback was a prelude, and sooner or later was followed by something good. Now, when something bad happens, I get excited about the good that is going to come about, and I can't wait to see what it is." This is a sound philosophy, but sometimes we can see this only in retrospect.

We spent one Sabbath with our children, returning home at the close of the day. When we set out the next day for several lectures I was to deliver, I discovered that I had left my wallet at our children's home, and there was no way to retrieve it until nighttime. My wife did the driving, and after the first lecture, we went to a restaurant for lunch. As we entered the restaurant I asked my wife whether she had any money, because I did not have my wallet. It turned out that she had only taken along her driver's license, and since we did not have money to pay for lunch, we returned to the car hungry.
We then began to think whether we had any acquaintances in the neighborhood where we could get a cup of coffee to hold us through the rest of the day. My wife remembered that a friend of hers, Debra, used to live in the neighborhood, but since she had not been in touch with her for seven years, she did not know whether she was still living here. We contacted "information" via our cellular phone, and Debra indeed still lived here, and a call to her resulted in a warm invitation.
Debra quickly whipped up a lunch, and the two friends chatted for an hour, renewing a beautiful friendship which had been neglected, and promising to stay in close touch hereafter.
Earlier in the day we had been very upset by the absence of a wallet, but just look at the benefits that resulted!
---
Abraham J. Twerski, M.D. is a psychiatrist and ordained rabbi. He is the founder of the Gateway Rehabilitation Center in Pittsburgh, a leading center for addiction treatment. An Associate Professor of Psychiatry at the University of Pittsburgh School of Medicine, he is a prolific author, with some 30 books to his credit, including It's Not As Tough As You Think: How to smooth out life's bumps, from which this was excerpted (Sales of this book help fund JWR). Send your comments by clicking here.




© 2002, Mesorah Publications, Ltd.