http://www.NewsAndOpinion.com | (KRT) The Prismiq MediaPlayer/Recorder represents the emerging "media adapter" set-top box. Using wired or wireless connections with the household computer, these entertainment gateways serve as diskless personal video recorders and digital media hubs for the playback of media stored on home PCs. Essentially, they sit between the television and home computer, and direct traffic. Features include recording scheduled television shows, pausing live TV and storing shows throughout the home network or on a DVD.
The complete package consists of a compact set-top unit, a hand-held remote control, a CD with software that converts the PC to a media server, cables and documentation. The product will sell for $299.95 and be available early in the second quarter of 2004 through retail and e-commerce channels. It requires no monthly service fees, unlike TiVo and ReplayTV.
___
Two phones at once
Manufacturers are expanding the functions of Bluetooth radios. This model, GN Netcom's GN 6110, is a $300 wireless telephone headset capable of connecting to two phones at the same time - a mobile phone and a desk phone.
Users can wear one headset, answering either phone with a single push of a button.
___
IM dramas reduced
Teens and tweens tend to dominate household computers with one particular task - instant messaging. The Motorola IMFree packs that function into a portable wireless gadget about the size of a CD case. With its 9-line monochrome display and QWERTY keyboard, the $99 IMFree provides most common AOL Instant Messenger features, including Buddy List management and emoticon display. Up to seven IMFree units can operate with a single computer connected to the Internet.
___
I can too sing
The On-Key Karaoke Video Maker not only corrects a singer's voice to the proper pitch, but it also helps record renditions as music videos. The player connects to any VCR and television, where lyrics and video images appear on screen.
A hands-free headset microphone and belt-clip remote control allow the singer the freedom to perform the latest dance moves while wailing away.
Built-in vocal effects include gender-shifting (converting male voices to female and vice versa), duets and harmonies. The player is Internet-enabled so that users can download songs right to the device's memory. No price has been announced.
___
No sweat
No more sweaty hands while playing video games. Nyko Technologies, which has put fans into computer mice and other peripherals, has introduced a line of PC game controllers that push fresh air through the handgrips. The PC Air Flo controller will retail for $24.99 and comes with a 10-foot USB cable.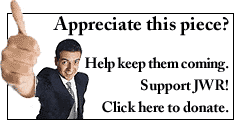 Appreciate this type of reporting? Why not sign-up for the daily JWR update. It's free. Just click here.
Comment by clicking here.